Advances for Healthy Lungs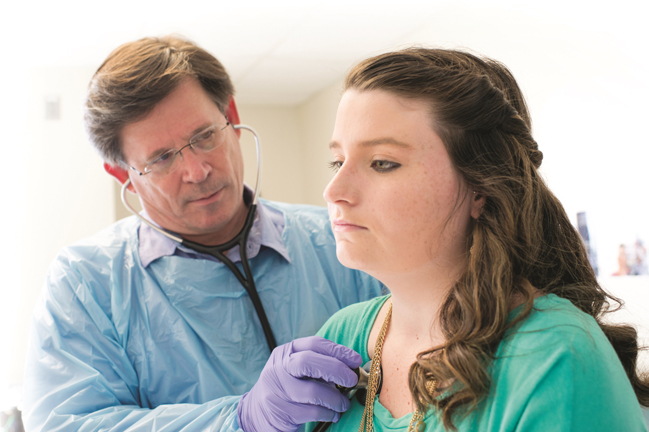 Life-Changing Advances for Healthy Lungs
Clinical Trials Show Effectiveness of New Cystic Fibrosis Drug
Clinical trials conducted at MUSC and other sites that studied the efficacy of therapies for cystic fibrosis (CF) have revealed a winning two-drug combination that is a significant step toward a cure for CF. In July, the FDA approved ORKAMBI (lumacaftor/ivacaftor). It is the first medicine to treat the underlying cause of CF in patients with two copies of the genetic mutation F508del, which is 50 percent of people with CF. Patrick A. Flume, M.D., Professor of Medicine and Pediatrics in the Division of Pulmonary, Critical Care, Allergy, and Sleep Medicine, is a co-investigator and co-author of the article in the July 16, 2015 issue of the New England Journal of Medicine. During the FDA panel hearing on ORKAMBI, Flume testified to the drug's efficacy on behalf of the Cystic Fibrosis Foundation.
"This drug is the next huge step toward the cure," Flume said. "It proves we can do it. Now, we just have to perfect it." In the 1,108 patients in the study, pulmonary exacerbations (worsening of respiratory symptoms) were reduced by 30 percent to 39 percent in the lumacaftor/ivacaftor groups as compared with the placebo groups. The rate of events leading to hospitalization or the use of intravenous antibiotics was lower in the first group as well. To build upon this success, Flume and MUSC colleagues will participate in more clinical trials studying other drugs and other drug combinations, as well as expanding the use of these drugs in other populations (patients with other gene mutations).
Lung Cancer Prevention, Screening, & Diagnosis
The five-year National Lung Screening Trial in which MUSC Hollings Cancer Center researchers James G. Ravenel, M.D., and Gerard A. Silvestri, M.D., MS were site lead investigators, provided evidence that is the basis for new best practices in screening for lung cancer. Silvestri and other experts reported the evidence for lung cancer screening and the nine components of an effective lung screening program to the Centers for Medicare and Medicaid Services (CMS) in 2014. This resulted in CMS approving coverage for lung cancer screening in its high-risk beneficiaries at accredited comprehensive programs.
As a result, Hollings, a National Cancer Institute–designated cancer center, is establishing a lung screening program under the direction of Nichole T. Tanner, M.D., MSCR, a pulmonologist trained in advanced diagnostics and interventional pulmonary procedures, and Benjamin Toll, Ph.D., a clinical psychologist who came to MUSC from Yale University and is one of the leading smoking cessation experts in the U.S. The CMS guidelines require that screening programs adhere to the nine components, which include a smoking cessation program, to qualify for reimbursement. Through the lung screening program and other ongoing research, Hollings continues to study how to best communicate the benefits and risks of screening in eligible patients, how to effectively incorporate smoking cessation efforts, and how to implement novel screening and diagnostic technologies.
With respect to advances in lung cancer diagnostics, Silvestri and colleagues reported in the July 16, 2015 issue of the New England Journal of Medicine their validation of a novel diagnostic test using a bronchial genomic classifier that measures the expression of 23 genes associated with lung cancer. The test reduces ambiguity in diagnosis, enabling physicians to better advise patients on next steps in their diagnostic odyssey. This classifier will be an increasingly important tool, as it is estimated that eight million Americans at high risk for lung cancer based on age and smoking history became eligible in February 2015 for annual screening through new private insurer and Medicare coverage requirements.