Cancer Therapy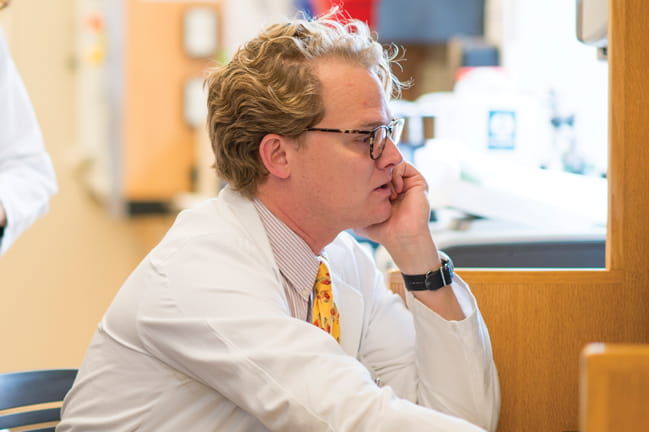 Bringing Revolutionary Cancer Therapy to South Carolina Patients
In 2015, MUSC Hollings Cancer Center offered opportunities for cancer patients to enter trials of two of the most revolutionary approaches to cancer care: precision therapy and immunotherapy.
Precision Therapy: The NCI-MATCH Trial
In precision therapy, also known as targeted therapy, a biopsy specimen of a tumor is obtained and sequenced, if an actionable mutation is found, the patient receives an agent that is thought to target that mutation.
Traditional clinical trials, designed to test the efficacy of a treatment in a large number of patients stratified by tumor site, have not proven the proper vehicle for testing precision therapies, which work only in patients whose tumors bear the targeted genetic signature.
The National Cancer Institute-Molecular Analysis for Therapy Choice (NCI-MATCH) trial offers a new clinical trial model that is more suited to testing precision therapies. It will leverage the resources of the NCI's National Clinical Trials Network (NCTN) to screen cancer patients nationwide for more than 60 mutations thought to be implicated in a number of cancers, particularly lung, colon, and breast cancer. Patients will be enrolled into one of the 22 treatment arms based on the genetic signature of their tumor.
As an NCI-designated cancer center and a member of the NCTN, MUSC Hollings Cancer Center will be offering the NCI-MATCH trial to South Carolina cancer patients. John M. Wrangle, M.D., the principal investigator of the MUSC site of the trial, will be able to enroll patients into any of the trial's 22 arms. Wrangle is aiming for a turnaround time—the time it takes from tumor biopsy and genetic sequencing to a decision on enrollment into a treatment arm—of two weeks. Screening began in late 2015, and Wrangle expects the first patients to be enrolled in early 2016. For more information, contact MATCH coordinator Joni Harris at harrisj@musc.edu or 843-792-8876.
With a grant awarded in 2014 by the NCI Community Oncology Research Program (NCORP), MUSC Hollings Cancer Center partnered with community oncology practices to build their clinical trials infrastructure. As a result, South Carolina patients living in the vicinity of an NCORP partner site will be able to participate in the NCI-MATCH trial closer to home. For a full list of NCORP sites, visit NCORP.
Optimizing Immune Checkpoint Blockade For Lung Cancer
The advent of immune checkpoint blockade has changed the landscape of cancer care. Immune checkpoint blockade "takes the brakes off" the immune system, enabling T cells that have been lulled into indolence by the tumor microenvironment to recognize and kill nearby tumor cells. Remarkable and durable responses have been achieved in a subset of cancer patients with immune checkpoint blockade alone, but extending those benefits to a larger proportion of cancer patients will likely require novel combination regimens.
In late 2015, MUSC Hollings Cancer Center began enrolling patients with non-small cell lung cancer (NSCLC) into a first-in-human, investigator-initiated phase 1b/2 trial of a combination regimen including the PD-1 inhibitor nivolumab and an investigational drug—IL-15 complexes known as ALT-803 (Altor Bioscience, Miramar, FL).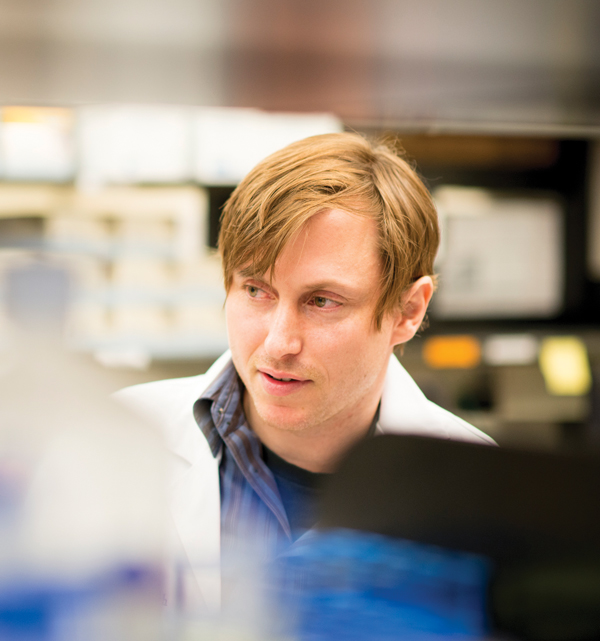 Medical oncologist John M. Wrangle, M.D., and cancer immunologist Mark P. Rubinstein, Ph.D. collaborated to design the trial, drawing on Rubinstein's preclinical work with IL-15 complexes, and Wrangle's clinical expertise in cancer immunology. The PD-1 inhibitor removes the brakes from the immune system while the IL-15 complexes apply the gas, enhancing the T cell response and potentially stimulating other immune cells such as natural killer cells to attack the tumor.
The initial rationale for this clinical study stems from work done by Rubinstein as a postdoctoral fellow at the Scripps Research Institute. In 2006, Rubinstein co-discovered that complexing IL-15 to its soluble receptor makes it 100-fold more biologically active. This finding was of particular importance because, in 2008, IL-15 was ranked by the National Cancer Institute Immunotherapy Agent Workshop as the most promising immunotherapy agent for cancer, edging out even PD-1 inhibitors. For these reasons, Wrangle and Rubinstein saw tremendous potential in pairing one of the most promising of the approved immune checkpoint inhibitors, a PD-1 inhibitor, with IL-15 complexes.
The trial will first establish a safe dose for the IL-15 complexes in the context of nivolumab and then test the combination therapy in 40 NSCLC patients who are nivolumab naïve and 40 who have not benefited from previous nivolumab therapy. For more information, contact thoracic nurse navigator Claudia Miller, R.N., at millercl@musc.edu.