Culture of Innovation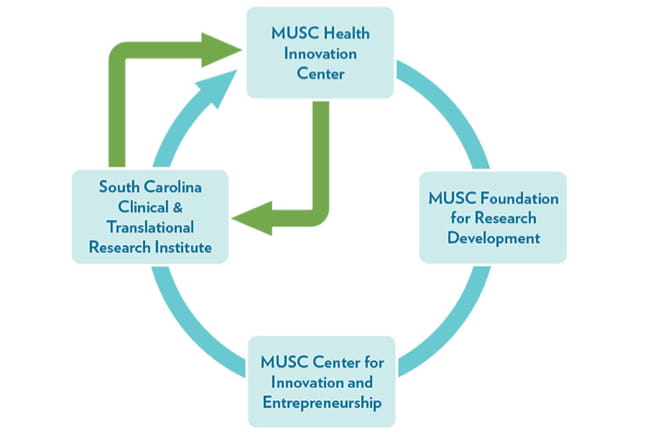 Creating a Culture of Innovation
MUSC Health Innovation Center
Business as usual is no longer an option for health care. Innovation is an essential survival tool for medical institutions as models of care and reimbursement undergo rapid change. To thrive in this climate, they will need to constantly innovate and efficiently implement those innovations with the most promise for improving the quality and value of care.
Encouraging a culture of innovation and helping translate creative ideas into actual innovation in the clinic is the mission of the MUSC Health Innovation Center, one of only a handful of such centers nationwide.
It provides innovators a roadmap for moving their idea forward using existing resources on campus. The first stop is the MUSC Foundation for Research Development, which will ensure that the intellectual property is protected and will help find commercial partners for the development of MUSC innovations. Next is the MUSC Center for Innovation and Entrepreneurship, which will help innovators develop their concept into a tangible commodity, such as a prototype or a definitively mapped protocol. The South Carolina Clinical & Translational Research Institute, housed at MUSC, then facilitates the translation of these health care ideas into the clinic.
"Up to now, each of these resources was siloed," says center director Barton L. Sachs, M.D., M.B.A."People might have entered at one of these points and not connected up with the rest." The MUSC Health Center for Health Innovation ensures that innovators benefit from each resource at the right point in the development of their idea so that its potential to benefit patient care is promptly realized.
To tap into the creativity of the MUSC Health staff, the center will run quarterly theme-based campaigns to solicit innovative ideas. The first campaign, which was launched in November around the theme "Population Health Starts with Us," seeks ideas from faculty and staff on how to enhance their health and well-being.
Electronic Report Card for Trainees
Health care simulations allow providers to practice their clinical skills in a risk-free environment, but universal standards for skills assessment have been missing. Now, Health care Simulation South Carolina (HCSSC) is incorporating new software into its suite of manikin simulators to give trainees objective measures of their performance. "We asked, 'What did they learn? How long did it take? What's the learning curve?'" says John Schaefer, III, M.D. HCSSC Director and MUSC SmartStateTM Endowed Chair for Clinical Effectiveness and Patient Safety. "With this software, we can run a simulation and get that performance data."
Schaefer's team is located at the statewide HCSSC office at MUSC. The team builds and programs manikins to reproduce hundreds of patient scenarios, from inserting an IV to reviving a child who is not breathing. Since 2007, the number of simulations performed each year has grown from 5,000 at a few locations in South Carolina to 80,000 at 14 HCSSC Simulation Centers located within hospitals and technical colleges in North Carolina, South Carolina, and Alabama. In 2015, the new grading software was licensed for all simulators. This development is igniting interest in health care simulation from the Universities of Pittsburgh and Cincinnati and from medical associations in Europe. "The data we're able to collect now are similar to what flight simulators collect to train pilots," says Schaefer. "We didn't know how many times you needed to practice a technique to be proficient. Now we do. That's the power of data."