Clinical Trials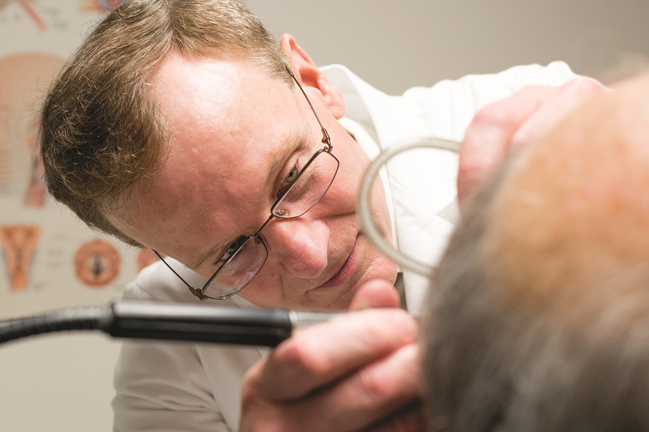 Groundbreaking Clinical Trials
Menière's Disease
An investigational treatment for Menière's disease has shown safety and efficacy in phase 1b and 2b trials (NCT01084525, NCT01412177 led by Paul R. Lambert, M.D.,Chair of the Department of Otolaryngology – Head & Neck Surgery. Lambert reported the findings of the phase 2b trial this fall at the annual meeting of the American Academy of Otolaryngology and the 7th International Symposium on Menière's disease and Inner Ear Disorders in Rome, Italy.
In Menière's disease, fluid builds up in the inner ear, causing severe vertigo, hearing loss, and tinnitus that dramatically compromise quality of life.
The phase 2b trial showed that patients who were injected behind the ear drum with a steroid-containing thermosensitive gel (OTO-104, Otonomy; San Diego, CA) experienced significantly fewer and less severe Menière's attacks than those who received a placebo injection. The thermosensitive gel is liquid at room temperature but turns into a gel when exposed to body heat. Thus, unlike liquid solutions of steroids, which are non-detectable within 24 hours, the gel remains in place for weeks and can provide sustained relief without the need for frequent reinjection.
A phase 3 trial of the thermosensitive gel will open in early 2016. For more information, contact Shaun A. Nguyen, M.D. at nguyensh@musc.edu.
Sickle Cell Disease
Hematologist Julie Kanter, M.D., is the principal MUSC investigator for a phase 1 clinical trial (NCT02140554) of a new gene therapy for serious sickle cell disease (SCD) that she believes could be the next step toward a curative treatment. Currently, the only cure for a child with SCD is a hematopoietic stem cell (HSC) bone marrow transplant (HSCT) from an HLA-matched donor, but less than 10percent of affected patients have such a donor. Gene therapy adopts a different approach: the patient's own HSCs are harvested from the bone marrow, transduced with a lentivirus carrying a functional copy of the human beta-globin gene with anti-sickling properties (the LentiGlobin BB305 Drug Product; bluebird bio, Inc.), and then reinfused into the chemotherapy-treated patient. These "genetically corrected" HSCs are designed to serve as a self-renewing source of healthy red blood cells, and so a single instance of gene therapy could potentially cure the disease or drastically lessen its severity. For more information, contact Dr. Kanter at 843-876-8483 or kanter@musc.edu.
Carotid Stenosis
CREST-2 (NCT02089217) is a study for people who have asymptomatic narrowing of their carotid artery. The study consists of two parallel trials—one trial will compare carotid stenting plus intensive management vs intensive medical management alone, and the other trial will compare endarterectomy (surgery) plus intensive management vs intensive medical management alone. All study participants will receive intensive medical management to help control their risk factors for stroke.
MUSC Health stroke faculty Tanya N. Turan, M.D., and Marc I. Chimowitz, MBChB, are members of the executive committee and run the medical management core that oversees medical management in the trial at all 120 participating sites in the U.S. and Canada. MUSC Health is also a study site as part of its participation in the Stroke Trials Network.
Intrahepatic Cholangiocarcinoma
Radiation oncologist S. Lewis Cooper, M.D., is leading a phase 1 trial of a novel combination regimen for patients with unresectable intrahepatic cholangiocarcinoma (ICC) that pairs current first-line chemotherapy gemcitabine/cisplatin (gem/cis) with a liver-directed therapy, transarterial embolization with Yttrium 90 (TARE Y90). The Y90 resin microspheres are infused into the arterial system of the liver, which provides the blood supply to the tumor more than the healthy liver. The microspheres lodge in the microvasculature around the tumor and attack it via radiation and by blocking its blood supply. Cooper is hoping that combining gem/cis and TARE Y90, each of which extends survival about a year, will buy more time for patients with ICC. The primary goal of the phase 1 trial will be to determine a safe dose for the two therapies used in combination. For more information, contact Y90 study coordinator Sarah Annand at annands@musc.edu.