Redefining Stroke Care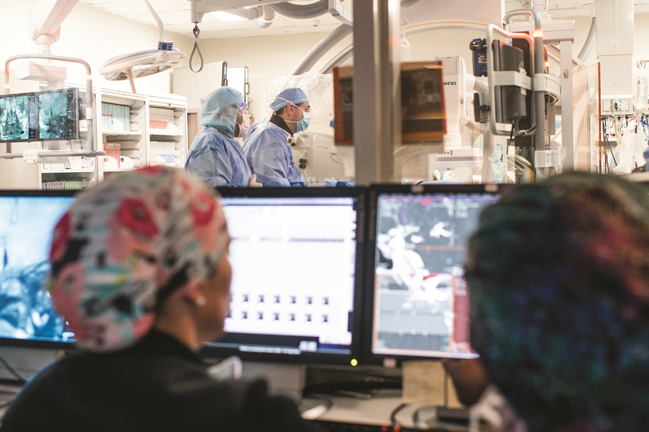 New Cerebrovascular Therapies 
The Division of Neuroendovascular Surgery has earned an international reputation for advancing intra-arterial therapies for ischemic stroke (caused by blood clots) and hemorrhagic stroke (caused by aneurysms and arteriovenous malformations). The team's research ranges from benchtop to pre-clinical studies and from first-in-human trials to pre- and post-market investigations. The team members are: Aquilla S. Turk, D.O., Professor and Director of the Division of Neuroendovascular Surgery; M. Imran Chaudry, M.B.B.S., Associate Professor; Kyle M. Fargen, M.D., MPH, Professor; Alejandro M. Spiotta, M.D., Associate Professor, and Raymond D. Turner, M.D., Professor and Co-Director of the Comprehensive Stroke & Cerebrovascular Center.
Furthermore, the group is the coordinating center for four international, multicenter trials addressing fundamental questions about current aneurysm and stroke treatment models of care.
Approaches
Among the division's numerous ongoing trials, the COMPASS Trial (A Comparison of Direct Aspiration vs Stent Retriever as a First Approach) holds significant potential to shape the field in terms of best practice for the removal of a blood clot in stroke. Turk is the co-principal investigator. In 2014, MUSC Health was the principal site of the precursor study (ADAPT FAST) that showed the efficacy of direct aspiration using a large-bore catheter as a first pass technique. This COMPASS Trial is the nation's first clinical trial comparison of direct aspiration vs the use of a stent retriever as the first approach to thrombectomy.
In addition, Turk is the co-principal investigator of the POSITIVE Trial (Perfusion Imaging Selection of Ischemic Stroke Patients for Endovascular Therapy), which is studying endovascular therapy vs traditional medical therapy delivered six to 12 hours after onset of symptoms.
Devices
In terms of trialing next-generation devices for treating aneurysm and stroke, the year's highlights include:
The ANSWER trial evaluated a reconstruction device, PulseRider™ (Pulsar Vascular, San Jose, CA), a T- or Y-shaped stent used to treat aneurysms arising at bifurcations. The first three U.S. cases were done by Spiotta, Turner, and Chaudry. They were able to achieve complete occlusion in otherwise difficult-to-treat aneurysms in all three cases. The team reported on these results in the January 5, 2015 Journal of Neurointerventional Surgery. Spiotta was the principal investigator.
COAST is investigating a coil device that is novel in its softness and non-helical design. This device is designed to treat aneurysms smaller than 5 millimeters. Chaudry is the principal investigator.
Treating Acute Ischemic Stroke: Clot-Removal Devices Now Recommended 
MUSC Health's Comprehensive Stroke & Cerebrovascular Center played a role in the revision of the American Heart Association (AHA) guidelines for treating certain stroke patients. The guidelines included the recommendation that stent retrieval devices be used to remove blood clots in large arteries for patients with acute ischemic stroke. Five landmark clinical trials provided the evidence that drove the revision. Christine A. Holmstedt, D.O., Co-Director of the Center, was a co-investigator in one of those trials, the ESCAPE trial (NCT01778335), which evaluated whether patients with acute ischemic stroke would benefit from rapid endovascular treatment using retrievable stents to remove the blood clot. The AHA noted that other mechanical thrombectomy devices may be used as judged by the physician. Holmstedt recommends that these procedures be done at a high-volume, comprehensive stroke center that has the personnel, experience, and imaging technology necessary for optimal outcomes.