Mobile Technology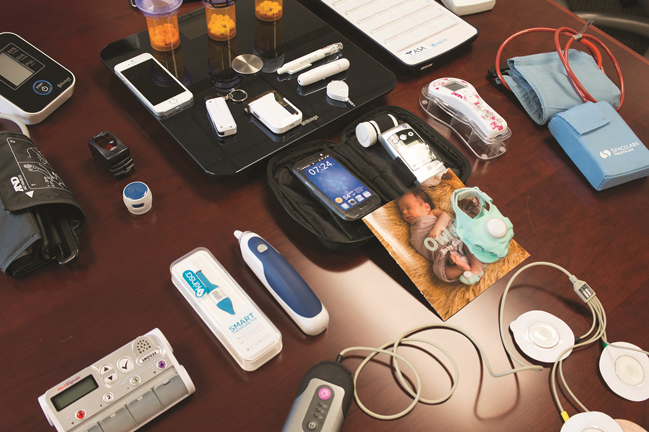 Managing Chronic Disease With Mobile Health Technology
The ubiquitous smartphone promises to be a gateway to improved care for patients with chronic diseases. The Technology Applications Center for Healthful Lifestyles(TACHL) in the MUSC Health College of Nursing, led by Frank A. Treiber, Ph.D., Director, and Kenneth Ruggiero, Ph.D., Associate Director, TACHL is committed to developing patient-friendly mobile health (mHealth) technology that seamlessly connects patients and health care providers using apps, body sensors, remote monitoring devices, and the electronic health record. It is collaborating on over 30 funded mHealth projects addressing the prevention and management of the leading chronic diseases in South Carolina.
TACHL designs or optimizes apps that remind patients to take medications or check key health measures such as blood pressure, give immediate audio and visual feedback, and promote patient engagement by providing personalized motivational and social reinforcement. Health care providers receive reports summarizing medication intake and vital sign functioning, enabling them to make nimble adjustments to treatment plans. Most importantly, patients guide how these apps are constructed, so that they are more likely to make them a part of their everyday activities. For example, in collaboration with pediatrician Ronald J. Teufel, M.D., and with funding from the South Carolina Clinical and Translational Research Institute, Treiber and TACHL Senior Systems Architect Sachin K. Patel, MS, developed the Smart Phone Asthma Monitoring System (SAMS) to ensure better follow-up care for children hospitalized with severe asthma. The app, which was developed with guidance from youth with asthma and their parents, syncs to Bluetooth-enabled controller, and rescue inhalers and transmits summarized usage data to providers. It also guides children how to use the inhaler properly, even recording a brief video so that MUSC Children's Hospital pediatric respiratory therapists such as Anita B. Shuler, RRT, AE-C, can evaluate their technique. Children answer a series of questions daily about their symptoms and the circumstances surrounding inhaler use. An interface is being developed to provide parents treatment recommendations based on their child's data profile.
The app is now being tested in a feasibility trial with patients in Charleston and Columbia. With funding from the Center for Telehealth, Shuler, and other pediatric respiratory therapists will begin piloting one-month telehealth followup visits with these children in early 2016, basing treatment recommendations on reports generated using app-collected data.