New Care Delivery Models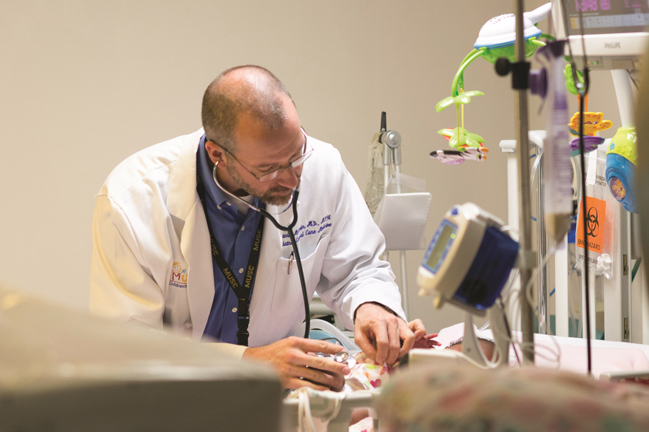 Stronger Together
A collaborative spirit and an enhanced telehealth infrastructure are enabling hospitals throughout South Carolina to cooperate in unprecedented ways to provide coordinated, convenient, and cost-effective patient care to all of South Carolina's residents.
Telestroke
When the MUSC Health telestroke program was founded in 2008, South Carolina was considered the buckle of the stroke belt, with stroke-related death rates much higher than the national average, particularly along the impoverished I-95 corridor. Today, more than 96 percent of the state's population is within a 60-minute drive of time-sensitive acute stroke care as a result of telestroke initiatives.
MUSC Health's Comprehensive Stroke Center, directed by Christine Holmstedt, D.O., is one of the highest-volume thrombectomy programs in the nation and serves as a telestroke hub for the South Carolina Telehealth Alliance, providing comprehensive stroke services for 19 partner sites. It has performed 7,000 telestroke consults and improved partner sites' average door-to-needle time—the time from the patient's arrival at the hospital until the administration of tissue plasminogen activator—from 99 to 67 minutes, with 20 minutes as the fastest time. In 2015, subhubs were developed at Regional Medical Center in Orangeburg (see story at right) and McLeod Health in Florence to admit patients who have received thrombolytic therapy at smaller hospitals in their region and require monitoring but do not need the comprehensive services (i.e., thrombectomy) available at MUSC Health. Better matching of patient needs and hospital resources maximizes the efficiency of care delivery and enables more patients to be treated near their own communities. In addition to being a major player in building a statewide telestroke infrastructure, the program is working to improve stroke care in its own back yard. In 2015, it began to develop a "comprehensive stroke community" in the Charleston tricounty region that will serve as a national model for collaborative stroke care.
A Commitment to Quality Stroke Care at Regional Medical Center in Orangeburg
The Regional Medical Center (RMC), a 286-bed, acute-care hospital and Primary Stroke Center in Orangeburg, SC, is dedicated to providing quality stroke care for its patients. Currently serving about 250 stroke patients per year, RMC's Emergency Department has established stroke pathways that quickly guide the patient through radiological studies and clinical evaluations.
RMC partnered with MUSC Health for telestroke in February 2015, which brought further dramatic gains in key stroke metrics. The number of patients who received thrombolytic therapy more than doubled (from 10 in 2014 to 24 in 2015), and the percentage of those who received it within 60 minutes of arriving at the hospital, as guidelines suggest, increased from 20 percent in 2014 to 54 percent in 2015.
RMC Stroke Program Coordinator Sherry Davis, BSN, SCRN, believes that educational in-services provided by MUSC Health physicians helped drive home why it is so important to act quickly when it comes to stroke. Davis and her colleagues were especially struck to learn that two million neurons die every minute that thrombolytic therapy is delayed. Davis has seen firsthand how much of a difference early intervention makes. "We have had several patients this year walk out of our doors with no symptoms after receiving stroke treatment here," said Davis.
RMC has also partnered with MUSC Health's Teleneurology and Tele-EEG services to help cover its neurology needs and hopes to expand the program in the future.
Pediatric Emergent & Critical Care
For a child in crisis, rapid evaluation, and intervention by pediatric critical care subspecialists can change the trajectory of care. Providing access to that subspecialty care is the mission of the Pediatric Emergent and Critical Care telemedicine program, led by MUSC Children's Hospital pediatric intensivist S. David McSwain, M.D., MPH. Since its launch in 2014, the program has conducted more than 50 teleconsultations at four sites—Conway Medical Center, Tidelands Georgetown Memorial Hospital, Tidelands Waccamaw Community Hospital, and Beaufort Memorial Hospital.
David Haseltine, M.D., of Tidelands Health still vividly remembers the case of an asthmatic child in respiratory distress. "With the rapid bedside guidance provided by Dr. McSwain, we were able to stabilize the patient and improve his breathing to the point that he could be transferred to MUSC without needing intubation," says Haseltine. "Without the aid of telehealth and quick intervention, only a few years ago this same scenario would have resulted in respiratory failure, intubation for transport, and a several day ICU stay for weaning off the ventilator."
Indeed, data from the pilot phase of the project showed that teleconsultations reduced unnecessary PICU admissions and transfers, including five air transfers, providing a tremendous cost savings without sacrificing quality of care.
McSwain is also the principal investigator for a $1 million Duke Endowment grant awarded to MUSC Health in 2015 to help develop the South Carolina Children's Hospital Collaborative Telehealth Network. The goal is to create an integrated telehealth network that will enable each of the state's children's hospitals to provide similar teleconsultation services in its own referral region. This network will enable new pediatric telehealth programs to be scaled up efficiently to benefit children throughout South Carolina.
ICU Innovations & Tele-ICU
ICU Innovations is an outreach effort led by MUSC Health Tele-ICU Director Dee Ford, M.D.,which offers ICUs at MUSC Health partner hospitals quarterly on-site case-based interprofessional team education, collaborative protocol development and implementation, and ad hoc discussions with MUSC Health's interprofessional team for unique dilemmas. So far, six seminars have been conducted at two hospitals, and 51 continuing education/continuing medical education credits have been awarded. Physician champions working with the ICU Innovations team are also eligible to receive maintenance of certification credit through MUSC Health.
In 2013, MUSC Health partnered with St. Louis-based Advanced ICU Care, the nation's largest tele-ICU provider, to create a new model of ICU care in South Carolina. The MUSC Health Tele-ICU operations center opened in January 2016 and, in partnership with Advanced ICU Care, is delivering comprehensive, around-the-clock ICU patient monitoring provided by board-certified intensivists, nurse practitioners, and critical care registered nurses to two community hospitals, with two more to come on board by the summer of 2016.