Telenutrition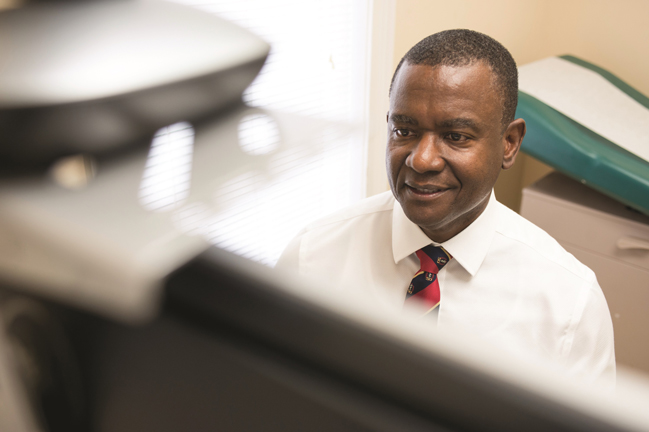 Motivating Lifestyle Change Through Telenutrition
Since the founding in 2012 of MUSC Health's Virtual TeleConsultation (VTC) program by Samir M. Fakhry, M.D., Chief of the Division of General Surgery, the demand for nutritional counseling has been palpable. It was the first service provided by the VTC and remains one of the most popular, with almost 600 teleconsultations in 2015.
The demand is not surprising in a state where two of three adults are overweight or obese and where obesity-related diseases take a heavy toll. With obesity rates of 32.1 percent for the overall population and 42.7 percent for African Americans, South Carolina has the fourth highest prevalence of diabetes in the nation and the third highest for African Americans. wo of five adults in South Carolina have high blood pressure, and stroke and heart disease are the two leading causes of death.
The simple solution for lessening this disease burden is lifestyle modification, but motivating behavior change within the time constraints of a typical office visit has proven difficult. To alter life-long dietary habits, patients need more guidance, reinforcement, and follow-up. Telenutrition removes the onus from the physician by providing virtual access to a registered dietitian every four to six weeks who provides patients the tools they need to make healthy changes to their diet. Amanda Peterson, RDN, LD, counsels, and educates patients on lifestyle modifications, such as interpreting food labels, controlling portion sizes, and being mindful of their eating habits and behaviors. Additionally, she works with them to tailor healthy meal plans to their personal and cultural food preferences.
For patients, the service can be transformational. Just ask Sallie Middleton, a 67-year-old African American woman with diabetes, who was referred to the program by the Medical Center of Santee because her blood sugars were dangerously high. Middleton was motivated to change; she had seen a cousin lose her battle with diabetes, lapsing into a coma before dying. "My sugar was going to give me a stroke or a heart attack or cause me to go into a coma and I don't want that," says Middleton. "I want to live."
Middleton lost 15 pounds the first month and 40 pounds by month four and is now exercising regularly, walking three miles morning and evening. "I have so much energy now and my sugar is awesome," says Middleton. She laughs as she remembers her son calling her one night after 11 pm to find her dusting the furniture and walls because she had so much energy. She convinced him to follow her new diet as well and he lost 12 pounds in the first two weeks. Now she's working on her sister and the members of her congregation. As patients such as Sallie Middleton share their experiences and success stories, telenutrition could be a catalyst for transforming communities.
"I thank God for that program," says Middleton. She is also grateful to Dr. Monnie Singleton, who had the vision to offer VTC telenutrition services at both of his practices, the Singleton Health Clinic in Orangeburg and the Medical Center of Santee. "Telehealth is the wave of the future," says Singleton, "and I like to ride the crest of the wave and be an early end-user."
To make the case that telehealth-delivered nutritional counseling has a crucial role to play in obesity management, the MUSC Center for Telehealth is offering free telenutrition services to partnering practices and will share data from this pilot study with the Centers of Medicare & Medicaid Services. In 2015, Medicaid began reimbursing for in-person obesity management, covering six physician and six dietitian visits annually for patients with a body mass index greater than 30, but does not currently cover telenutrition.
For more information on VTC telenutrition services, contact program coordinator Laura Langston at langstl@musc.edu.