Cultural Awareness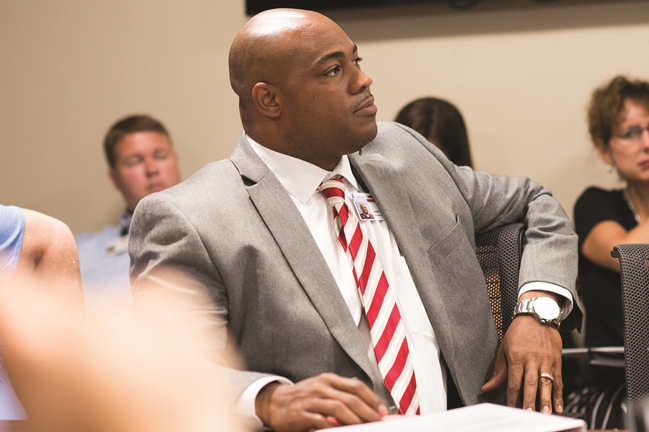 Program Builds Cultural Awareness
The patient-provider relationship is very personal. If the patient runs into a language barrier or perceives bias, the relationship can suffer, which affects trust and adherence and ultimately outcome. As America undergoes significant demographic change, the importance of cultural diversity in health care systems cannot be overstated. Optimal public health depends on it. Anton Gunn, MSW, Executive Director of Community Health Innovation and Chief Diversity Officer, is responsible for nurturing a diverse and diversity-aware workforce at MUSC Health. "To be a leader and innovator in health care, you have to understand the difference that 'different' makes," he says. "It's not about social justice or making us feel good. It's about being an excellent organization. We have to have excellence in care for every single person."
Metrics will tell Gunn when MUSC Health has met this goal. "We have a lot of quality metrics that we track in the hospital's database. Length of stay, central line infections, readmission rates. We also record race, gender, age, and other patient data. I'll know we are successful when MUSC Health has zero disparities in all patients for all quality metrics," he says.
Building upon MUSC's diversity and inclusion strategic plan that was in place before his January 2015 arrival, Gunn began the year by overseeing four teams (Pipeline and Recruitment, Communications and Community Relations, Engagement and Inclusion, and Education and Training) that were charged with implementing that strategic plan. As their work unfolded, Gunn oversaw the following initiatives:
Language Access
An Epic report revealed that the top five languages spoken by patients are Spanish, Gullah, American Sign Language, Portuguese, and Mandarin. Gunn's office is currently assisting the Office of Interpretive Services to ensure that appropriate resources are delivered when and where patients and staff need them. There is a focus on increasing training opportunities for the Interpreter Services team, coordinating more interpreter services at MUSC Health's outreach clinics, and hiring more interpreters and translators to ensure 24/7 coverage in the hospitals.
LGBTQ Health Care Equality
After completing a survey known as the Healthcare Quality Index (HEI) from the Human Rights Campaign Foundation, MUSC Health achieved 2015 and 2016 status as a Leader in LGBT Healthcare Equality. MUSC Health achieved this status by using best practices that improve the experiences of LGBTQ (Lesbian, Gay, Bisexual, Transgender, Queer) patients, employees, and families. MUSC Health also provided LGBTQ training and education for senior leaders and staff. The HEI is the national benchmark on corporate policies and practices pertinent to the LGBTQ community. The HEI 2016 report will be released in March 2016.
Cultural Competency for Staff
Given immigration rates and Charleston's tourism scores, MUSC Health clinicians are practicing in a truly global environment, says Gunn. "One day, a physician can be talking to a person from West Ashley, but on the next, he could be talking to a patient from West Africa." So Gunn is working to give physicians and providers the best global medicine training and support to enable them to deliver cross-cultural care to all patients.
Gunn has made presentations at MUSC departmental meetings and in floor units. He is also in the process of creating a clinician survey to assess cross-cultural competence. Training the MUSC Health team will eventually include everyone, including registration and facilities staff, as MUSC Health seeks to promote better health outcomes for all.