Infection Control Wins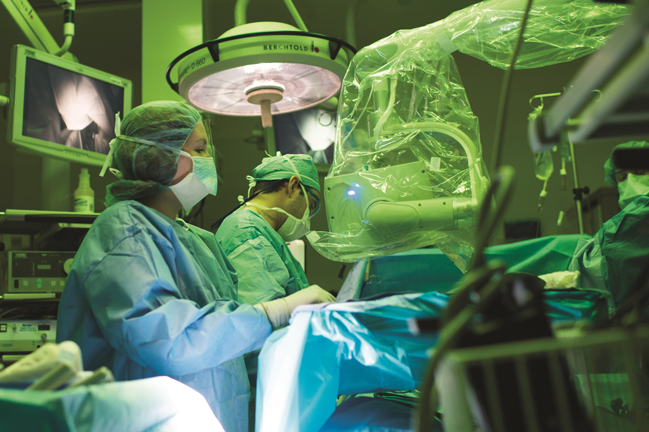 MUSC Health operates on the principles of a High Reliability Organization: leadership engagement, robust process improvement, and a culture of safety. Infection control efforts—always a major focus in safety—battled the bugs in several new ways in 2015.
Reducing Catheter-Associated Urinary Tract Infections (CAUTI)
MUSC Health had a huge win against one of health care's most persistent infections. "This year, we took CAUTI to the mat," says Danielle Scheurer, M.D., MSCR, SFHM, Chief Quality Officer. The goal was to beat the standardized infection ratio (SIR), the industry's primary measure, of 1.0. MUSC Health achieved an SIR of .94 in 2015 (down from 2.5 in 2014). The CAUTI prevention team tackled CAUTI from several angles:
A single position was designated to address the infection rates. CAUTI Prevention Nurse Carol Balabushka, MSN, RN, led the "CAUTI ZERO" efforts.
The team worked closely with clinical departments to ensure that Foley catheters were inserted only for appropriate indications. They created a best practice advisory within Epic to alert staff when an indwelling catheter had been in for 24 hours.
Nurses were encouraged to use the Early Discontinuation Protocol that empowers them to remove a catheter when it is no longer indicated without a physician order.
A new condom catheter was used in certain male patients, reducing the overall number of catheter insertions.
A new Foley catheter tray with step-by-step instructions helped standardize insertion and management.
Improving High-Level Disinfection
To ensure effective disinfection of certain devices that enter the body, a task force assessed disinfection practices, launched customized processes for each device, and began laying the groundwork for a centralized service in the hospitals.
Other Tactics to Reduce Hospital-Acquired Infections
Risk assessment and process improvement in sterile processing departments
Assessment of the ventilator-associated pneumonia prevention bundle to ensure best practice
Trial of a new electronic hand hygiene monitoring system
Trial of a UV light system to disinfect rooms at discharge, with an initial focus on rooms vacated by patients with highly contagious infectious diseases, such as Clostridium difficile
Adoption throughout the inpatient units of the Emergency Department's protocol for identifying sepsis.
Surgery Checklist Improves Safety
MUSC Health is one of the seven South Carolina hospitals that were the first in the state to self-certify as a Safe Surgery 2015 Hospital. Safe Surgery 2015 is a statewide effort that seeks to ensure the use of a surgical safety checklist in operating rooms (ORs). South Carolina was the first state to begin the self-certification program. Hospitals' applications to the South Carolina Hospital Association provided information that confirmed surgical teams' use of the checklist before anesthesia, before incision, and before the patient leaves the OR. A multidisciplinary committee reviewed applications. Hospitals that met the criteria were recognized at a conference in September.