Clinician Researcher Collaborations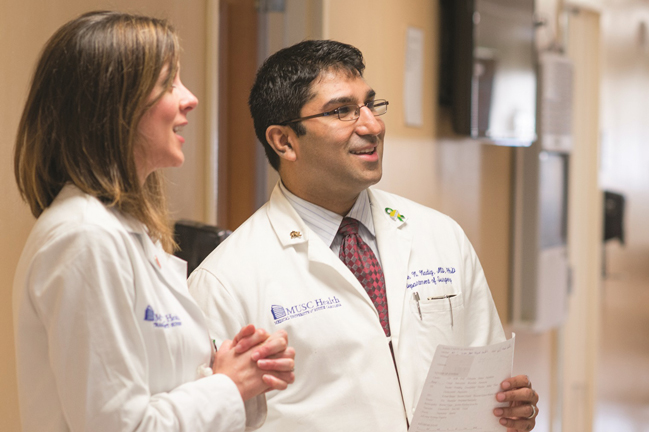 Precision Immunotherapy Gets Small
A physician/scientist team is designing nanoparticles that smuggle therapies directly to a trouble spot without knocking the rest of the body off balance. In 2015, transplant surgeon Satish N. Nadig, M.D., Ph.D.; bioengineer Ann-Marie Broome, Ph.D., MBA; and immunologist Carl Atkinson, Ph.D., Clinician/Researcher Collaborations invented several technologies that are covered by multiple pending patent applications. Their company, ToleRaM Nanotech, LLC, obtained exclusive rights to some of these technologies from MUSC Foundation for Research Development.
The idea started with organ transplant patients. Immunosuppressant drugs suppress a recipient's entire immune system, causing unintended side effects such as infections and even cancer. The nanocarrier developed by ToleRaM delivers the immunosuppressant rapamycin directly to the vasculature of the donor organ, releasing it only when it is taken up by the cells lining the blood vessels, limiting side effects. ToleRaM's frontline product is a nanoparticle additive to the standard University of Wisconsin solution used to preserve donor organs during transport, which further protects the organ against the stresses of transplant. The additive suppresses the immune response only at sites where the blood vessels of a donor organ are joined to those of the recipient. The group is also designing a liposome delivery system for treating chronic lung disease and a nanoparticle that can deliver therapeutic agents to surgically inaccessible tumors.
This year, the team received pilot funding from the South Carolina Research Authority Launch Program to advance its proof-of-concept using preclinical models. The team has also reached the exclusive second round for the prestigious Harrington Scholar-Innovator Award, which provides a five-year investment in clinician scientists who wish to fully develop the business and scientific components of their work.
"The partnership we've fostered is true team science," says Nadig. "We're utilizing concepts in bioengineering and basic immunology and applying that to patients."
A "Smart" Wound Dressing
Chronic wounds, such as pressure ulcers or diabetic foot/venous leg ulcers, affect three to six million Americans and cost the nation an estimated $25 billion annually. 
MUSC Health surgeon Stephen A. Fann, M.D., who specializes in treating patients with chronic, exudative wounds, saw firsthand that the wound gels commonly used to treat them provide some pain relief but do not adequately protect against bacterial infection. He asked bioengineer Michael J. Yost, Ph.D., Director of General Surgery Research, for a "smart" wound dressing that would allow fluid to drain from the wound but prevent external moisture and contaminants from reaching it. 
With colleagues Veronica Rodriguez-Rivera, Ph.D., and J. Matthew Rhett, Ph.D., Yost devised a multi-layered wound care system that was inspired by the ancient Egyptians. Egyptian wound dressings comprised three layers: a bottom layer of cotton lint serving as a scaffold for tissue regeneration, a middle layer of honey acting as an antibacterial agent, and an outer layer of grease for waterproofing. Yost and his team also built three layers into their wound closure system: a layer of reaction spun collagen impregnated with an anti-inflammatory peptide to act as a substrate; a layer of biofabricated microvascular tissue to ensure an adequate blood supply to the regenerating tissue; and a cellulose membrane to wick fluid from the wound but to prevent entry of contaminants. The external surface of the membrane is sputter coated with silver, making it at once hydrophobic and antibacterial. The dressing does not need to be removed or changed as it is semipermanent and biodegradable.
The team has created a company–Synovidah, LLC – to further develop and commercialize the novel wound dressing system. MUSC Health breast cancer surgeon Nancy DeMore, M.D., and College of Nursing professor Teresa J. Kelechi, Ph.D., who has long experience with wound care, serve on the advisory board of the company.