Drug Discovery & Industry Partnership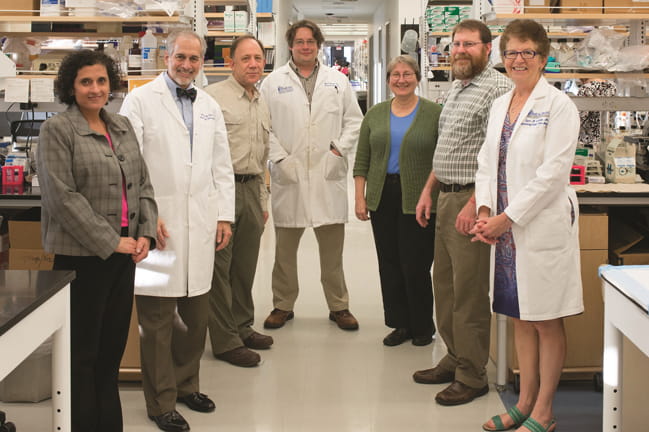 A New Model of Drug Discovery Attracts Industry Partnership
Drug discovery is at an impasse: nine of ten investigational compounds fail to show efficacy in clinical trials. Karen Lackey, who successfully led industry drug discovery efforts for 25 years before joining MUSC Health as Director of the South Carolina Center for Therapeutic Discovery and Development, is on a mission to change that. 
She believes the synergy created by industry/academia partnerships is the answer. Industry offers state-of-the-art platform technologies and extensive experience with the drug development process. Academic researchers offer a deeper understanding of clinical pathology and biological mechanisms that industry will need if it is to do a better job of choosing only the most promising of drug development candidates to take forward into clinical trial.
In May 2015, MUSC Health entered into just such a collaboration with Bristol-Myers Squibb (BMS), the goal of which is to identify biomarkers and possible drug targets for fibrotic disease. BMS is funding basic and translational scientists and clinicians at MUSC specializing in three fibrotic diseases: scleroderma, idiopathic pulmonary fibrosis (IPF), and diabetic kidney disease (DKD). MUSC investigators will work closely with BMS teams specializing in fibrosis, biomarkers, and immunology. Funded investigators include Michael G. Janech, Ph.D., of the Division of Nephrology; Carol Feghali-Bostwick, Ph.D., and Stanley Hoffman, Ph.D., of the Division of Rheumatology and Immunology, who offer innovative models of fibrotic disease; and MUSC Health rheumatologists Richard M. Silver, M.D., and James C. Oates, M.D., pulmonologist Lynn M. Schnapp, M.D., and endocrinologist Maria F. Lopes-Virella, M.D., Ph.D., who will collect samples and analyze data from patients with scleroderma, IPF, and DKD, respectively, to identify new therapeutic targets.