Multi-Institutional Collaboration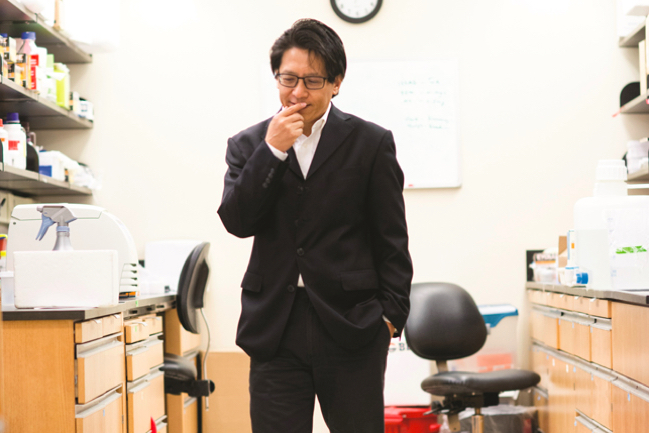 World-Class Team Collaborates to Develop a New Class of Cancer Therapeutics
Precision therapies target specific mutations to knock out pathways involved in cancer development. Cancer is devious, however, and can develop resistance to these therapies by using redundant pathways. Zihai Li, M.D., Ph.D., Chair of the Department of Microbiology and Immunology, has shown that the heat shock protein grp94 is a master regulator of many oncogenic pathways, making it an attractive drug target. A grp94 inhibitor could block multiple cancer-associated pathways at once, reducing the likelihood of resistance.
In September 2015, MUSC Hollings Cancer Center and its partners Memorial Sloan Kettering and the University at Buffalo were awarded a five-year $6.8 million program project grant from the National Institutes of Health to elucidate the underlying biology and structure of the heat shock protein grp94 and to develop grp94 inhibitors for clinical trial. The award will fund three projects and two cores to accelerate the development of grp94-based cancer therapeutics.
Li is the national principal investigator for the grant, will head up its administrative core, and will lead a project to use genetic, biochemical, and immunological tools to elucidate the mechanisms by which grp94 promotes cancer and to assess the therapeutic potential of grp94 inhibitors against triple-negative breast cancer.
Gabriela Chiosis, Ph.D., of Memorial Sloan Kettering, whose laboratory has previously developed successful inhibitors against other heat shock proteins, will head the Medicinal Chemistry core and develop identified grp94-inhibiting compounds into pharmacologically viable agents for clinical trial. Structural biologist Daniel T. Gewirt, Ph.D. of the University at Buffalo will map the atomic structure of grp94 so that new inhibitors can be identified and engineered for better selectivity and binding capacity. 
Trans-Atlantic Partnership Finds Genetic Origins of a Common Cardiac Disease
Faculty in the Department of Regenerative Medicine and Cell Biology at MUSC have formed a trans-Atlantic partnership with the French Leducq Foundation and Harvard/Massachusetts General Hospital to investigate the origins of mitral valve prolapse (MVP), a degenerative cardiac disease affecting 1 in 40 people. Healthy heart valves function as one-way doors for blood flow. In MVP, the mitral valve fails to close properly and blood can flow in reverse. About half of people with MVP have symptoms and harbor increased risks of stroke, heart failure and sudden cardiac death.
In their 2015 articles, published in the August 10 issue of Nature and the August 24 issue of Nature Genetics, the members of the MUSC/Trans-Atlantic partnership identify heritable genetic errors during cardiac development that progress as affected individuals age. The team studied families with inherited MVP and a group of more than 10,000 individuals with non-inherited MVP and discovered genetic variations in genes that contribute to malformed mitral valves. In a broadcast interview with South Carolina Public Radio on November 23, MUSC researcher Russell A. (Chip) Norris, Ph.D., co-senior author on the studies, said the results helped identify "druggable" pathways that can now be targeted with pharmaceutical therapy in experimental models. The group hopes these therapies for MVP will soon generate clinical trials.
"We have found a genetic and biological reason for one of the most common diseases affecting the human population," says Norris. "This is a critical initial step as we transform this discovery into new remedial therapies to treat the disease."