MUSC Start-Ups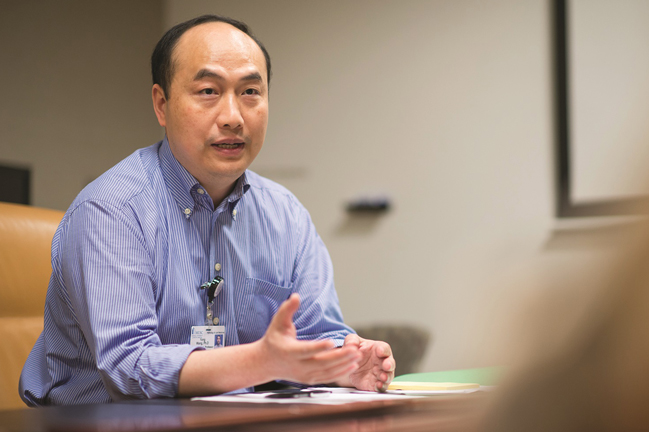 MUSC Start-Ups That Are Changing Care

Early rounds of chemotherapy and radiotherapy are effective at shrinking triple-negative breast cancers, but therapy resistance and tumor recurrence are common. A tiny population of cells in a tumor, called cancer stem cells (CSCs), are resistant to chemotherapy and radiation, according to Gavin Y. Wang, M.D., Ph.D., founder of Newrizon Biotechnologies, LLC, and Assistant Professor in the Department of Pathology and Laboratory Medicine. CSCs can self-regenerate, perpetuating therapy-resistant tumor regrowth and metastasis.
"Through drug screens, we have identified small molecule compounds that successfully deplete the CSC population in triple-negative breast cancers," says Wang. "We're using preclinical models to test these compounds alone or with chemotherapy or radiotherapy to remove the root of the disease."
In 2015, Newrizon entered into an option agreement with MUSC Foundation for Research Development for the pending PCT patent application for the compounds and is improving the chemical properties of those compounds to boost efficacy. The company is working to attract grants and venture capital for future clinical trials.

MUSC professors John E. Baatz, Ph.D., and Demetri D. Spyropoulos, Ph.D., have developed a special cryopreservation solution (SolnIX) and technique based on negative pressure expansion that allows tissue to be frozen without being damaged by ice crystal formation. When thawed, the stabilized tissue appears virtually identical to fresh tissue. They cofounded Cryogenix, LLC, to commercialize the technology, which they licensed from MUSC.
Their technique could be a real boon to biorepositories. Currently, the methods used to preserve specimens determine the analyses that can be run on them, forcing biorepositories to predict demand and leaving them to absorb the excess costs when they miscalculate. In contrast, tissues preserved using SolnIX and associated technologies can be analyzed using any (even unanticipated novel) methods, removing the guesswork for biorepositories and enabling them to provide samples in a more cost-effective manner.
In 2015, Cryogenix received an SCBIO Quick Start Grant and partnered with the Integrated Biobank of Luxembourg to perform large-scale testing of the technique.
Teleconsent

A new teleconsent capability developed by Brandon Welch, Ph.D., MUSC Director of Telehealth Research and Innovation, could improve clinical trial recruitment by enabling patients to conveniently provide their informed consent using telecommunication. The provider and patient can read and discuss the consent form together in real time using audio and video, and the patient can virtually sign by providing a free-drawn signature or photo signature. Teleconsent is free for MUSC clinicians and researchers, does not require any special downloads or plugins, and follows the same federal standards for patient privacy that bind hospitals. In 2015, MUSC licensed the teleconsent technology to Doxy.me, a telemedicine company cofounded by Welch.
"Teleconsent doesn't replace the in-person consent process" says Welch. "It just augments it. And that's a way to increase recruitment numbers."

Mitochondria, popularly known as the "power plants" of cells, are also acute sensors of the stressors responsible for organ injury. MUSC Foundation for Research Development has granted MitoHealth, Inc., an exclusive license to an assay of ATP-synthase beta, a new biomarker of kidney mitochondrial function. The biomarker could reveal early renal injury that others do not, according to MitoHealth, Inc., co-founders Rick Schnellmann, Ph.D., and Craig Beeson, Ph.D., both professors in the MUSC Department of Drug Discovery and Biomedical Sciences. In the May 2015 issue of Toxicological Sciences, they reported that damaged kidney mitochondria release a form of ATP synthase beta that is specifically detected in urine. A test for it could alert clinicians to changes in kidney function in patients with acute kidney injury caused by surgery or drug treatment. MitoHealth plans to have a sensitive test ready for commercial development by 2016.

Patient-Guided Health Solutions (PGHS), cofounded by Sachin K. Patel, M.S., and Frank A. Treiber, Ph.D. of MUSC Health's Colleges of Nursing and Medicine, is using mobile health technology to engage patients in their own care. PGHS solicits guidance from patients about how to design smartphone software and hardware devices that will be easy to use and will encourage adherence to their treatment plans.
Based on degree of adherence, patients receive tailored motivational messages related to their current goals. In 2015, for example, PGHS had patients redesign a "smart" pill bottle cap, which tracks when the bottle is opened or closed, to send personalized photos or motivational messages. These messages often involve family, faith, and friends. "Grandparents like receiving photos of their grandchildren," says Treiber, "along with a quick message such as 'Keep taking your pills, grandpa, so we can go catch more fish.'"