Leadership in Academic Medicine Program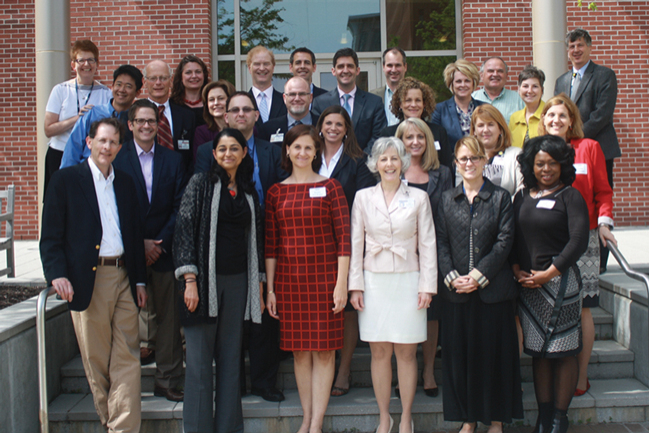 Academic health care is changing at a rapid pace, requiring creative leadership more than ever. That's why Department of Medicine Chair Don C. Rockey, M.D., appointed Elisha L. Brownfield, M.D., associate professor of Internal Medicine, to lead the team that created a nine-month interactive course to build a stronger culture of leadership.
In September 2016, the Department of Medicine's LEAD (Leadership in Academic Medicine) Program began its third academic year. Eligible participants include faculty and staff from the Department of Medicine and individuals from other departments and colleges across the enterprise. Now, the LEAD program is becoming a template for leadership development across MUSC.
"With so much change now in all of the mission areas in academic medicine, strong and committed leadership is more important than ever before," said Rockey.
Over the past decade, some of the best academic health institutions in the nation have increasingly focused on leadership development, noted Kathy Church, owner and principal consultant with Strategic Focus Associates. She has collaborated with Brownfield to design and refine the LEAD program.
Research has identified a number of proven and effective leadership behaviors that people can study, practice, and implement. The LEAD program begins with an emphasis on individual personal development. During the first session, participants undergo a "360 self-evaluation," which is a leadership review from their employees, peers, and bosses.
"Participants take a look at areas where they are doing well, and then some places where they might want to change some of their behaviors in the workplace," said Brownfield. After the 360 self-evaluation, an executive leadership coach provides individual guidance by telephone. "If participants develop more effective leadership skills, they can become transformative leaders who, in turn, can transform employees working under them," added Brownfield. In subsequent sessions, the LEAD program focuses on skills needed to work with teams and to negotiate differences among team members.
In January 2017, Brownfield and Church are adapting the LEAD program for about 30 strategic leaders across MUSC. After undergoing the 360 self-evaluation process, these leaders will study the university's leadership culture, design a vision for a new leadership culture, and develop a strategy to create it.