Faculty Development Program Aims to Improve Mentoring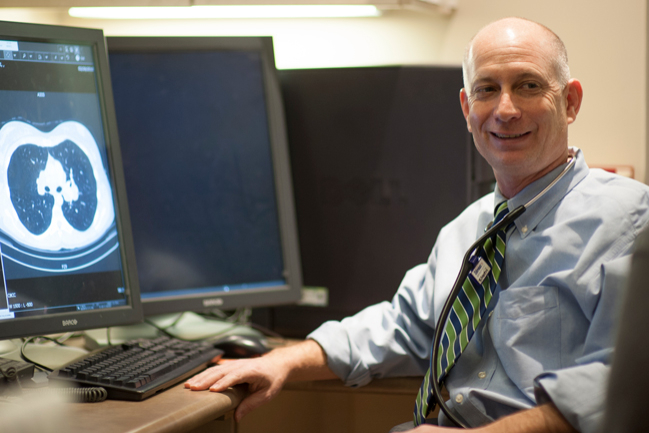 The MUSC Department of Medicine continues to enhance an innovative program that guides junior faculty step by step through a goal-setting and mentoring process, providing them with the resources that can help them move up the academic ladder.
The Faculty Development Program, created in 2013, is a nationally recognized model for aligning each junior faculty member's annual goals, mentoring, and evaluations with departmental priorities. To provide transparency and accountability, each faculty member at the associate level and under completes an annual review with specific achievable goals that are reviewed with a mentor.
This strategy is a departure from the traditional sink-or-swim model for academic promotion. "We used to expect that you'd do everything on your own," said Gerard A. Silvestri, M.D., vice chair of medicine for faculty development. "We've found that doesn't work so well."
All too often, junior faculty members have incomplete goals that are not fully aligned with their mentor's or the department's goals, limiting their chances of success. The program guides junior faculty through the goal-writing process, offering detailed examples of definable goals that would be actionable within specific time frames. The mentor and faculty member meet to ensure that annual goals and benchmarks for evaluation and promotion match departmental priorities and can be completed. Silvestri calls this process "academic detailing" for faculty development.
The program has been successful on many levels. "One of the most notable results of the program has been a dramatic increase in the number of junior faculty members obtaining career development awards from the NIH and other agencies over the past two years," said Don C. Rockey, M.D., chair of the Department of Medicine.
The program has also already helped educate junior faculty about academic career advancement. "Over the past three years, we've seen an increase in the percentage of faculty who understand the College of Medicine's promotion criteria from about 60 percent to about 90 percent," said Silvestri. "In the end, it's really about faculty satisfaction and retention. You want good people to stay, and you hope that reaching their goals will lead them to want to stay." The program's website provides an increasingly robust database that could offer insights into why certain junior faculty advance and others do not.