Thinking Outside the Exam Room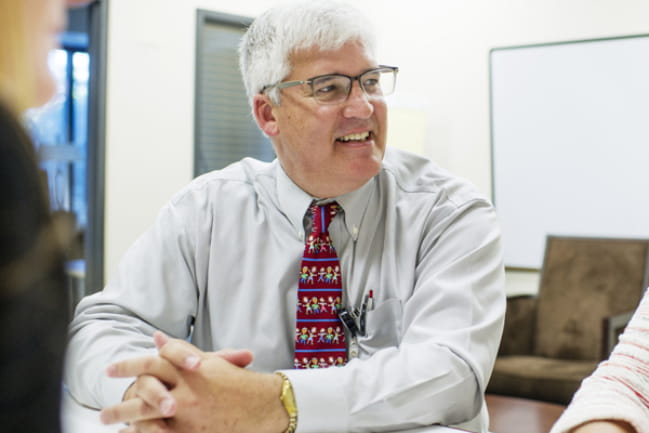 This year will be a watershed year for health care reform, as physicians begin to report on performance measures and make the transition from fee-for-service to value-based care.
MUSC Health took several critical steps in 2016 to ensure that it would be a leader in the new health care environment, in which health care institutions are asked to assume responsibility for improving the health of local populations.
First, it reached agreements in October 2016 to become an in-network provider for the Blue Cross Blue Shield plans offered on the federally facilitated health care exchange and for Blue Choice Medicaid, one of the six Medicaid plans provided by the South Carolina Department of Health and Human Services. With the signing of these new agreements, patients covered under these plans can now benefit from the specialty and subspecialty care available at MUSC Health and MUSC Children's Health.
Second, it established the MUSC Health Alliance, a clinically integrated network (CIN), and recruited David S. Louder, M.D., MBA, to be its chief. Louder had previously established a CIN at Carroll Hospital in Westminster, MD.
"CINs are designed to improve the health of populations, improve the care we give patients, and lower costs," said Louder. "By integrating the hospital, the faculty practice plan, and MUSC Physicians Primary Care — the three MUSC Health entities that provide patient care — into the MUSC Health Alliance, we will be able to work together better to provide quality, cost-effective care to our patients."
Third, the MUSC Health Alliance applied to Medicare to become an accountable care organization (ACO), effective January 1, 2017. ACOs are asked by Medicare to manage the health of an identified population. They share in the savings if they are successful in controlling costs while providing high-quality care but also assume the risk of having to reimburse Medicare if quality and cost parameters are not met. As an ACO, the MUSC Health Alliance will be responsible for working to optimize the health of about 14,000 patients, whose names will be provided by Medicare.
"We think we can deliver better care, sustain revenues, and lower the cost that Medicare sees," said Louder. "Medicare wants to pay for value, not just volume. By applying to be an ACO, we have said we are game to help with that. We have the analytics, IT, and clinical tools needed to provide value-based care."
Using special algorithms, the MUSC Health Alliance analytics team can predict which of the identified patients will be the most expensive in the following year. Those patients can then be flagged for interventions that address the root causes of poor outcomes.
"This involves care happening outside of where we think of care happening — it happens at home," said Louder. "Does someone need to check that the pillbox is being filled correctly? Does a patient miss appointments because he has no transportation? We have to think outside the exam room."
Taking the time to understand the needs of patients and putting them in touch with social service agencies and volunteer and faith-based organizations can go a long way to engaging them in their own health care and improving adherence.
With their ability to closely coordinate primary, specialty, and emergency care, CINs and ACOs also encourage innovative approaches to improving population health. For example, hospital readmissions for some patients with chronic diseases such as heart failure, chronic obstructive pulmonary disease, and diabetes could perhaps be avoided if the patients were actively managed in the emergency department and then released, with a follow-up appointment with their specialist arranged for the next morning.
But Louder thinks we can go further. "If we provide evidence-based outpatient care to those patients and keep them healthier, maybe they don't tip over and come to the emergency room in the first place," said Louder.
Although Louder is a firm believer that such new approaches can cut costs while maintaining or improving the quality of care, he understands that the reporting requirements that will be required for reimbursement can seem overwhelming to already time-strapped physicians.
For him, a major aim of a CIN such as the the MUSC Health Alliance is to help shoulder that burden and to improve the clinician experience. As the Alliance matures, it can offer these benefits to community practices that elect to join.
"MUSC Health really wants to be a leader in the successful transformation of health care, and that requires the cooperation of everyone from the folks seeing the patients to the administrative folks and physician leaders who are trying to respond to changes in health care," said Louder. "But we can be very successful for our patients if we are all working together."