Improving Communication Between Providers & Limited English-Proficient Patients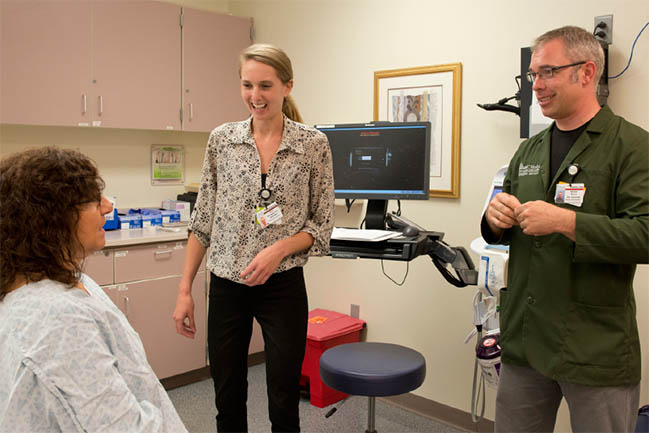 Medical interpretation is coming of age. Standards of practice were developed in 2005 and national certification became available in 2009. Joining in nationwide efforts to professionalize this discipline and improve provider communication with diverse patients, MUSC Health is revamping its model of care for limited English-proficient (LEP) patients.
In 2016, MUSC Health medical interpretation care team members underwent a 40-hour training program. This training helped to enhance their skills and provided baseline preparation for national certification. All MUSC Health medical interpreters are expected to gain national certification by December 2018. Four spoken language Spanish interpreters and three American Sign Language interpreters have already been nationally certified.
MUSC Health also offered training in medical interpretation to the community in 2016, and in January 2017 will serve for the first time as a testing site for national certification for both spoken language and American Sign Language medical interpreters.
"We have an exceptional team of medical interpreters," said Stephanie Taylor, MPS, director of diversity and inclusion, who joined MUSC Health in January 2016. "They are actively engaged, they love their jobs, and all have a commitment to be at the top of their profession."
Clinicians often depend on a patient's family members to interpret when professional medical interpretation is unavailable. But family members can misinterpret information, may not be familiar with medical terminology, or even worse may leave out crucial diagnostic information and treatment instructions. "The presence of a trained medical interpreter ensures effective patient-provider communication," said Taylor. "It also encourages patients to be more engaged and involved with their care."
Spanish is the most common language spoken by MUSC Health's LEP patients, and in-person medical interpreters are available to Hispanic patients 24 hours a day, year round. In addition to in-person medical interpretation for in-patients and on-campus locations, MUSC Health also offers telephonic interpretation for all patients, including those being seen at off-campus clinics and physicians' offices. Telephonic interpretation is available in more than 250 languages.
Every effort has been made to integrate medical interpreters into the care team. In the summer of 2016, interpreters began to wear green jackets so that they could be more easily recognized by care team members, patients, and families. They also began to document interpretation in the electronic health record. These efforts demonstrate MUSC Health's commitment to enhancing patient care experiences, delivering high-quality care, and reinforcing the importance of "team" in the delivery of care to all patients.
Although Taylor and the medical interpretation care team members are meeting the current needs for medical interpretation, they are exploring how to expand in-person services to address the growing population of patients with language needs.
"One strategy is to identify bilingual care team members with clinical responsibilities," Taylor said. "We would have their oral language skills assessed by an outside organization. If they are able to pass the oral assessment, we would have them trained to serve as medical interpreters." Once trained, these bilingual care team members would be immediately accessible to patients in their unit. Patients would no longer have to await the arrival of an interpreter.
"Interpreting is not just about being the mouthpiece of the patient or the clinician," said Taylor. "It's also important for the interpreter to understand the patient's culture."
In order to foster greater respect and understanding in the delivery of culturally competent care, the medical interpretation team produces "The Cultural Spotlight," an online newsletter that introduces different cultures and communication strategies to providers.
According to Taylor, the interpreter's skill can enhance the quality of care and improve both patients' perceptions of care and overall experience.
Anton J. Gunn, MSW, chief diversity officer at MUSC Health, could not agree more.
"Effective medical interpretation is not only critical to delivering safe and quality care, it also offers a more inclusive experience for our patients," said Gunn. "This improves patient engagement and satisfaction. I am so proud of how our interpretation care team members are adding value to the lives we touch."