Partnering with Patients & their Families to Improve Care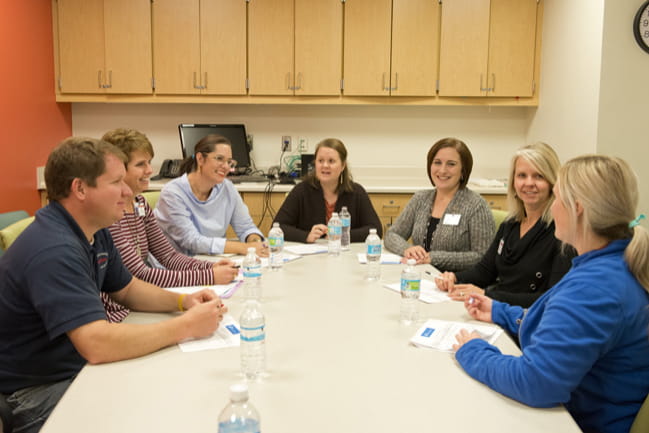 If you want insight on how to improve care, ask a mother.
Ask Kelly Loyd. Nine years ago, she delivered her twin daughters almost three months early. For the next 77 days, her life revolved around the neonatal intensive care unit (NICU) at MUSC Children's Hospital. "My daughters would not be here without the staff at MUSC and in the NICU," Loyd said. Today her daughters are thriving nine-year-olds.
Ask Caroline DeLongchamps. In 2005, her 11-month-old son was rushed to MUSC with a traumatic brain injury after being hit by a car. He was not expected to live. Due to excellent trauma care, he is a now a healthy sixth-grader.
Gratitude led both Loyd and DeLongchamps to volunteer many hours at MUSC, serving on the patient family advisory council (PFAC) and becoming champions of patient- and family-centered care (PFCC).
Loyd, still a volunteer, chairs the PFAC for MUSC Children's Hospital. She has also stepped up to recruit more than two dozen patients and family members to serve on the design teams for the new MUSC Shawn Jenkins Children's Hospital and Pearl Tourville Women's Pavilion, which had its groundbreaking in the summer of 2016 and is scheduled to open in 2019. The input from patients and families ensures that the new hospital will be a welcoming and healing space.
DeLongchamps now serves as the manager of the recently established PFCC department and is charged with recruiting and orienting patients and family members for MUSC Health's six existing PFACs (three adult, three pediatric) and with working with physician and administrative leaders to create more. In 2016, a PFAC for pediatric ambulatory care was created, and a youth advisory council in the MUSC Children's Hospital held its inaugural meeting. Other 2016 achievements include the addition of PFCC training to the nurse residency program and the general orientation for new staff. An advisor manual was created for patients joining a PFAC, and, most importantly, the department is building relationships with campus leaders committed to promoting partnerships with patients and families.
Viewing care through the eyes of patients and their families leads to changes that make care more comfortable, convenient, and compassionate. It can also improve outcomes and make hospitals safer. That is why DeLongchamps reports to Chief Quality Officer Danielle B. Scheurer, M.D., MSCR.
For example, patient and family advisors now attend MUSC Health's infection prevention and control committee and have been asked by David G. Bundy, M.D., MPH, vice chair for quality and safety at MUSC Children's Health, to regularly attend safety rounds.
"MUSC recognizes the value of family participation to the point that it will bring families into talking about some of our most difficult subjects — and that is quality and safety — because it wants to have their input and get their feedback," said Loyd.
Not resting on its laurels, the PFCC department has ambitious plans for 2017 and beyond. In June, it invited representatives of a nonprofit organization dedicated to PFCC to campus to evaluate MUSC Health. After meeting with more than 100 care team members, patients, and family members and reviewing the strategic plan and other core documents of MUSC Health, they made 20 recommendations. Most of those recommendations have become initiatives led by members of the recently created PFCC steering committee. Sample initiatives include supporting clinicians in the adoption of open notes (i.e., sharing clinical notes with patients) and a change in the concept of family as visitors.
"Right now, everyone gets a badge that says he or she is a visitor. We would like a more robust process for that," said DeLongchamps. "Family should not be labeled as visitors because visiting hours should not apply to them. I would prefer not to be labeled as a visitor if I am Mom."
Twenty initiatives might sound daunting, but don't underestimate what these committed moms and family members can accomplish when they are welcomed to participate in decisions that affect the most vital aspects of care. "The PFCC department is not saying patients have all the right answers," said DeLongchamps. "The magic happens with partnership. Collaboration between care team members and patients and families enables us to identify what is best for everyone."