An Innovative Collaboration to Improve Stroke Care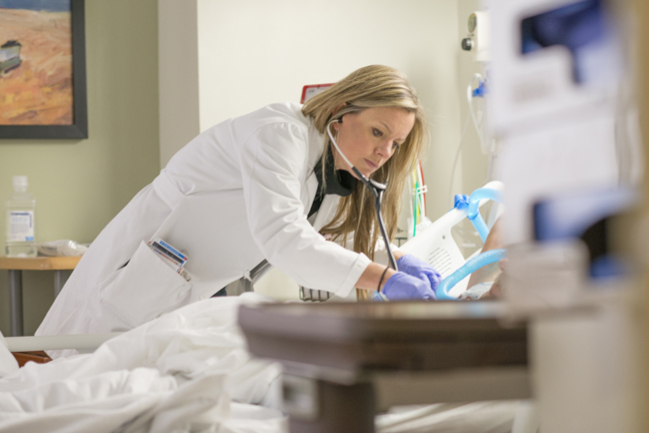 Putting rivalry aside, MUSC Health and Roper St. Francis, competing hospitals located just across the street from one another, joined efforts to improve stroke care for patients in coastal South Carolina by forming the Lowcountry Stroke Collaborative. The hospitals will pool resources to use telestroke and other innovative approaches to reduce barriers to stroke care and improve its quality. Employing MUSC Health's telestroke carts, Roper physicians and nurses can quickly access a stroke neurologist, who can advise whether a stroke patient is a candidate for the clot-busting drug tPA, which must be administered in a tight time window. Roper physicians will handle the telestroke calls during the day for their locations, but clinicians at both hospitals will share calls at night to ensure 24-hour care at all sites.
Raymond D. Turner, M.D., a neurosurgeon and co-director of MUSC Health's Comprehensive Stroke and Cerebrovascular Center, said the second part of the plan is to eliminate transfers of stroke patients who need specialized surgical care between the two hospitals. According to an agreement reached in late 2016, MUSC Health physicians will travel to other hospitals to take care of the stroke patients there, eliminating 20 to 30 minutes that would have been required for transfer.
"We fight every day to save five minutes here and ten minutes there in patients getting access to tPA and stroke comprehensive services," he said. Eliminating delays in treatment access gives patients a better chance of survival with the fewest limiting disabilities.
Since launching its telestroke program in May 2008, MUSC Health, a comprehensive stroke center, has performed more than 9,000 telestroke consults. "Telestroke has increased access to emergent stroke care to over 96 percent of the state," said Christine A. Holmstedt, D.O., co-director of MUSC Health's Comprehensive Stroke and Cerebrovascular Center. With the addition of the Roper hospitals, the telestroke network has grown to include 26 hospitals and nine primary stroke sites.