Groundbreaking Clinical Trials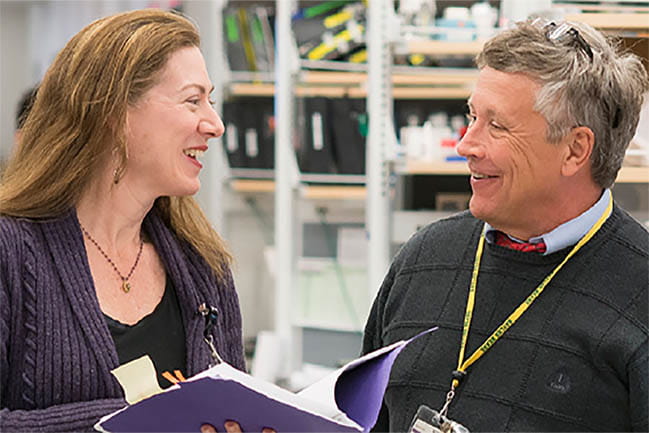 Lupus
MUSC Health rheumatologists Gary S. Gilkeson, M.D., and Diane L. Kamen, M.D., MSCR, are leading the first clinical trial in the U.S. to use allogeneic mesenchymal stem cells (MSCs) as an investigative treatment for systemic lupus erythematosus (SLE), a chronic, relapsing, multi-system autoimmune disease. MSCs secrete immunomodulatory factors that preferentially migrate to sites of inflammation, offering a more targeted therapy with fewer adverse effects than immune-suppressing treatments. The MUSC Health researchers are studying the safety and efficacy of using MSCs to treat patients with SLE. The phase 2 MSCs in SLE trial (MsciSLE; NCT02633163) will randomize patients with treatment-refractory lupus to standard of care plus a single IV infusion of low-dose MSCs (one million MSCs per kilogram), high-dose MSCs (five million MSCs per kilogram), or placebo. The trial, opening first at MUSC Health, will later be joined by additional sites — Emory University, the University of North Carolina at Chapel Hill, the University of Rochester, Northwestern University, and Cedars Sinai. The Center for Cellular Therapy at MUSC, which houses a cGMP Class 6–compliant clean room suite, will supply the MSCs, harvested from donated umbilical cords, for infusion at all study sites. For more information, contact study coordinator Angela Robinson at robia@musc.edu or 843-792-6043.
Cancer Match Trial
A National Cancer Institute trial, Molecular Analysis for Therapy Choice (NCI-MATCH), seeks to personalize treatment for patients with advanced cancer that has returned or worsened after standard systemic therapy. MUSC Hollings Cancer Center is one of the sites for this study, which is expected to screen 5,000 patients nationwide for more than 60 mutations thought to be implicated in different types of solid tumors and lymphomas. The goal is to find a specific mutation that could be driving a cancer's growth and match it with an investigatory drug that has been shown to halt that type of cancer in participating clinical trials at medical institutions around the country. MUSC Health medical oncologists Antonio Giordano, M.D., Ph.D., and John M. Wrangle, M.D., are the principal co-investigators for the MUSC Health site of the trial and are collaborating with colleagues from various disciplines across campus, including radiologists, interventional radiologists, pathologists, and surgeons. Hollings is participating through its membership in the NCI Community Oncology Research Program. For more information, contact MATCH coordinator Joni Harris at harrisj@musc.edu or 843-792-8876.
Non-Small Cell Lung Cancer
In an international first, a clinical trial will test whether a new two-drug combination can jump-start and accelerate patients' immune response to lung cancer. The trial (NCT02523469), now enrolling patients at MUSC Hollings Cancer Center, focuses on non-small cell lung cancer, the most common type. Medical oncologist John M. Wrangle, M.D., will serve as principal investigator on the three-year project, and Mark P. Rubinstein, Ph.D., has worked with him to design the trial. The phase 1B/2 study will test the effectiveness of using the checkpoint inhibitor nivolumab in combination with the immune stimulation drug ALT-803 in patients with pretreated, advanced, or metastatic cancer. T cells can lose their immunity effectiveness in the tumor microenvironment, but nivolumab can awaken and stimulate them to recognize and kill nearby tumor cells, eliminating tumors in about five percent of patients. The clinical study will test whether ALT-803, a drug developed by Altor Bioscience in collaboration with Rubinstein, could enhance the effectiveness of nivolumab to eliminate tumors. To ask about enrolling, contact Joni Harris at harrisj@musc.edu or 843-792-8876.
Advanced Hepatocellular Carcinoma
Carolyn D. Britten, M.D., director of the Division of Hematology/Oncology, is principal investigator of a phase 2 clinical trial intended to evaluate the efficacy and safety of a sphingosine kinase-2 (SK-2) selective inhibitor (YELIVA™; RedHill Biopharma) in patients with advanced hepatocellular carcinoma (HCC), the most common primary malignant cancer of the liver and a type of cancer with one of the highest mortality rates. YELIVA is a proprietary, first-in-class, orally administered SK-2 selective inhibitor with anti-cancer and anti-inflammatory activities. The study aims to enroll patients who have experienced tumor progression following treatment with first-line single-agent sorafenib (Nexavar®). The study is supported by a grant from the National Cancer Institute designed to foster collaboration across clinical and laboratory research for the study of signaling in sphingolipids, a class of lipids known to be involved in the growth of solid tumor cancers. RedHill Biopharma is providing additional support for the trial, which will be conducted at MUSC Hollings Cancer Center. For more information, contact Alan Brisendine at brisend@musc.edu or 843-792-9007.