A Pioneering New Technique for Mechanical Thrombectomy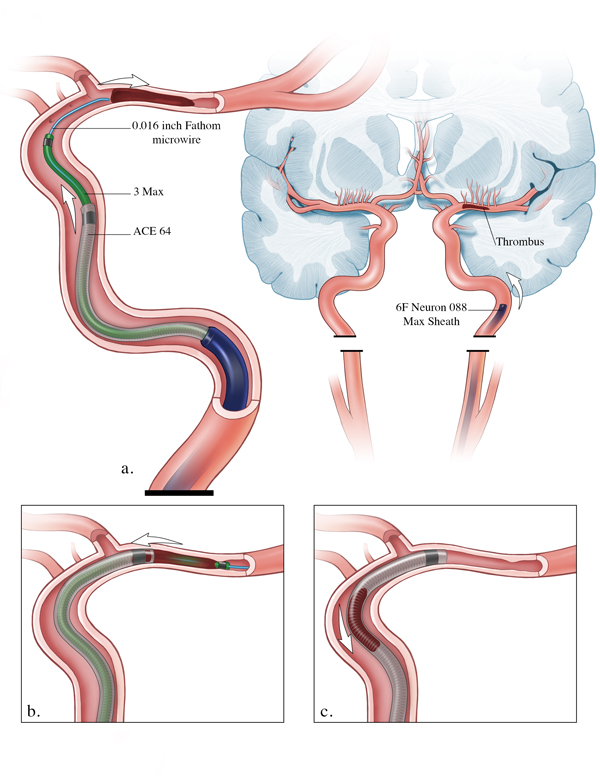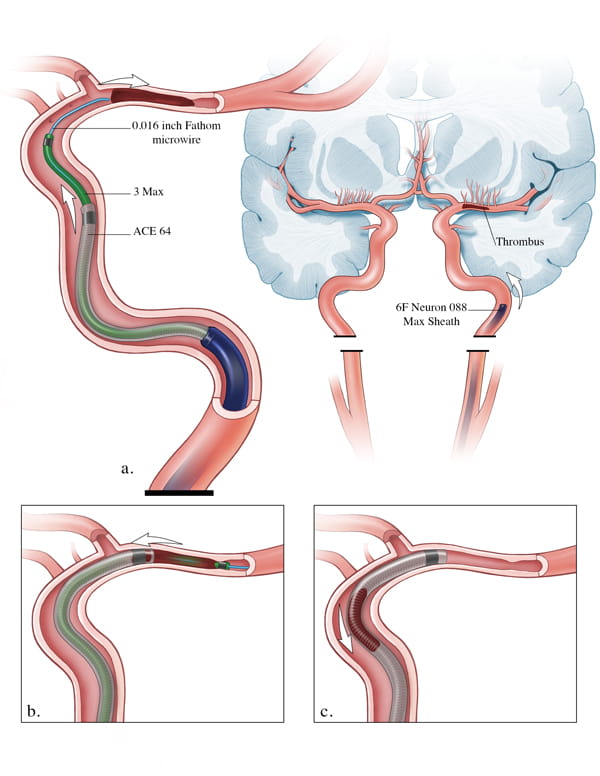 In 2015, five landmark clinical trials provided the evidence that mechanical thrombectomy using stent retrievers was safe and effective for certain patients with acute ischemic stroke. On the basis of that evidence, the American Heart Association (AHA) revised its guidelines for acute stroke to recommend that stent retrieval devices be used to remove blood clots in large arteries for patients with acute ischemic stroke. As that news has traveled worldwide, the volume of endovascular surgery for stroke has increased dramatically. The AHA noted that other mechanical thrombectomy techniques may be used at the discretion of the physician.
One of the most popular of these is the direct aspiration, first-pass technique (ADAPT), developed by MUSC Health neuroendovascular surgeons M. Imran Chaudry, M.D., Alejandro M. Spiotta, M.D., Aquilla S. Turk, D.O., and Raymond D. Turner, M.D. aims to remove a large-vessel clot in its entirety with a large-diameter aspiration catheter. This large catheter is inserted via the femoral artery and advanced to the site of the clot, where suction is applied to remove it and restore blood flow to the brain. If the first-pass attempt is unsuccessful, stent retrievers can then be used. The team reported their initial findings in a seminal 2014 article in the Journal of Neurointerventional Surgery (doi: 10.1136/neurintsurg-2013-010712) and in 2016 reported longer-term results from a single center (MUSC Health) in an article published online ahead of print on April 18, 2016 in the same journal (doi:10.1136/neurintsurg-2015-012211). long  In the 2016 article, the MUSC Health team reported the results of a retrospective analysis, showing that blood vessels were successfully reopened in 180 (94.2%) of 191 consecutive patients with acute ischemic stroke who underwent thrombectomy using ADAPT at MUSC Health.
Turk is one of the national principal investigators for the COMPASS trial (NCT02466893), which is comparing direct aspiration (ADAPT) vs. the use of a stent retriever as the first approach to thrombectomy. The other principal co-investigators are J. Mocco, M.D. of Mount Sinai and Adnan Siddiqui, M.D., Ph.D. of the University at Buffalo. The trial has already enrolled 150 patients and will likely meet its goal enrollment of 270 patients within the next year. The results of this trial, expected by the end of 2017, could reshape the field in terms of best practice for the removal of a blood clot in stroke by showing definitively whether ADAPT or stent retrievers are more safe and effective.