If You Smoke, Expect a Call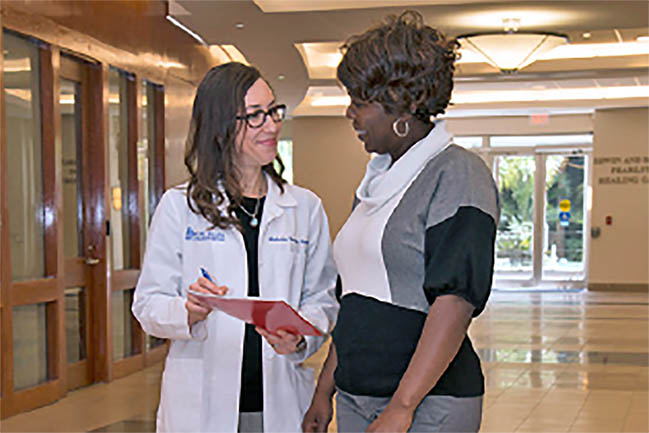 MUSC Health has raised the alarm on smoking, one of the largest causes of preventable disease. The MUSC Health Tobacco Treatment Program provides evidence-based support to help our patients quit smoking.
Smoking leads to disease and disability in nearly every organ in the body. Smoking and tobacco use cause 480,000 deaths annually in the United States and 7,200 per year in South Carolina, costing the state $1.9 billion in health care expenses each year.
Contrary to what some believe, most people who smoke want to quit. The Tobacco Treatment Program capitalizes on this opportunity by working with patients on a quit plan when they visit MUSC Health as an inpatient or as an outpatient. This may represent the first help some patients receive to quit a long-time addiction.
Led by internationally renowned experts in tobacco control and treatment, including K. Michael Cummings, Ph.D., MPH, Graham W. Warren, M.D., Ph.D., Matthew J. Carpenter, Ph.D., and Benjamin A. Toll, Ph.D., the program was launched in 2013 to help patients achieve superior health outcomes and to address Joint Commission requirements. It screens all patients 18 years and older about tobacco use at admission and then refers tobacco users to a dedicated evidence-based tobacco cessation program.
Dedicated tobacco treatment specialists receive daily information on patients who need help quitting and visit patients while they are in the hospital to encourage them to quit, discuss the adverse effects of tobacco, and develop an individualized tobacco treatment plan for them. Patients are then discharged and automatically enrolled in a follow-up program that helps track tobacco use and provide support for patients to continue to receive cessation support either through the state Quitline (1-800-QUITNOW) or the outpatient Tobacco Treatment Program at MUSC Health. Started at the MUSC Hollings Cancer Center, the outpatient Tobacco Treatment Program offers in-person assessments, counseling, and medication support for outpatients at MUSC Health. The program has now expanded to the emergency department with tremendous success, and pilot programs are now being rolled out for primary care clinics.
The early effects of the Tobacco Treatment Program are being realized. In the first two years of the program, 66,290 adults were screened for tobacco use, 11,228 were identified as current smokers, and 2,566 received bedside counseling by a tobacco treatment specialist to develop a quit plan. Visits from the tobacco treatment specialists nearly double quit rates.
For many patients, the treatment provided by the program is the first they have received for their tobacco use. Patients have likely heard that they need to quit smoking, but many have little knowledge of what it takes to quit successfully. By providing evidence-based tobacco cessation support on which clinicians and patients can rely, the Tobacco Treatment Program is improving the health of all patients at MUSC Health.