New Collaborative Center to Improve Minority Men's Health
Minority men in the U.S. are more likely than white men to develop and die from a number of chronic conditions. Compared with white men, African-American men are 30 percent more likely to die from heart disease and 60 percent more likely to die from stroke, and Hispanic men are twice as likely to die from diabetes. Rates of prostate cancer and related deaths in African-American men are among the highest in the world. Despite more than two decades of research focused on understanding health disparities, minority men still face a significant burden from chronic diseases. That may be about to change.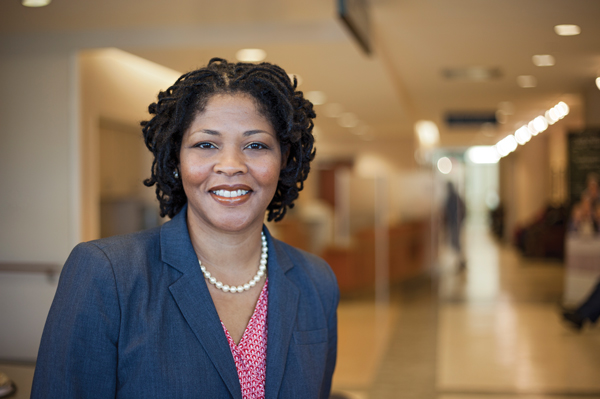 Chanita Hughes-Halbert, Ph.D., Professor of Psychiatry and Behavioral Sciences and SmartState™ AT&T Distinguished Endowed Chair in Cancer Equity at the MUSC Hollings Cancer Center, is the principal investigator for an $8 million grant from the National Institute of Minority Health and Health Disparities and the National Cancer Institute to develop the MUSC Transdisciplinary Collaborative Center (TCC) in Precision Medicine and Minority Men's Health.
The grant creates a multi-regional network of academic medical centers, community-based health organizations, public health agencies, and community stakeholders that will collaborate to develop strategies for precision medicine and clinical care to improve health outcomes for minority men.
"The attention that minority men get in the context of research efforts is really very limited," said Hughes-Halbert. "Our approach with the TCC is to address these knowledge gaps using transdisciplinary strategies to integrate genomic, social, behavioral, and clinical data. It's really an innovative approach to improving health outcomes among minority men because we are bringing together diverse disciplines to address a common issue."
The first phase involves researchers from multiple disciplines across MUSC conducting three research projects to improve prostate cancer outcomes in minority men.
The first project, led by Hughes-Halbert and Michael B. Lilly, M.D., Professor of developmental cancer therapeutics and associate director of translational research at MUSC Hollings Cancer Center, focuses on a new vaccine for prostate cancer (PROSTVAC®; Bavarian Nordic, Kvistgaard, Denmark) in men at high risk for cancer recurrence.
The second project, led by Richard R. Drake, Ph.D., Professor of Cell and Molecular Pharmacology and Experimental Therapeutics, and Jennifer Wu, Ph.D., Associate professor of Microbiology and Immunology, aims to develop a more precise method for early detection of prostate cancer based on glycans and immune responses in the tumor microenvironment.
The third project, led by Sebastiano Gattoni-Celli, M.D., professor of Radiation Oncology, examines genomic responses to vitamin D supplementation among men with prostate cancer.
Clinical data from the three research projects will be integrated and interpreted using bioinformatics in the context of social and psychological determinants of disease. The results will be used to identify new approaches for improving prostate cancer outcomes in minority men through precision medicine.
"Precision medicine is an approach to understanding disease by integrating genetic, environmental, and lifestyle data to understand how those variables contribute to disease risk and outcomes," said Hughes-Halbert. "The MUSC TCC is particularly innovative because we're considering how psychological and social factors influence the risk for and response to disease along with clinical interventions."
The TCC initiative demonstrates the unique capability of the MUSC research enterprise to conduct integrated bioinformatics and genomics research across three separate projects focused on the same issue — addressing health disparities among minority men with prostate cancer.
The implementation core, led by Cathy L. Melvin, Ph.D., Associate professor of Public Health Sciences, and Gayenell S. Magwood, Ph.D., RN, Professor in the College of Nursing, will bring together diverse stakeholders, including community members, public health professionals, and clinical practitioners, to identify how precision medicine can address their Health care priorities.
"This part of the project draws on another unique institutional strength at MUSC, which is the breadth and depth of experience we have with community engagement and implementation and dissemination science," said Hughes-Halbert. "We're able to bring together diverse stakeholders to think about and discuss how to best apply precision medicine to improve the clinical care of minority men."
In addition to the research being conducted on prostate cancer, the MUSC TCC will support research that develops precision medicine strategies for other chronic conditions, such as diabetes and cardiovascular disease, that also disproportionately affect minority men.