Transdermal Patch Combats TBI in Veterans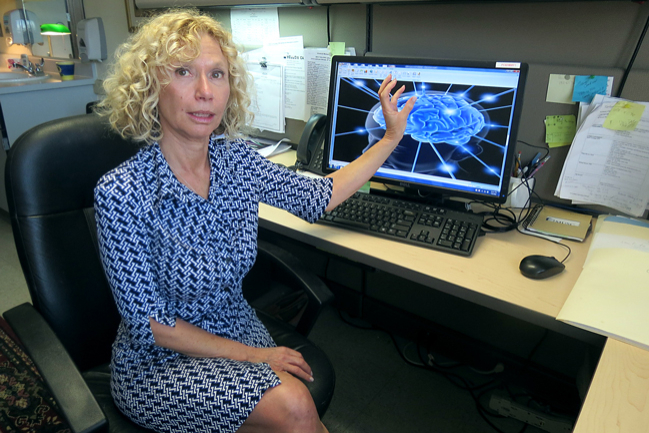 The day-to-day lives of U.S. veterans coping with memory problems resulting from traumatic brain injury (TBI) could improve as a result of the findings of a just completed clinical trial. All it could take is a transdermal patch the size of a credit card.
TBI affects 4 percent of U.S. veterans who served overseas from 2000 to 2011. Improved armor protected many soldiers from life-threatening combat injuries but left them to cope with TBI. Symptoms resolve in most affected veterans, but some develop long-term changes in acetylcholine firing in brain regions responsible for memory retention and problem solving. These changes often affect work and family life, complicating a veteran's transition back to civilian life.
The trial was led by psychiatrist Olga Brawman-Mintzer, M.D. who studies brain connectivity in degenerative brain disorders and holds a joint appointment at the MUSC Department of Psychiatry and Behavioral Sciences and the Ralph H. Johnson Veterans Affairs Medical Center. The medication in the patch is rivastigmine, a cholinesterase inhibitor that prolongs acetylcholine firing in the brain. Rivastigmine has been approved as a treatment for memory problems in Alzheimer's disease and Parkinson's dementia, first in pill form and later as a transdermal patch that could be worn 24 hours a day. The patch keeps rivastigmine constant in a patient's bloodstream, which allows him or her to absorb higher total doses with reduced side effects.
Brawman-Mintzer hopes the results of the phase 3, double-blind, placebo-controlled clinical trial — to be published in early 2017 — will show that veterans with TBI have better memory with the patch. Even more importantly, she hopes this simple intervention will translate into better everyday functioning and quality of life for all U.S. veterans with TBI.