MUSC Psychologists Take Trauma Expertise to Puerto Rico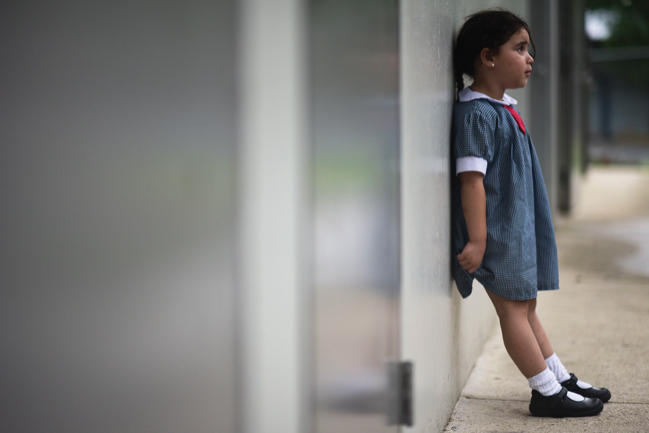 A team of MUSC psychologists planned to train about 600 teachers in Puerto Rico in how to help students traumatized by the impact of Hurricane Maria. They ended up having a much bigger impact on the storm-ravaged island.
Psychologist Regan Stewart, Ph.D., says after they arrived in the U.S. territory, leaders in Puerto Rico's Department of Education told them that they needed to reach not hundreds, as they were expecting, but thousands of teachers, social workers, and other people involved with children through the public education system.
Train-the-trainer became a way to quickly spread information by teaching someone how to teach other people. The MUSC team from the Department of Psychiatry and Behavioral Sciences would now do that in addition to the trauma recovery workshops it had already planned.
This important work would be funded by a 2016 grant from the Substance Abuse and Mental Health Services Administration and the National Child Traumatic Stress Network that focuses on helping children who have been exposed to traumatic situations.
Carrying out the newly expanded mission was no easy task. MUSC psychologist Michael de Arellano, Ph.D., says it rained every day. "The bridges were getting blown out. One of the places we were on the west coast flooded while we were there. Within 15 to 20 minutes, there were 2 feet of water running through the street," he says. "I bought a water filtration system because we couldn't drink the water in our hotel or anywhere else we went."
But the MUSC team says its challenges were nothing compared to what many of the people they met were dealing with: empty grocery stores and pharmacies; damaged or ruined homes; weeks without electricity or running water; and spotty or nonexistent communication with loved ones due to minimal cell service.
The three psychologists and one intern wound up training about 800 Puerto Ricans directly, including some who are now trained to offer the MUSC team's workshop to more people. MUSC also sent a videographer to record the sessions, with an eye toward creating an online resource.
They taught them what can cause trauma, how to recognize it and how to help children reduce their stress levels. The techniques they used included progressive muscle relaxation, controlled breathing, and visualization.
Two of the MUSC team members are from Puerto Rico. Psychologist Rosaura Orengo-Aguayo, Ph.D., and intern Freddie Pastrana-Rivera had the chance to see family members for the first time since the hurricane devastated the island.
They're proud to be Puerto Rican and proud that they were able to help through their work with MUSC. Orengo-Aguayo says the trip reminded her of what matters in life. "I'm now eating all my food, drinking all my water and being very grateful for everything I have," she says.