Concussion Detection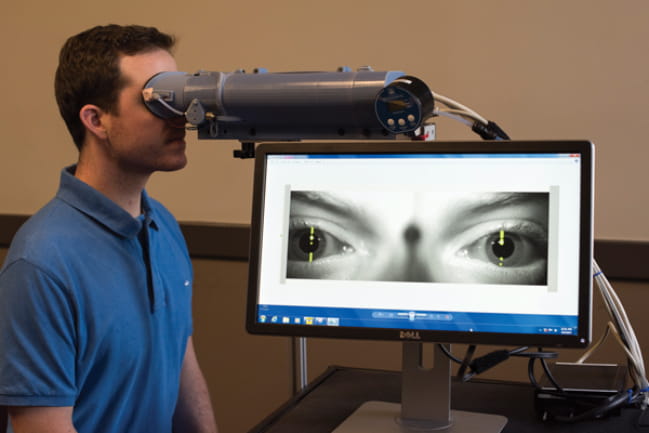 Concussions identified in the blink of an eye
A concussion detection aid developed at the Medical University of South Carolina may one day help with field sobriety testing and even detect diseases such as Parkinson's, Huntington's, and schizophrenia. All of those conditions can cause changes in the way a person blinks.
The Zucker Institute for Applied Neurosciences (ZIAN) at MUSC recently partnered with BLINKtbi, Inc. to test and bring a Blink Reflexometer to market.
Co-inventor and ZIAN Chief Executive Officer Mark Semler said because a blink is an involuntary reflex, it's a good way for a trainer trying to make a call on the sidelines to check neurological function. The Blink Reflexometer has the potential to better identify concussions and help the more than 400,000 children and teenagers who suffer sports-related concussions each year.
Nancey Trevenian Tsai, M.D., a clinical professor of neurosurgery, came up the idea while affiliated with MUSC's Neuroscience Department. She knew blink reflexometers were out there, but they were, in Semler's words, "pretty crude, kind of do-it-yourself research tools," and had never been used to detect changes due to a concussive event.
BLINKtbi co-founder and Chief Operating Officer Ryan Fiorini, a graduate and former employee of MUSC, said ZIAN made the licensing process much easier than usual for a university-related device. "ZIAN has cracked the code on efficient licensing and being a technical partner for building medical products."
Over the past few years, the device was tested on trial participants at MUSC and athletes at The Citadel. The ZIAN team hopes the Food and Drug Administration will approve the device within two years.