Hollings Cancer Center Clinical Trials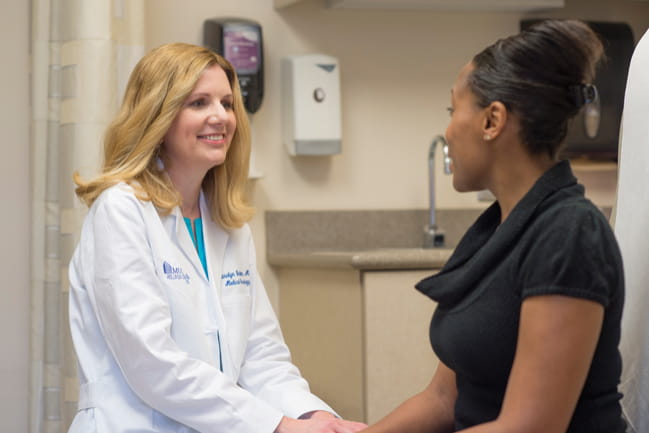 Trials at the MUSC Hollings Cancer Center, an NCI-designated cancer center, run the gamut from phase 1 trials to translation
Sphingosine kinase inhibitor for patients with liver cancer
Led by Carolyn D. Britten, M.D., associate director for clinical investigations at the MUSC Hollings Cancer Center, a phase 1 trial of a first-in-kind sphingosine kinase (SK) 2 inhibitor (YELIVATM, RedHill Biopharma Ltd, Israel) showed it to be safe and well-tolerated by patients with solid tumors.
"Sphingolipid metabolism has been widely studied in cancer models, but translation of these basic science results to the clinic is limited," says Britten. "The phase 1 trial was unique because it provided the first data on sphingolipid profiles in patients treated with an SK inhibitor."
Britten is also the principal investigator of the phase 2 trial of YELIVA® (RedHill, Tel Aviv, Israel) as a second-line monotherapy in patients with advanced hepatocellular carcinoma (HCC) who have experienced tumor progression despite treatment with currently available FDA-approved therapies. The most common primary malignant cancer of the liver, HCC also has one of the highest mortality rates. The phase 2 trial is now recruiting patients at Hollings, with an initial goal of enrolling 12 patients. If a response is seen in these patients, additional patients will be recruited, with a target enrollment of 39.
Sphingolipids are known to be involved in the growth of solid tumor cancers. A pro-cancer, pro-inflammatory lipid signaling molecule known as sphingosine-1 phosphate (S1P) formed when sphingosine picks up a phosphate group from SK1 or SK2 enzymes, has been shown to promote the proliferation of cancer cells and the development of treatment resistance.
By blocking the activity of SK2, the inhibitor helps prevent the formation of S1P.
The study is being funded by a grant from the National Cancer Institute (NCI) awarded in 2016 to the MUSC Hollings Cancer Center, an NCI-designated cancer center, with additional support from RedHill.
The effect of AGE on cancer. No not that kind of age
Advanced glycation end products (AGEs) are reactive metabolites produced by glycation. They accumulate in the body as the result of poor diet, including processed foods and char-grilled meats.
MUSC researcher David Turner, Ph.D., is working with colleagues on two clinical trials exploring the role of AGEs in breast and prostate cancers. The breast cancer trial, led by Carolyn Britten, M.D., is seeing whether AGE levels can be reduced in women with metastatic breast cancer.
In the pilot trial, women receiving endocrine therapy for metastatic estrogen receptor negative breast cancer will take metformin and oligomeric proanthocyanidin complex (OPC) for 12 weeks. Turner said the trial will determine if the medication regimen will lower AGE levels. It also will see if high AGE levels are associated with increases in body mass index or insulin resistance, which also can predict poor outcomes for breast cancer patients.
The prostate clinical trial, led by Michael Lilly, M.D., is a continuation from a pilot trial with 13 patients that found AGE levels came down in nine patients when they took the antioxidant OPC. "It's been known for a while that these AGE and reactive oxygen species are very much intertwined," he says.
Turner explained the new trial is exploring if metformin and OPC have an effect on the AGE levels in the blood in prostate cancer patients.
"This is the first time AGEs have been looked at in clinical trials in cancer. That's a real push forward," he says. "AGEs have been related to cardiovascular disease, diabetes, Alzheimer's and Parkinson's, but when it comes to cancer, there's been very little out there."
Frontiers and neuroblastoma treatment
Beat Childhood Cancer (BCC), a national clinical trials consortium, is sponsoring two multicenter phase 2 trials on advanced treatments for high-risk neuroblastoma. MUSC Hollings Cancer Center will serve as a site for both trials, each led by Jacqueline M. Kraveka, D.O., a pediatric hematologist-oncologist.
Neuroblastoma is the most common cancer in infants. The survival rate for the 40 percent of patients who are high-risk is less than 50 percent.
The PEDS-PLAN trial is the first to incorporate precision medicine into upfront therapy for newly diagnosed high-risk neuroblastoma. This study uses a novel, molecular-guided therapy protocol in which tumor and blood samples from each patient are collected to generate a genomic report that identifies genetic mutations and altered molecular pathways in the cancer. An algorithm identifies known drugs that target these features.
"Most personalized medicine studies only look for one specific genetic mutation. Consequently, these studies find a match for only 25 percent of cases," explains Kraveka. "By including RNA sequencing and bioinformatics, we've come up with a precision medicine plan that includes six possible drugs."
Preventing relapse is key. The addition of difluromethylornithine (DFMO) is maintenance strategy to prevent recurrence. DFMO is a low-cost and readily available oral drug, an inhibitor of a cell growth enzyme associated with the MYCN oncogene (overexpressed in high-risk tumors). Patients are given DFMO for two years. Twenty patients have been enrolled, and early findings show no reports of toxicity.
In a recently completed component of this trial enrolling 139 patients, the two-year event-free survival rate was 84 percent for those receiving DFMO after standard upfront therapy and 52 percent for those receiving DFMO during remission after relapse.