MUSC neurosurgeon proves necessity is the mother of invention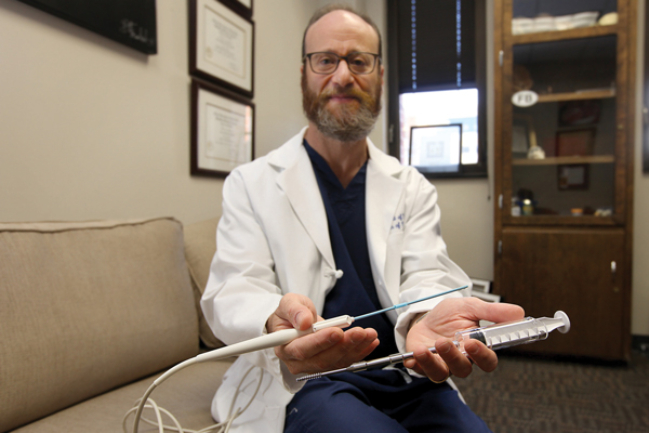 Whether he is placing screws in a spine, forging 160 layers of steel into a Bowie knife or creating a way to see beneath a tumor, his brand of curiosity doesn't end with simply wondering how something might work better. Dr. Bruce Frankel, like many inventors, has been compelled from boyhood to fix problems by creating unique solutions. And he has 12 patents and 10 licenses to show for it.

His first medical invention was a cement tap. When he was a young surgeon, he had a patient in Memphis with a fracture in a bone that was very osteoarthritic. He realized the screws he was going to insert into it weren't going to stay put.
"'This is terrible,' I thought to myself. She's going to get up, and the screws are going to rip out of her back." I would take a needle and inject the cement in the bone, but the bone was like Swiss cheese — it would squirt backward along the needle and out another hole. So, I thought, 'Why don't I make a disposable tap that would prevent backflow of cement that could be followed by screw placement?'"
It's not just how something can be done better that he grapples with, but also how to improve on something that's inferior or possibly even dangerous. Such was the case when he devised a way to use a hand-held ultrasound-containing instrument to see within and around a tumor.
"I was doing surgery and couldn't see blood vessels behind the tumor no matter what I used, and that posed serious risks. So, I thought, 'I have to find a better way of doing this.'" The device was unique enough that it is used in a number of different surgical applications. For that invention, he received two patents, with others still pending.
Not long after, he recognized there was still a need for a safer way to locate pilot holes in bone prior to performing a pedicle screw implantation. He crafted a small ultrasound device with a probe attached to the tip that could be used to detect even the smallest bone breaches prior to the screw being inserted with the potential to greatly decrease the risk of injuring spinal nerves traveling millimeters away.
And earlier this year, Frankel received notice that the FDA had approved another device he invented, a curved titanium rod he invented for use in minimally invasive lumbar spinal fusion surgeries where degenerative spinal conditions, fractures, dislocations or tumors are present.
Frankel noticed during his surgical procedures, when he would tighten the construct down, the curvature of the rod would cause the top part of the tall screws he was inserting to touch or overlap. When the screws are not placed properly, it puts stress on the components. After the procedure, that could lead to loosening or other complications. But because of the device's wave shape, several concave dips in the rod allow screws to stay put and not touch when tightened.
And while he's fortunate to have been granted so many patents, licenses and relicenses, he also said he's had lots of failures. That just keeps him going back to the drawing board. And not for the prestige, but for the people who benefit from his work.