Options for lung cancer patients improving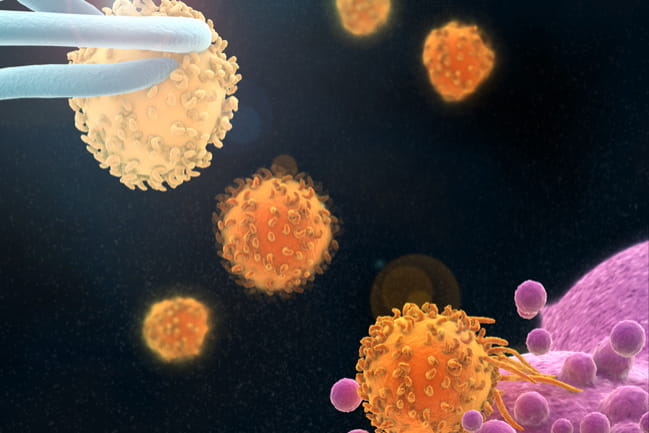 A multidisciplinary team of MUSC investigators is working at the interface of immunotherapy & genetics to develop a new treatment option for some patients with lung cancer: Tumor-infiltrating T lymphocyte - or TIL - therapy
"Checkpoint modulators (such as PD-1 and PDL-1 inhibitors) in lung cancer have had spectacular results in a few cases and responses in about 20 percent of patients, but have done little in the other 80 percent," says John M. Wrangle, M.D., an MUSC medical oncologist who specializes in immunotherapeutic approaches to cancer, especially lung cancer.
Wrangle and his collaborators, who include cancer immunologists Mark P. Rubinstein, Ph.D., and Chrystal M. Paulos, Ph.D., thoracic surgeon Chadrick E. Denlinger, M.D., and bioinformatician Jeff Hammerbacher, are currently working on two related strategies that lie at the interface of immunotherapy and genetics.
The first and most immediate goal of the team is to create a tumor-infiltrating T lymphocyte (TIL) product for lung cancer that they hope to bring to clinical trial at MUSC Hollings Cancer Center. In TIL therapy, a type of adoptive cell transfer (ACT) therapy, T cells are harvested from a patient's tumor, expanded outside the body and reinfused into the patient to enhance the immune response against cancer.
The availability of an FDA-registered clean room suite in the MUSC Center for Cellular Therapy, where cells harvested from the patient can be expanded and manipulated safely before reinfusion, makes a trial of TIL therapy feasible at Hollings.
Second, the MUSC team is working at the interface of immunotherapy and genetics to help fine tune TIL therapy and to develop personalized vaccines tailored to the neoantigenic profile of a patient's cancer that could one day be administered in combination regimens to expand the number of people with lung cancer who benefit. Such a vaccine could consist of a mutated protein or peptide (i.e., the neoantigen) administered with an adjuvant to optimize the immune response.
Next-generation genomic sequencing of both healthy and cancerous tissues has enabled identification of cancer-associated mutations known as neoantigens. Because these neoantigens result from mutations that are unique to cancer cells, immunotherapies targeting them should not in principle damage normal tissue. Cancer mutations could in fact be made recognizable — and precisely targetable — by the immune system as a result of some of those very mutations. Ironically, the mutations that define cancer and make it such a fearsome foe could become its Achilles heel.
Relying on the MUSC Center for Genomic Medicine, directed by Stephen P. Ethier, Ph.D., the team is having each of the tumor samples sequenced so that neoantigens can be identified. Sophisticated machine learning and other advances in bioinformatics have enabled predictive algorithms to be developed to identify which of these neoantigens are most likely to trigger an immune response. The MUSC team is using a predictive algorithm that is being optimized by Hammerbacher, who holds faculty positions at both MUSC and Mount Sinai and was formerly a data manager for Facebook, to identify the neoantigens most likely to provoke an anti-cancer immune response.