MyQuest
MUSC MyQuest a national model for continuing education 
MUSC's MyQuest was the 2016-17 bronze winner of the Brandon Hall Group Excellence Award for Best Launch of a Corporate Learning University, an international award that spans all industries.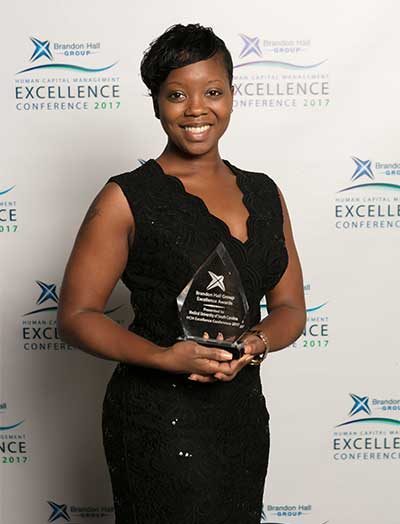 Servicing more than 19,000 employees and students, MyQuest provides more than just annual mandatory education. Last year alone, "non-mandatory" education increased 74 percent with learners launching more than 117,000 learning events in addition to their annual requirements. With approximately 285 catalogs, MUSC is utilizing MyQuest to drive key organizational strategies, such as telehealth and innovation. MUSC's lifelong learners can also explore topics of personal interest, such as computer technology skills or wellness. MyQuest houses content created both internally and externally and provides mobile and tablet applications for learners on the go.
MUSC Learning, an external version of MyQuest for non-MUSC learners, offers fee-based classes and programs, including certification training within the MUSC Community Training Center.
Above: Albany Cromer, MUSC Health manager of Learning Technologies in the Learning Office, accepting the 2016-2017 Brandon Hall Excellence Award for Best Launch of  a Corporate Learning University