Leadership Statements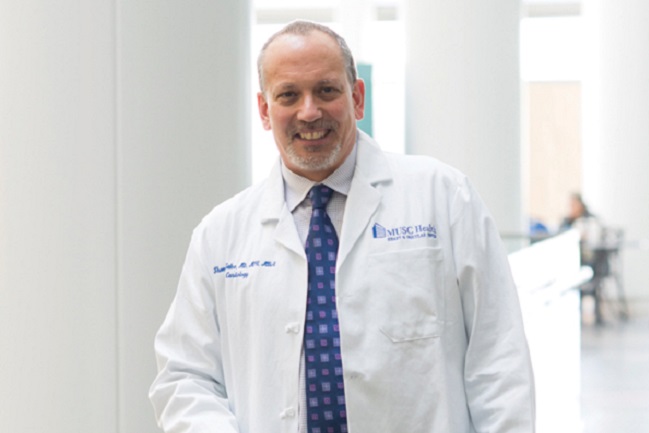 MUSC Health leaders share thoughts on the future of health care
MUSC Health's clinical leadership is committed to care models that improve the patient experience and achieve optimal patient outcomes. These care models are organized into 15 Integrated Centers of Clinical Excellence (ICCE), each with a physician ICCE Chief overseeing the achievement of these goals.
Thomas Di Salvo, M.D., MBA, MPH
Chief – Heart & Vascular
Di Salvo the MBA likens the ICCE (lntegrated Centers of Clinical Excellence) structure to a "focused factory," a Harvard business concept calling for an organization to focus on a few manageable sets of products, and get very good at them. Di Salvo the cardiologist defines that focus as a highly differentiated heart and vascular program at MUSC that could rival anything in the country. And he believes the H & V team is doing just that – offering what you can't get anywhere else in the region. Between the veteran specialists and new strategic hires, the ICCE now includes seven (out of nine in SC) clinicians board-certified in heart transplant, the only robotic mitral valve surgery program in SC, an internationally recognized geneticist to address inherited heart diseases, the only surgeon doing ventricular tachycardia ablations, novel stentings of aneurisms, and a host of other firsts and bests. "Nothing is lost in thinking boldly," he says.
Renowned business strategy author Peter Drucker admits that the three missions of health care – research, education, and patient care – play havoc with traditional business planning. Yet Di Salvo believes that efficiency does not have to erode quality. The definition of success is not the quantity of procedures or outpatient appointments, but the quality of the care and patient satisfaction. Although raised in a musical household, Di Salvo took up jazz drumming later in life and now plays in a combo some nights. "It requires balance of energy and control," he says. "Improvisation means you have to listen to the other instruments." And Just like his day job, the goal is to make the other people – the music – sound better.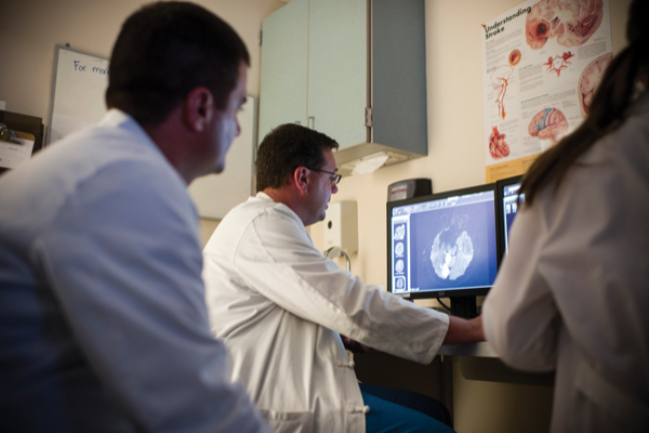 Raymond D. Turner, M.D.
Chief – Neurosciences
As chief of the neurosciences ICCE, Raymond Turner envisions a different way to look at health care. Rather than seeing his portfolio of neurology, otolaryngology and neurosurgery as a series of academic specialties, he sees his role as addressing disease states and developing strategies for comprehensive care, from acute care by multi-subspecialty teams to management of chronic diseases by general practitioners.
"How to best manage complex patients that span traditional departments," he says. "It is not the same administrative job of department chairs." However, he works closely with them, inviting them to the team so that they can collaboratively manage serious diseases for better outcomes.
Turner's goal is to link the patient with the right doctor the first time. So, he worries about access. In his view, there are not enough specialists in metro areas, much less rural communities. He wants to get people together – neuro-specialists, of course, but also ENT specialists, pulmonologists and oncologists – to create a high-end destination program of care and bring that level of care to every physician and patient across the state. He sees telehealth as the future to solving access issues. "Imagine medical-internet cafes across the state where patients can access our tremendous specialty expertise."
Turner is driven. He attributes his drive ironically to being cut from the baseball team his freshman year in high school. He doesn't like to lose and proved his worth with a Division I college baseball scholarship. And that feeling of wanting to be the best has not waned.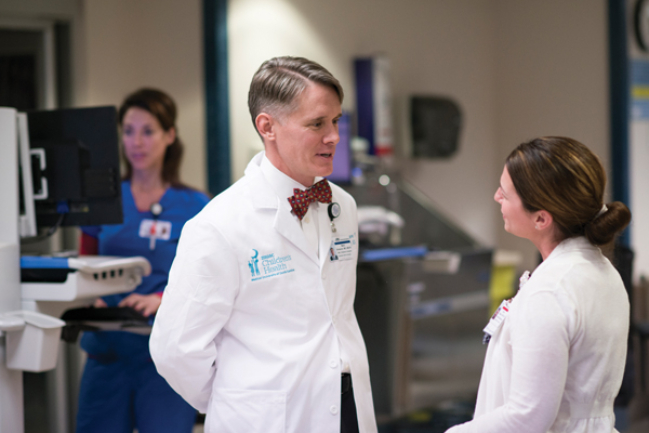 Mark A. Scheurer, M.D., M.Sc.
Chief – Children's and Women's Health
Healer. Mentor. Builder. Partner These are words that one might not expect to use when describing the role of an ICCE Chief at MUSC, yet these are the accurate descriptors of what that person does in this leadership role.
For Mark Scheurer, pediatric cardiologist and ICCE Chief for Children's and Women's Health, the day begins with an invigorating run with a group of like-minded friends before the sun has yet to peek above the horizon. This is his moment of introspection and the time he takes to organize his thoughts about the many decisions and tasks facing him that day.
From the multiple meetings that require his thought leadership to the more personal interactions with co-workers and families, he moves swiftly to ensure that he accomplishes the most important task of the day – taking care of children and women to the best of his and MUSC's ability.
That might involve helping lead the design, construction and completion of the new MUSC Shawn Jenkins Children's Hospital and Pearl Tourville Pavilion for Women, scheduled to open 2019.
It would also likely involve: delivering the highest level of care as a pediatric cardiac intensivist; collaborating with other care providers and health care leaders throughout the state to ensure equal and appropriate access to care for all children; interacting with key donors and legislators who help supply the tools necessary for pediatric health care of the future and who mold the decisions made at the local or national level; or providing guidance and mentorship to our next generation of physicians. Scheurer does so, knowing and accepting the broad range of responsibility on his shoulders without complaint.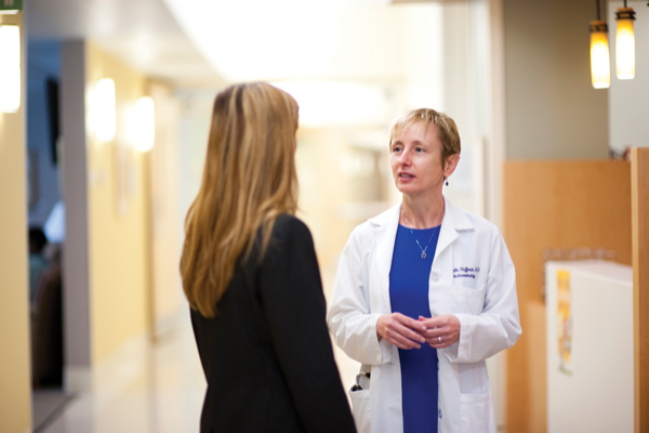 Brenda Hoffman, M.D.
Chief – Digestive Disease Endocrine and Metabolism
A gifted clinician, Brenda Hoffman now finds herself in a leadership role, and has developed strategies to manage her portfolio – quality, growth and access. Hoffman keeps her focus on the patient and family.
She is proud of quality metrics and national recognition: the Joint Commission Advanced Certification in Diabetes Management services, one of less than three dozen Centers of Excellence from the National Pancreas Foundation, and other accreditations and certifications. The Digestive Disease Center's Division of Gastroenterology and Hepatology is recognized as a worldwide leader in gastrointestinal endoscopy.
Hoffman is motivated to grow programs in areas that include pediatrics, obstetrics, and gestational onset diabetes. She envisions developing more minimally invasive procedures, laparoscopic bariatric surgery, and medicine that can even preclude surgery.
She is working to improve access to this quality of care, through clinics closer to patients and through MUSC's telehealth network.
Like all chiefs, she has financial responsibilities and has taken that role seriously. Such as managing funds flow between research and educational priorities and the clinical operations. She chafes at lack of reimbursement for endoscopic or minimally invasive surgical innovations. She believes educating the next generation of doctors in financial matters is essential.
The challenge can be overwhelming. Hoffman finds inner peace through exercise. Not a stroll around the park kind of peace, but six to seven days a week at a dance studio or a marine boot camp-style workout called Orangetheory: grueling 60-minute-long classes focused on high-intensity interval training, cycling through workouts on a treadmill, on a rower, and on the floor with heavy weights to develop endurance and strength.