Behind-the-scenes Collaboration Saves 30 Lives in Rural South Carolina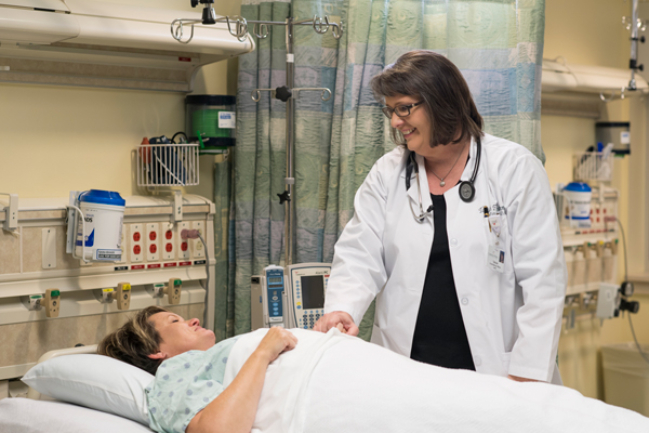 Behind-the-scenes collaboration saves 30 lives in rural South Carolina
Tallulah (Tullie) Fellers Holmstrom, M.D., is chief medical officer (CMO) for KershawHealth in Camden, one two South Carolina hospitals that make up the RCCH-MUSC Health Network. She graduated from the MUSC College of Medicine in 1992 and subsequently completed her internship and residency at MUSC and served as chief medical resident.
Dr. Holmstrom helped bring tele-lCU to Carolina Pines Hospital and KershawHealth in June 2016. She says that while these hospitals were already providing high-quality care, they are making that care even better through tele-lCU. Nurses can call tele-lCU doctors at any time of the day or night, and within 60 seconds, a highly trained physician can be prescribing needed medication or directing other care.
Kershaw had 872 ICU admissions in 2016. "Based on the APACHE II score (an integer calculated at the beginning of the ICU admission to help determine the patient's mortality risk), 30 of those patients that would likely have died in fact survived," she says. Further, 2900 hospital days and 900 ICU days were avoided, a savings of $1.9 million.
The infusion of capital, increased resources, improved efficiencies, more robust data and analytics, and collaboration among health care providers combine to make all partners winners. More importantly, it made patients in these rural communities winners.
"We are committed to delivering the advanced health care available at MUSC to all residents of South Carolina – and anywhere for that matter," says Patrick Cawley, MUSC Health CEO. "That may take the form of telehealth or affiliations with other health systems like Kershaw. MUSC-trained physicians are now delivering care and managing hospitals across the state. A perfect example is our expanding relationship with Tullie Holmstrom at KershawHealth."
CMO Tullie Holmstrom tells why she brought telehealth to her rural hospital