Telehealth Center of Excellence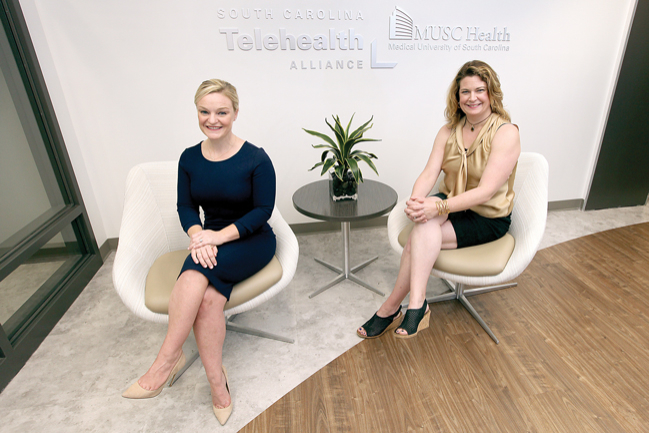 MUSC one of only two national Telehealth Centers of Excellence
"You should not die in South Carolina because of where you live," says pediatrician Katie Cristaldi, M.D., one of two leading MUSC researchers in a landmark grant establishing MUSC as one of only two Telehealth Centers of Excellence in the nation.
On Sept 22, Dee Ford, M.D., and Cristaldi, principal investigators on a grant submitted to the Health Resources and Service Administration (HRSA), learned that their team's bid to develop the center had been funded. The grant awarded $600,000 the first year and up to $2 million more over an additional two years. The COE team, which has been integrally involved with MUSC telehealth initiatives, will continue to work hand in hand with the existing MUSC Center for Telehealth as it expands the scope of its delivery of clinical care throughout the state, in addition to the guidance and resources it provides at the regional and national levels.
Telehealth is an innovative, convenient and effective way for health care providers to deliver acute primary and specialty medical care and support to patients located in all areas of the state – even rural areas, where often meeting those needs can be nearly impossible. But now, in seconds, through the use of high-tech videoconferencing equipment, doctors miles away can be virtually at the bedside of a patient with end-stage kidney disease, in the ER with an ischemic stroke victim or at the school nurse's office assessing a child suffering with asthma.
MUSC provides nearly a quarter million telehealth services to more than 200 sites in 27 counties, 28 hospitals, more than 100 community clinics, and 50 schools, as well as alternative sites such as nursing facilities, prisons, and patients' homes.
Seventy-eight percent of sites are located in completely or partially medically underserved areas of the state.
"HRSA now wants to see how telehealth can be embedded in traditional clinical practice – not an add-on." Ford says. "They want it interwoven and integrated, and they want to see financial feasibility." Ford explains MUSC has a lived experience of telehealth successes and failures. Most of the regional centers are not wedded to clinical operations or universities, and they are not clinical providers or IT specialists, so they don't have that tangible experience.
The MUSC COE will fill important gaps in the national telehealth landscape focusing on the impact of telehealth on federal and local health care spending, provider and patient engagement in telehealth, open access network valuation and best practice dissemination. MUSC will also develop and offer at a national level teams devoted to consultation, evaluation, technical support, and collaboration.