(SC)2 is a sickle cell disease network in South Carolina led by Dr. Julie Kanter, generously funded by The Duke Endowment. (SC)2 is designed to use collective impact methodology to harness the current efforts of the sickle cell disease (SCD) stakeholders to create disease-specific medical homes for individuals living with SCD in South Carolina. This group of stakeholders is comprised of physicians, community-based organizations, patients, providers, caregivers, and members of the Department of Health and Environmental Control. Coordinating our labors and using common measures of success, we are able to align our goals. The goals are to enhance access to care for affected individuals, educate local providers to develop knowledge and self-efficacy in treating and managing SCD, and improve cost of care through increased quality of care.
Through enhanced specialized care and care coordination, it is expected that affected persons will have improved individualized treatment, enhanced quality of life, decreased acute care utilization and overall improved disease control. Secondary goals include increasing local physician knowledge and self-efficacy in managing individuals with SCD through bi-monthly tele-mentoring conferences (based on the ECHO project) and improved coordinated efforts to care for the affected population. A preliminary needs assessment for SCD in South Carolina was conducted using data obtained from the South Carolina Office of Research and Statistics in order to identify initial target areas and begin to engage hospitals in those areas for outreach clinics. Further data assessment focused on quality assessment will be performed in collaboration with the Care Coordination Institute.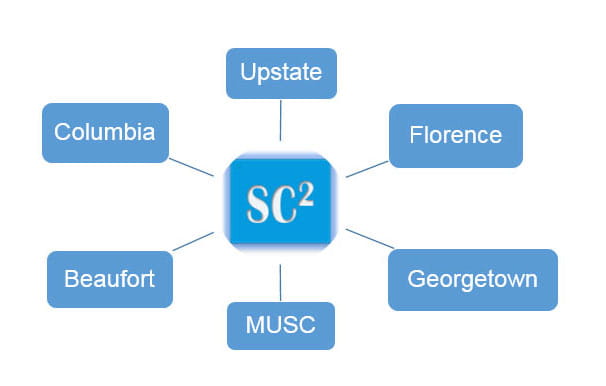 (SC)² uses a Hub and Spokes model to increase access to care. Hospital partnerships include the Hub being the Lifespan Comprehensive Sickle Cell Center at the Medical University of South Carolina and the Spokes, to include Palmetto Health Richland, Tidelands Health System, Beaufort Memorial Hospital, and Greenville Health Systems. We also plan to identify a hospital in Florence to include in the network. We use a combination of in-person outreach clinics and telehealth to provide care in each area as well as tele-mentoring with physicians and annual sponsored symposiums to increase education and knowledge of the local providers.
Each (SC)² partner has agreed to contribute substantial in-kind resources including clinic space, nursing support, advanced practice provider support (physician assistants and nurse practitioners) as well as physician support. Our goal is to work with our CMS, DHEC, and state legislative partners to develop a sustainable treatment model to enhance care for this at risk patient population. A financially stable model of care will also allow us to support administrative activities including quality assessment and improvement activities within the network, include additional supportive care team members such as social workers and coordinators and provide necessary funding for the patients seeking care.
We will have quarterly advocacy/stakeholder meetings as part of the network and are designing an (SC)2 advisory board including patients and family members. Our advisory board will work with our partners to provide project oversight of the network.
Emergency Concerns in Sickle Cell Disease
Fever of 101° F or higher
Acute NEW Chest pain (especially pain with breathing)
Shortness of breath
Increasing tiredness (In children, this may be when they don't want to play or do things they usually enjoy)
Abdominal swelling
Unusual headache
Any sudden weakness or loss of feeling
ACUTE pain that will not go away with home treatment
Priapism (painful erection that will not go down)
Sudden vision change
Sudden onset bloody urine or very dark urine (especially after a recent transfusion)