Fellowship Training
The goal of MUSC Digestive Health's Fellowship Training Program is to provide strong clinical and research training in gastroenterology and hepatology. The Fellowship Program incorporates two teaching hospitals: The Medical University Hospital (MUSC) with 709 beds, and the Charleston VA Medical Center (VAMC) with 400 beds.
Both hospitals provide an abundance of clinical material and significant variety in disease processes. In particular, MUSC is a tertiary facility providing a high level of care in all aspects of Internal Medicine where renal, bone marrow, cardiac, and liver transplantation programs are ongoing.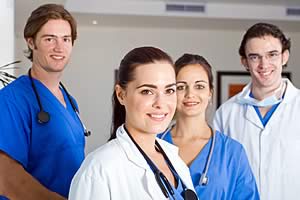 We offer a three-year fellowship based at both hospitals. Rotations are done in the first 18-24 months on the general luminal, biliary-pancreatic and liver services. Duties include inpatient care and consultation, and outpatient clinical evaluations and treatment. These rotations also include training in routine diagnostic and therapeutic upper and lower GI endoscopy, liver biopsy and diagnostic and therapeutic paracentesis.
Opportunity is provided during the second year for limited advanced endoscopy and research experience. The remaining 12-18 months are used for more specialized training, tailored to individual fellows needs, aptitudes and wishes. The focus should be identified within the first months of starting the program, if possible, to ensure appropriate planning.
The areas of focus include Basic Science, Hepatology and Transplantation, Gastroenterology Disease and Motility, Clinical Research Methods and Advanced Endoscopic Procedures (ERCP, EUS, enteroscopy, Laser therapy, stent placement for digestive malignancy, etc.). Each area requires a single major time commitment such that the fellows leaving the program are thoroughly trained in whatever area of focus they have chosen.
For advanced endoscopy training, it is believed that at least five hundred ERCPs are required to achieve real competence sufficient that someone can be productive in a junior faculty position, attract patients, legitimately teach, etc. Proficiency requires a full year of training.
The same caveats apply to endoscopic ultrasonography. Thus, ERCP and EUS training cannot be offered to an individual in a three-year program. For given third-year tracts, fellows will be expected to compete with peers in the program, and with candidates from institutions outside of MUSC, both in the U.S. and abroad.
Opportunity will be available for training in advanced research methods in the laboratory, statistics, computer literacy and business studies, where they are applicable to the research projects. Fellows are encouraged to develop research projects and present data at regional and national meetings.
The Gastroenterology fellows are actively involved in the teaching of medical students and residents throughout the fellowship. The fellows attend the VAMC GI Clinics where they administer continuous care to ambulatory patients over the course of their fellowship. Each weekly Clinic is supervised by an attending gastroenterologist.
There are a number of regularly scheduled weekly conferences. These include an ERCP review session, GI Grand Rounds (involving on a rotational basis presentation of clinical subjects, clinical or basic research, Journal Club and GI physiology), Pathology Conference, Medicine Grand Rounds, and Multidisciplinary Case Conference (involving GI/Liver Medicine, General Surgery, Radiology, Oncology, Pediatric GI and Transplant Services).
The Digestive Disease Center is an organizational structure with considerable potential impact on training in GI Medicine. In addition to Gastroenterologists, the DDC also involves GI Surgeons and Radiologists, as well as closer relationships with other disciplines including Pediatrics, Oncology and Pathology. The Primary mission is to facilitate multidisciplinary clinical care and research through combined clinics and inpatient facilities, and agreed management protocols. The Center has support staff for administration, data management and technology development. The GI Fellows are integrated into its programs.
For more information, please contact our Fellowship Coordinator, Cindy Peeples, at 843-876-4269 or via e-mail at peeplesc@musc.edu.