Sleep Disorders at MUSC Health: Help for Insomnia, Snoring and Sleep Apnea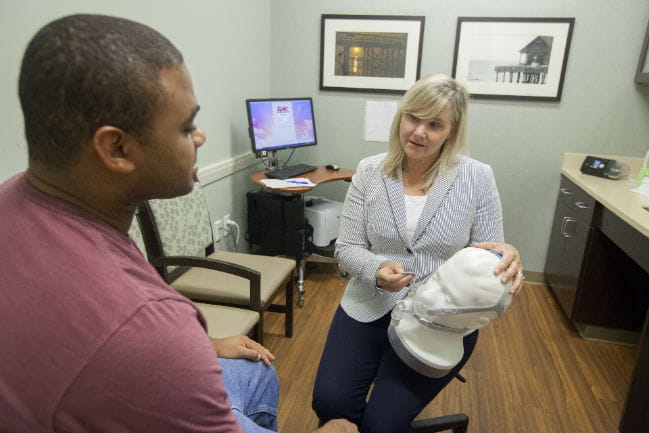 Snoring, sleep apneas and insomnia can make for long nights and rough mornings. Sleep disorders specialists at MUSC Health in Charleston, SC help you get the quality sleep you need to be at your best. We use the latest treatments to care for adults and children of all ages. Our successful track record is one of the many reasons people from all over South Carolina come to MUSC Health.
The Sleep Disorders Program at MUSC Health: Why Choose Us?
At MUSC Health, you receive care from a team of sleep medicine experts with decades of experience. You can trust our board-certified doctors because they have demonstrated excellence in sleep medicine. Our team also includes a nurse practitioner who specializes in sleep disorders care.
Highlights of our program include:
Innovative treatments: We deliver the best available sleep disorders care, including the latest treatments. We offer surgical procedures (hypoglossal nerve stimulation and maxillomandibular advancement) for difficult-to-treat obstructive sleep apnea. And we help more people with long-lasting insomnia maintain restful sleep with specialized education and behavioral therapies instead of medications. Find out more about sleep tests and sleep disorders treatments.
Coordinated care: During clinic visits, you may receive care from specialists in pulmonology, neurology, pediatrics and psychiatry. We are in regular communication to help you receive the care that meets your needs.
Research: Some of our sleep disorders specialists are leading research exploring psychological factors that influence sleep. Our interests include sleeping disorders in adults with anxiety. Find out more about our Sleep and Anxiety Treatment and Research Program.
Leadership: Our doctors are advancing sleep disorders care through medical education. We train lung disease doctors on the latest treatment techniques through MUSC Health's Pulmonology and Critical Care Fellowship Program.
Our Team Approach to Sleep Disorders Care
At MUSC Health, a large team of specialists works together to treat complex sleep disorders. We review test results and determine the best care for problems that do not respond to standard treatments.
You receive care that reflects recommendations from specialists in:
Dentistry
Ear, nose and throat disorders
Oral maxillofacial surgery
Psychiatry
Psychology
Sleep Disorders We Treat
Types of sleep disorders we treat include:
Trouble falling or staying asleep
Difficulty staying awake
Abnormal daytime sleepiness (hypersomnia), for example narcolepsy
Sleep-related breathing disorders disturbances
Central sleep apneas
Obstructive sleep apnea
Snoring
Other sleep disorders
Night terrors, which are outbursts during sleep that include screaming, kicking and thrashing
Periodic limb movement disorders, such as repetitive leg jerks during sleep
Other unusual behaviors during sleep
Sleepwalking
What is Insomnia?
When you can't sleep at night, you may have insomnia. This condition may also cause daytime difficulties including mood disorders and trouble focusing. Insomnia includes trouble falling asleep, staying asleep or waking up early in the morning.
There are many possible insomnia causes. MUSC Health sleep disorders specialists explore all of them. In many cases, it's a symptom of other problems, such as:
Chronic pain
Digestive problems, including gastrointestinal reflux disease (GERD)
Drinking too much caffeine during the day
Eating too close to bedtime
Mental health problems, such as depression and anxiety
Other medical problems, including long-lasting (chronic) pain
Insomnia treatment may include medications for a short period to help you establish a regular sleeping pattern. We help you maintain healthy sleep patterns with additional insomnia treatments such as:
Education about healthy sleep habits and how you can work toward achieving them
Lifestyle changes including limiting caffeine and evening activities
A special type of therapy (cognitive behavioral therapy) for insomnia
What are Sleep Apneas?
There are two types of sleep apnea:
Central sleep apnea occurs when there's a problem with the brain signals that control your breathing
Obstructive sleep apnea happens when muscles sag or collapse temporarily blocking your airway
These conditions cause snoring or temporary pauses in breathing. Some people wake up gasping for air, but many people sleep through these symptoms and don't know there is a problem. In many cases, a person's bed partner notices snorting or loud snoring.
You may also notice sleep apnea symptoms during the day, including:
Headache or sore throat upon waking
Tiredness throughout the day
Mood changes
Difficulty concentrating or forgetfulness
Sleepiness when driving
Sleep apnea treatment often includes breathing machines that apply gentle pressure to keep your airway open. The machine helps you get enough oxygen and continuous, quality sleep.
The most common type is a continuous positive airway pressure (CPAP) machine.
Some people need dental devices to position their mouth or tongue in a certain way. MUSC dentists who specialize in sleep disorders help fit you with a custom device. In rare cases, surgery is necessary.
Information for Referring Providers
MUSC Health gladly accepts referrals from local providers and we look forward to partnering with you in your patient's care. We provide regular communication back to referring providers about the status of your patient's treatment.
Locations
Lung Care & Sleep Medicine
East Cooper Medical Pavilion
1600 Midtown Avenue
Floor: 2
Mount Pleasant, SC 29464
Lung Care & Sleep Medicine
2750 Dantzler Drive
North Charleston, SC 29406
Lung Care & Sleep Medicine
Rutledge Tower
135 Rutledge Avenue
Floor: 5
Charleston, SC 29425