Sleep Tests and Sleep Disorders Treatments at MUSC Health: CPAP Machines, Insomnia Therapy and More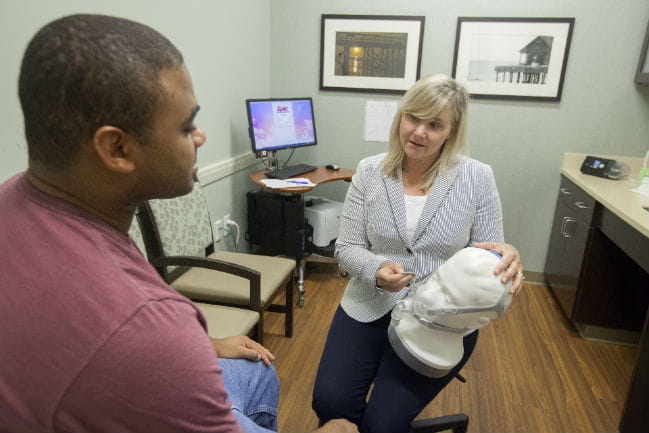 The MUSC Health Sleep Disorders program in Charleston, SC offers the care you need in one program. Our services include testing for sleep apneas and other sleep disorders. We deliver safe, effective care to adults and children.
Our experts stay up-to-date on the latest sleep disorders care practices giving you access to a broad range of treatment options. We deliver personalized recommendations that help many people get a good night's rest even when standard treatments are not working
Sleep Testing and Sleep Disorders Treatment at MUSC Health: Why Choose Us?
At MUSC Health, you receive well-rounded care that reflects the recommendations of multiple experts. Our team includes sleep medicine doctors with additional training in areas such as neurology and psychiatry. This expertise allows us to successfully treat challenging and uncommon sleep problems.
Highlights of our program include:
Appropriate care: Our sleep medicine experts meet regularly to coordinate services for people with complex problems. These frequent touch points mean you receive medications only when necessary. And if medications aren't right for you, we recommend other treatments, including specialized therapy for insomnia.
Sleep testing support: It's natural to be anxious if you need overnight testing for sleep apneas and other sleep disorders. Our sleep technologists are here for you with information and comforting words that put your mind at ease. Many patients say that this extra support helps them have a good experience while receiving the testing they need.
Pediatric specialists: We are one of the few programs in South Carolina treating children with sleep disorders. Our experience caring for children of all ages enables us to diagnose and treat the full range of sleep disorders.
Coordination: We work alongside other MUSC Health specialists when necessary to coordinate care for patients with other medical conditions. For example, we stay in close contact with MUSC cardiologists to meet the unique needs of people with heart problems.
Evaluations, Sleep Studies and Other Tests
We offer a broad range of evaluation and testing services. These services allow us to accurately diagnose problems and determine whether treatments are working.
Our offerings include:
Sleep disorders evaluations: We perform a detailed assessment to learn more about the symptoms you are experiencing. We also check for other conditions that may be affecting your sleep. This information helps us determine the best testing or treatments.
Sleep studies: If we suspect sleep apnea, we perform sleep studies to assess symptoms while you are sleeping. You may need a sleep study if you have sleep apneas, snoring or insomnia. Sleep studies may involve an overnight stay in our sleep lab. You may also have the option of home testing with portable devices. A physician referral is necessary for this service.
Multiple sleep latency test (MSLT): During an MSLT we evaluate whether you fall asleep quickly in a quiet environment. If you have daytime tiredness, this test allows us to confirm or rule out sleep problems, such as narcolepsy. For this test, you undergo five naps over the course of the day in a dark, quiet environment.
Maintenance of wakefulness test (MWT): We evaluate whether you can stay alert during periods of inactivity during the day. You may need an MWT if you are a pilot or truck driver.
Sleep Disorders Treatments
We develop a personalized care plan based on your diagnosis and care preferences.
Your treatment may include:
A sleep apnea machine: If you have sleep apnea, your care may include continuous positive airway pressure (CPAP) therapy. You wear a mask over your nose or mouth when you sleep. The mask attaches to a CPAP machine that creates gentle pressure to keep your throat open.
CPAP machine titration: To make sure the CPAP machine is delivering appropriate pressure, we perform an overnight sleep test. We adjust machine settings to make sure pressure levels keep your airway open without damaging sensitive nearby tissue.
Mouth (oral) devices: Our team includes dentists who treat snoring and sleep apneas with custom oral devices. These devices position your mouth and tongue to open your airway.
Surgery for obstructive sleep apnea: If nonsurgical treatments are not successful, you may benefit from surgery. You receive care from ear, nose and throat specialists who offer the latest options, including hypoglossal nerve stimulation. Our team also includes oral maxillofacial specialists who reposition your jaw bones during maxillomandibular advancement surgery. 
Specialized care for excessive sleepiness (hypersomnia): We deliver personalized recommendations to relieve daytime sleepiness and narcolepsy. Your treatment may include medications to increase alertness during the day or support toward maintaining good sleep habits.
Cognitive behavioral therapy for insomnia (CBTi): This treatment helps you address thoughts and feelings that are preventing you from sleeping. We also give you helpful tips such as how to create a comfortable sleep environment that will lead to better sleep. CBTi-trained psychologists offer this treatment, which helps you achieve long-term insomnia relief. Read more about the MUSC Health Institute of Psychiatry's Insomnia Specialty Care Clinic.
Pediatric Sleep Disorders Care
Pediatric sleep medicine doctors with years of experience treating children deliver effective care for common sleep problems. These problems include falling asleep and staying asleep. Our specialists are experienced in treating the full range of pediatric sleep disorders, including sleep apnea, narcolepsy and periodic limb movement disorders. We also have experience in treating behavioral issues that can cause your child to have problems with sleep.
If medications are necessary, we tailor recommendations to help your child achieve the best benefit with fewer side effects. Get more information about MUSC Children's Health's Sleep Disorders Program.