Pain Rehabilitation Program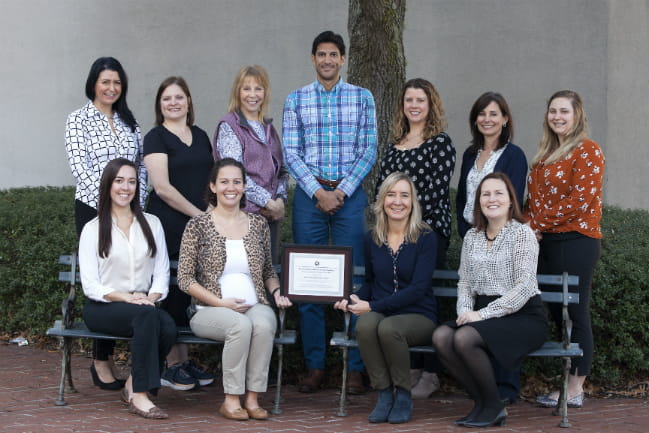 Congratulations to the MUSC Health Pain Rehabilitation Program!
The team received the Innovative Models for Integrated Care Award from The Association of Medicine and Psychiatry (AMP). AMP launched this award in 2016 after recognizing the unmet need to disseminate innovative and successful models of integrated care. Programs that win this award are evaluated on clinical importance, effectiveness, innovation, and generalizability.
South Carolina's only comprehensive chronic pain rehabilitation program
Restore function and quality of life for people with chronic pain
Program suited for people whose chronic pain is negatively affecting their mood, overall health and who are experiencing a decline in quality-of-life
The MUSC Health Pain Rehabilitation Program is a tested, evidence-based model
The Pain Rehabilitation program is a three-week program that runs Monday through Friday from 8 a.m. to 5 p.m.
Program Goals
Resume leisure, recreational, volunteer, and work activities
Increase physical strength, stamina, and flexibility
Learn stress management and relaxation techniques
Improve interpersonal relationships
Reduce or eliminate use of pain medications
Improve ability to self-manage chronic pain, reducing reliance on health care professionals
Features
Opioid reduction/elimination
Medication management
Cognitive Behavioral Therapy
Physical and occupational therapy
Biofeedback
Nutrition education
Admission Criteria 
A person may be considered a candidate for admission if he or she has:
Pain of more than three months duration affecting functioning. If pain duration is less than three months, there must be a clinical indication that the pain will likely develop into a chronic condition.
Medical clearance to participate in daily aerobic exercise regimen.
No pending medical work-ups for a pain-related condition. The person is no longer seeking medical cure for pain.
Psychiatric stability. That means the person has no psychosis, no recent (past six months) suicidal or self-injurious or aggressive behavior, no recent (past three months) psychiatric hospitalization, unless evaluated and approved by PRC consultant staff.
Willingness to taper opioid medications and other controlled substances, and to participate in all program activities.
Applicants must be able to perform activities of daily living (toileting, dressing, and bathing) and the ability to walk or transfer from a wheelchair. They also need to have adequate concentration and memory function to learn and apply new information. Full-day participation is required.
People who are accepted into the three-week Pain Rehabilitation Center program will need a medical clearance for exercise form completed by their medical providers prior to beginning the program.
Exclusionary Criteria
A person may not be considered a candidate for admission if he or she has:
Been unwilling to discontinue use of pain medications and other targeted medications affecting cognition or substances that would prevent meaningful participation in the program
An intrathecal opioid delivery system in place
Shown insufficient motivation to participate in medication management, physical and occupational therapy, or group therapy
An acute physical condition or illness that would prevent his or her adequate participation in the program
Demonstrated disruptive behavior that prevents that person or other participants from fully benefiting from treatment
Referral process
Physician referral is required. The person's primary care provider or referring provider will be responsible for arranging other health care services if need arises. Referring health care professionals can contact the Pain Rehabilitation Program at 843-792-6895.
Referring physicians will need to provide the following information:
Current general medical examination documentation
Current list of medications
Medical records pertinent to chronic pain condition
Admission to the Pain Rehabilitation Program begins with an evaluation, during which staff will assess whether a rehabilitation approach is appropriate for the person with chronic pain.
If the pain rehabilitation approach is appropriate, a tentative admission date is scheduled, a representative from Patient Account Services will contact the person's insurance carrier, as many health insurance plans require approval prior to admission.
Request an Appointment
People with chronic pain generally have extensive medical histories. A referral from a health care professional is required. Health care professionals may include a primary doctor, a pain specialist, a doctor trained in mental health conditions (psychiatrist or psychologist), a physician assistant or a nurse practitioner.
The referral provides the Pain Rehabilitation Center staff with the necessary background to determine if the rehabilitation approach may be beneficial for the individual.
For information or to enroll in the program, call 843-792-6895.
Frequently Asked Questions
We offer a wide variety of evidence-based interventions for chronic pain. Our focus is on functioning, so everything you do will be focused on increasing your ability to do the things you need and want to do on a daily basis. We want to help you re-engage in valued life activities, whether that be traveling, working, spending time with loved ones, or finding a new hobby. In order to deliver on this mission, we combine a variety of interventions from medicine, nursing, psychology, occupational therapy, and physical therapy. You will meet with the entire team every other day in morning rounds and you will meet individually with a nurse every day; all other activities are group-based. 
This is a common concern we hear from nearly every person who is interested in our program. We have never had anyone not complete the program because they were unable to make it through the entire day. In fact, nearly all of our patients tell us that they were "shocked and surprised" at what they were able to do. We help you learn to moderate your activity and rest so that you can attend the entire day!
We will help you develop individually-tailored goals based on your initial assessment. We meet you where you're at, regardless of your starting point. We have many people in the program who are using walkers or canes, and we also have some people who are already quite active. 
Since opening our doors in January 2018, we have consistently seen patients experience decreased pain, increased engagement in valued life activities, improved mood, and increased physical activity and endurance.
Patients with chronic pain who have been on long-term opioids tend to report less pain, and better functioning, mood, and quality of life when they taper off opioids. We understand that withdrawal is a concern for many people who are tapering off opioids. We are fully equipped to help you manage the physical and emotional aspects of withdrawal. We are prepared to help you successfully get through withdrawal.
Evidence shows that pain decreases or remains the same when individuals with chronic pain come off opioids. We have also witnessed this first-hand with patients in our program. 
We accept all insurances and self-pay patients. Prior to starting the program, you will be provided with an individualized estimate of your insurance and out-of-pocket expenses for this program.