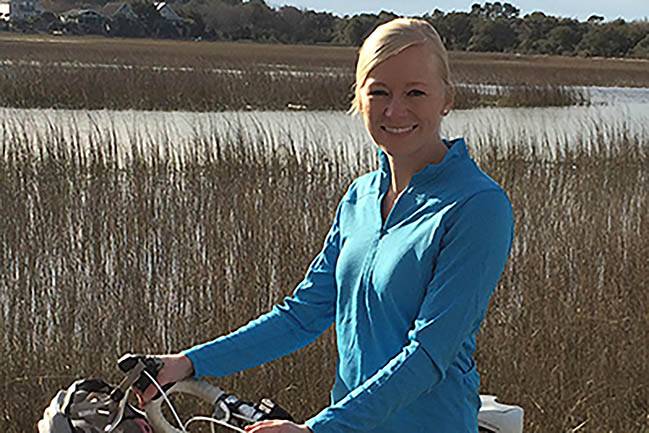 From the mountains of West Virginia to the Lowcountry of South Carolina, Krista Wagoner, M.D., OB-GYN, has finally found the place she wants to call home. Growing up in West Virginia, Dr. Wagoner spent her childhood hiking, camping and enjoying the great outdoors. While she loved being outside and active, she also loved science, and at the very early age of thirteen, she decided she wanted to become a doctor. When the time arrived for her to act on that decision and move beyond childhood and adolescence, she traveled to North Carolina to attend college. Upon graduation, West Virginia beckoned her back for medical school, but it wasn't long before she was on the move again landing in Charleston for her residency. Once in Charleston, Dr. Wagoner discovered there were no mountains and few campgrounds to keep her actively entertained, but soon uncovered the beauty and charm of outdoor life in the marshes, beaches and bridges of our city.   
Celebrating and advocating for a healthy lifestyle, you can often find Dr. Wagoner at sunrise, cycling across the Ravenel Bridge, paddle boarding down a familiar marsh on James Island, or settling into a day at Folly Beach with her umbrella, chair and cooler filled with beverages and snacks to last the day. While she definitely takes advantage of all the outdoor activities Charleston has to offer, she is never far removed from her greatest passion — women's health — and her practice in Mount Pleasant where she provides comprehensive OB-GYN services to women of all ages. She has a particular fondness for pregnant women, for whom she is able to provide many months of care during a pregnancy, and with whom she is able to develop a special relationship. While it may seem clichéd to say that delivering babies is her favorite part of her profession, the delivery itself is a culmination of a nine month relationship during which she and her patients share a special bond, and which on a personal note, makes her career choice so special.
Having completed her training at MUSC, Dr. Wagoner also has a distinct appreciation of the importance of being affiliated with an academic medical center. Particularly in the field of women's health, which covers the many different stages of life, here at MUSC, "Our patients have the benefit of having the eyes, ears and minds of multiple experts participating in our patients' care," states Dr. Wagoner.    
For more information on Dr. Wagoner or to schedule an appointment, call 843-876-3292 or visit MUSC Women's Health.