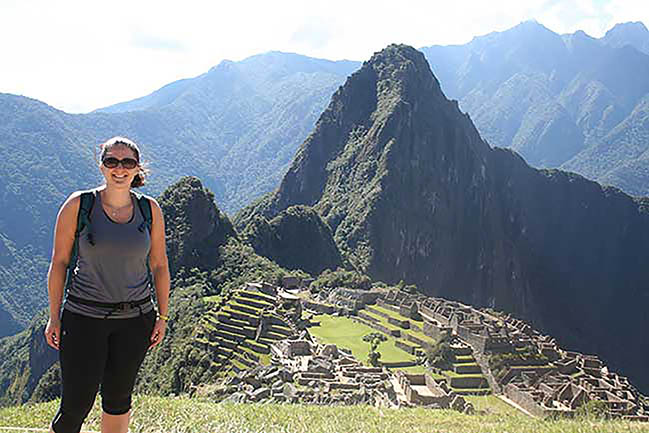 The game "Where in the world is Carmen Sandiego?" began as an educational resource for teaching children about geography in the early 90s, but Michelle Meglin, OB-GYN created her own version of learning about geography by traveling throughout the world with her favorite traveling companions. Most recently, she could have been found floating in a hot air balloon across the Napa Valley in northern California with her gang of nomads who also relish the thrill of adventure in different locales. Having caught the travel bug early in life, Michelle has traversed our country from east to west, and back again, never content to visit the same place or stay in one location too long. "I have spent a lot of time abroad, but now it's time to conquer all of the states at home," she reports with a patriotic air in her matter of fact statement.  
"I love to travel," she adds. "And, I do so quite regularly. "And," she adds this time with emphasis and a playful grin on her face, "I don't always know where I am going." While that sounds somewhat mysterious, the truth is that within her group of wandering friends, each takes a turn in planning their annual Memorial Day weekend outing. "It's great to let someone else plan out all the details, be surprised at the choice, and enjoy yourself all at the same time." But, in spite of her international expeditions and the cross-country ventures, her favorite journey to date is the one that landed her in Charleston, SC.  
"From an early age, I knew I wanted to go into medicine," begins Dr. Meglin, who was raised in Wilmington, North Carolina with her parents and three siblings. "My family had a tremendous impact on my decision to go into healthcare, and it seemed like a natural path for me." Unfortunately, the main impetus toward a career in medicine was the result of a personal tragedy that befell her family, hitting her square in the face with mortality. Her brother's illness and subsequent death at age fifteen, inspired her to make this decision – medicine and taking care of others became her path to follow in life and from that fated choice, she did not waver.
Dr. Meglin attended undergraduate school at Davidson College in North Carolina, followed by medical school at Wake Forest. "Once I chose medicine, I always thought I would go into pediatrics," explains Dr. Meglin, "But was drawn to women's care at an early junction in my medical training, and I never looked back." After graduating from medical school, she went to Virginia Commonwealth University, where she completed her residency in OB-GYN. During this time, her mentor suggested she look at MUSC and Charleston as a place to continue her career. The connection was made and as they say – the rest is history.
Dr. Meglin's spirit and energy for her patients is revealed daily and it is easy to see that why her true passion in life is women's health. "I am drawn to the variety of care I see in women's and at MUSC, the relationships I form and the bonds I create as I help my patients through some major milestones of their lives." This credo and her ability to connect with her patients is what have made Dr. Meglin so successful early on in her career.
Dr. Meglin has been with MUSC for two years and feels at home in this academic setting at MUSC. She is finding her niche in adolescent medicine, family planning counseling and management, and pregnancy. She also finds great fulfillment in the ability to teach. "My biggest joy is not only seeing patients, but to give back to the next generation of OB-GYN providers. No two days of my job are the same and it is what I love most about my career – the balance, the variety, and of course, the amazing women I get to meet!"
The road to medicine has been a greatest excursion for Dr. Meglin. The journey has not always been perfect, and those who know her well, understand that she keeps that very personal reason for this noble choice in careers, close to her heart, and always on her mind. And, at the end of the day when the sun sets on the beaches of California, or the moon rises over Machu Picchu in Peru, or the heather blooms in the moorlands of Scotland, her patients always know that her humble compassion for women are what make this doctor so unique and special to MUSC Women's Health.
For more information on Dr. Meglin or to schedule an appointment, call 843-876-3292.