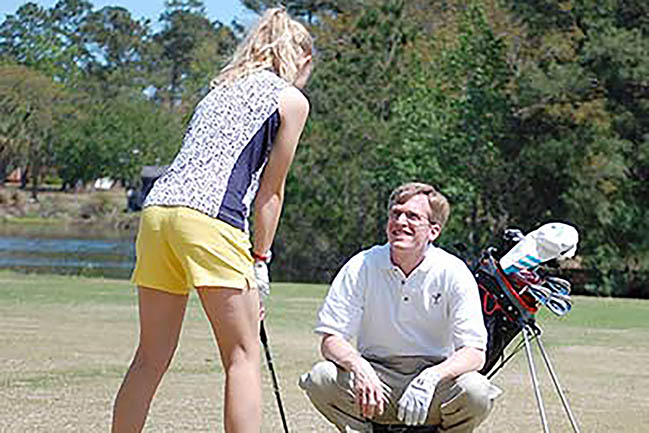 Sitting behind an ordinary desk wearing a Chicago Cubs World Series jacket, with an autographed sketch of Arnold Palmer gracing one wall of the room, and a collage of New Orleans Jazz Festival posters on another, Dr. Christopher Goodier begins the conversation with, "I am kind of boring." The artwork alone typifies the true nature of this quiet, unassuming man and belies the accuracy of such a self-deprecating statement. We continue speaking about his life, his passion for medicine, and his dedication to his family as he quietly states, "Please call me Chris. I prefer that over Dr. Goodier."
Born and raised in New Orleans, he describes his childhood as being family-centered; a value he strongly embraces within his own family and medical practice. "I was fortunate enough to grow up in a great family, playing golf with my father and brother, and watching my sisters play sports. That was, and still is a very important aspect of my life."  
"My father gave me the picture of Arnold Palmer after he met him a long time ago, so it's very special to me." After a slight pause in the conversation he continues, "At first I didn't really appreciate it, but when I found it a few years ago I realized how cool it was. It's a symbol of all the time I spent with my family and when I look at it, I think of them."
Laughing, he added, "I was a better golfer when I had more time to play!" Today, he makes time to play with his wife and two children when he can. "Our time on the golf course is special because I work a great deal and when we play golf, we talk and just have fun. I also love watching my kids play the sports I love – basketball, golf, whatever, and playing with them as well." The smile on his face clearly says what's in his heart, why Arnold Palmer adorns his office wall, and why golf remains important in his life.
Having grown up in New Orleans, the move to Charleston was almost a natural for him and his family. "The two cities are similar in so many ways – history, art, architecture, food," he explains. "My wife and I made so many great friends at Clemson, the Carolinas felt like the right place for us. We found our home here."
After college, Chris worked for a healthcare consulting firm, while his wife attended graduate school. In this role, he traveled throughout the country advising healthcare organizations on business principles to help them remain solvent in a changing environment. Upon graduation, Beth was offered a position with the College of Charleston, and the possibility of becoming a doctor became a reality – medical school at MUSC was on the horizon.
Entering medical school somewhat later in life than the average student, Chris originally entertained the idea of becoming a surgeon. After careful consideration, with his family's needs at the forefront of that decision, he eventually landed on obstetrics and gynecology with a final leap towards maternal fetal medicine.
Through his role as a maternal fetal medicine specialist, he has once again taken on the role of providing guidance, consultation, and support. "I try to put myself in my patients' shoes, which I truly can't do," he explains honestly. "I have never had to deal with the choices and decisions facing them, but it is my job to sit and listen, and to provide the best advice my experience and training allows. And, regardless of the outcome of the pregnancy, I always, always follow-up and try to keep in touch no matter how much time has passed since I last saw them."
With that caring and thoughtful comment, the conversation easily turns to the Clemson Tigers, the New Orleans Saints, Harry Connick, Jr., and Mardi Gras. When asked about how he celebrated Mardi Gras growing up, he smiles and says, "We always went to the parades. In fact, last week I flew down to New Orleans to be with my family to watch my dad and brother-in-law ride in the parade." Again, his smile illustrates the essence of this man and the value he places on family. Visions of purple, gold and green beads come to mind along with jambalaya, shrimp creole, chicory coffee, and all the wonders that New Orleans has to offer. One of those wonders is Chris Goodier – who by the way is not boring at all.
For more information about Christopher Goodier. M.D., or to schedule an appointment in Charleston or North Charleston, visit MUSC Health Women's Health or call 843-876-0880 or 843-876-1200.