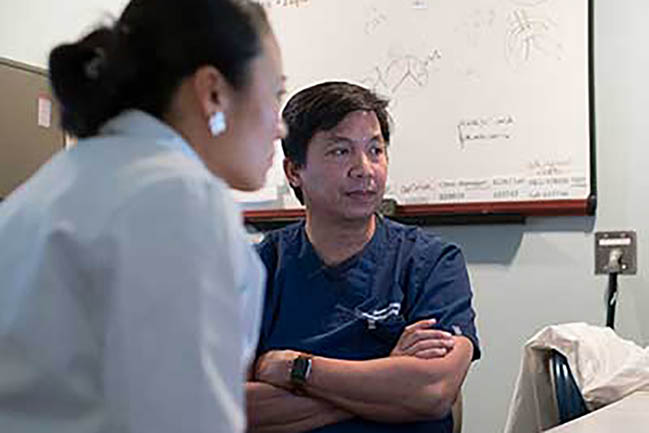 "What's the story morning glory? What's the tale nightingale?" is how the story begins. 
"This is what I do when I am at home," Gene Chang, M.D., from the Department of Ob/Gyn, states somewhat seriously as he waves to an invisible audience.
"It is common in my house for my wife or son to be at home rehearsing lines with my daughter," he continues. "When they are ready to perform, a hush falls over the room and the mood is as serious as I might find in an operating room. It's actually quite scary." Chang pauses, takes a deep breath and continues smiling. "Sometimes I even get to stand-in for rehearsal."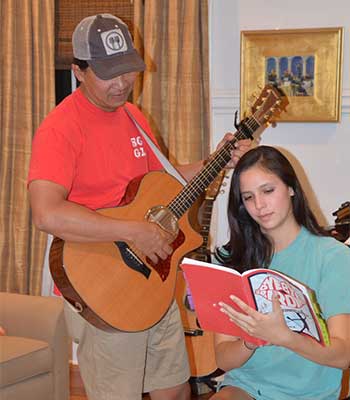 "Right now, we are helping my daughter prepare for her role in Bye-Bye-Birdie which her theater group will perform at Piccolo Spoleto," he adds proudly. "Her acting/singing is something totally different for us and I didn't think I would ever have been interested in before. I credit my daughter for introducing me to Hamilton, which is now an obsession for me."
He laughs easily and then adds, "You know, I think I'd love to act. In fact, I'd like to be that actor-what's his name-Ken Jeong? You know he's actually a doctor and has his own TV show. I want to be that guy in my spare time."
These are not the words you expect to hear from this Maternal Fetal Medicine specialist, a physician who cares for some of the most complicated of pregnancies. He continues talking and claims that he always wanted to be a doctor even though he didn't come from a family of doctors. "I don't know if that idea was self-generated or parental programming. I just knew from an early age that I would be a doctor."
"I was born just outside of San Francisco, but my mother's work brought my family cross country to the East Coast moving first to New York, then Philadelphia and Miami before landing in Virginia. I went to medical school at the Medical College of Virginia and then came to Charleston for my residency where I met my wife who is also a physician. Following 4 years in the Air Force, I did my fellowship in Maternal Fetal Medicine at MUSC and have remained on staff ever since. Now, I spend much of my time seeing patients in our Fetal Care Center."
"When I was a resident, I actually answered a casting call for the sequel to Ace Ventura which was filming in Charleston," he adds during a break in the conversation. "one of the questions the producers asked was whether I would be willing to shave my head for an additional $75. Naturally, I said yes. I was actually cast as a monk in the movie but had to pull out last minute because of work. I think if I'd been in that movie, I would have become Ken Jeong!" he teases, with a bit of Dennis the Menace quality in his voice, and on his face. It's difficult to know whether he is joking or not as he grabs a piece of candy from the candy bowl on his desk, popping it in between the infectious grin spread across his handsome face. Most likely, he is joking.
When asked how he spends his leisure time, he responds without hesitation. "I'm my kids' dad and I'm my wife's husband. It's pretty amazing how accomplished they are, I just ride their coat-tails. I spend time with my daughter rapping Hamilton or learning about her newest role and I am my son's biggest fan for whatever sport he is playing. His sport is whatever is in season and I try to help him prepare," he states with pleasure. "You can often see us throwing a football by our house, playing basketball in the driveway, or taking batting practice at the batting cages near our house."
"As for me, I play guitar when I can and I love to play golf, though I'm no Tiger Woods- I'm more like Happy Gilmore. Thankfully my colleagues Chris Goodier, Robbie Conatser, and Keith Willan don't talk too much smack and let me play with them." He smiles again impishly.
As the conversation turns to his profession, the humor is checked and the serious, engaged, and dedicated physician emerges once again. "Fundamentally, my instinct is to be a teacher and sometimes I wonder whether I am a doctor who teaches or a teacher who doctors. It's a toss-up.  Either way, teaching is a big part of what we do with patients when we diagnose abnormalities in their baby," When asked to describe why he has chosen to care for the most vulnerable of patients, Dr. Chang explains, "Taking care of babies with malformations is tough and can be emotionally draining. My quirky sense of humor is a way to deal with this I guess. Anyway, for the longest time, we could only "diagnose," but now we can "fix" some of the problems we find in babies which is cool. We are reimagining the possibilities and hopefully making a difference and this is what drives me to do what I do."
"My job," he continues "Is to understand and to be respectful of my patients' beliefs and desires, and to help them achieve a degree of humanity at this most difficult of times," he states quite compassionately.
Once again, Gene Chang's quiet, easy manner fills the air and carries you effortlessly into a place which feels comfortable and secure, setting his audience at ease. A quick and faint smile crosses his face as he sits at his desk surrounded by photos of his family, his friends, and his accomplishments, and in that moment you realize this is no act. Dr. Eugene Chang is the real deal and he is no stand-in. Bravo, Dr. Chang.
For more information on Dr. Chang visit MUSC Health Womens Health or call 843-876-1200.