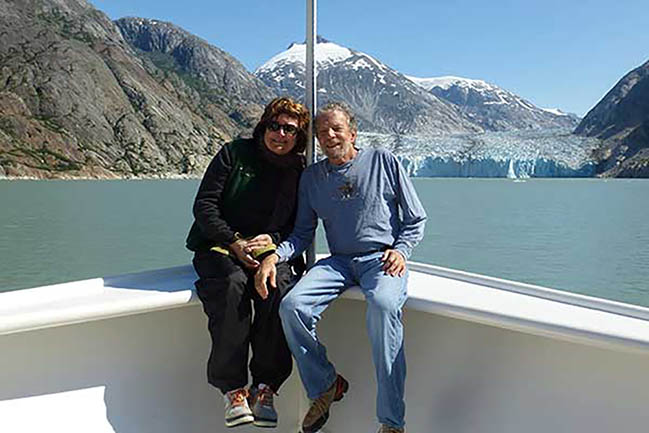 The phrase "drawing a line in the sand" is often used as a metaphor meaning a point beyond which one will go no further. While not a line in the sand, Donna Johnson literally drew a line across a map of the US from Greenville, SC to coastal California, illustrating her intent to only look south of that line for her residency program. This gesture, as she relays the story in that telltale South Carolinian accent of hers, accompanied her claim of "I don't like the cold, and I wasn't going to apply to any programs north of my proverbial line in the sand." Luckily for the women of South Carolina and MUSC Women's Health, Donna Johnson, Department Chair of Obstetrics and Gynecology at the Medical University of South Carolina, kept to that promise, eventually ending up in San Diego at the University of California for her residency and fellowship, before eventually heading back to coastal South Carolina and her southern roots.   
The journey, however, was not what one might expect of the average individual considering medicine as a career. Donna Johnson is not average. She was not a native Charlestonian, nor did she come from a family of physicians, scholars or professionals. She was the daughter of a tobacco farmer in rural South Carolina in Horry County. She learned how to drive a tractor at age five. From age nine, she oversaw the daily operations of the tobacco farm during the summer. And, in spite of her love for her family, the South, and warm weather, she couldn't wait to leave the farm and get an education.
She earned a scholarship to Coastal Carolina University and Francis Marian University, but Furman University was her choice, and it was her tobacco farmer father, Mr. Palmer Johnson, who promised his help in fulfilling his daughter's dream. "You can be anything you want to be," he repeatedly told her, and off she went to Greenville to begin her amazing journey.
After four years at Furman and medical school at MUSC, Donna applied to residency programs in Texas, Alabama and California-all locations below the line on the map and clearly warm weather states. While the program at University in Texas at Houston pulled at her, Donna decided upon the University of California-San Diego where Robert Resnik, M.D., a mentor to her and a leading expert in Maternal Fetal Medicine, still practices today.¹ Dr. Resnik once fondly told her that he planned on changing her, but instead she changed them, and in a good way. She considers Resnik her "academic father" and speaks very highly of his influence on her life.
Donna spent a total of nine years in San Diego where she completed her residency, a two year fellowship in maternal fetal medicine and one year in private practice. San Diego is where she also met Greg, her husband of 26 years, was a sailor and a captain. Eventually, their mutual attraction to the sea and its many treasures, aligned closely with their personal goal of one day, living at the beach. When the thrill of the Pacific coast lost some of its appeal and the desire to return home closer to family took over, Greg and Donna packed up their belongings and headed back to Charleston and the beaches of Folly. 
"I came back to Charleston because it had the energy of city life, but not the hassles of bigger city living. I also wanted to help the women of South Carolina and particularly rural women who needed it most." South Carolina ranked as one of the states with the highest rate of pre-term birth and Donna instinctively knew that South Carolina was where she belonged. "I love babies and as an OB-GYN, I loved being part of the creation of a family, and I wanted to be affiliated with an organization that had a strong maternal fetal medicine program." Twenty years later, Donna is now the lone female department chair at MUSC, and she stands proudly as a strong voice for the women of South Carolina, regardless of their circumstances, and an advocate for women's health, regardless of the challenges.  
And yet, medicine is not her only passion. All these years later, Donna and her husband have remained tightly entwined with the sea, living at the beach and traveling the waters of the world from the Galapagos to the Bay of Magdalena, to the icier waters of Alaska. Her eyes light up when she tells the stories of her travels with her best friend and husband, Greg. The Orcas, the gray whales, the hundreds of dolphins they witnessed in a feeding frenzy, the harbor seals giving birth in icy waters, and all of the wildlife she has encountered over the years brings her a similar level of joy as when she places that newborn baby into the hands of its mother. It is life that excites her and the beginning of a human life that drives her desire to help all mothers experience that miracle, whenever possible.
In recalling when she first arrived in Charleston, Donna recalls the first night at Folly Beach. "We went to feed the seagulls and the wind was blowing and the sun was setting, and I realized I was at peace. The waves of the ocean wash away all my problems, and this is where I belong," she says softly as the conversation closes.
In listening to her retell stories of her life, her travels, her passions, it is not difficult to imagine  why women place their trust in this amazing woman. She provides the expertise when it is most needed. She provides wisdom when difficult decisions are presented. She provides strength and courage when it is needed most. And she provides a voice when others do not have the words.  
 "We know only too well that what we are doing is nothing more than a drop in the ocean. But if the drop were not there, the ocean would be missing something."
- Mother Teresa
For more information about Donna Johnson, M.D., MUSC Women's Health, or to schedule an appointment in downtown Charleston or North Charleston, visit www.MUSCHealth.org/womens or call 843-792-5300.

¹ https://bestinmedicine.org/robert-resnik-m-d/