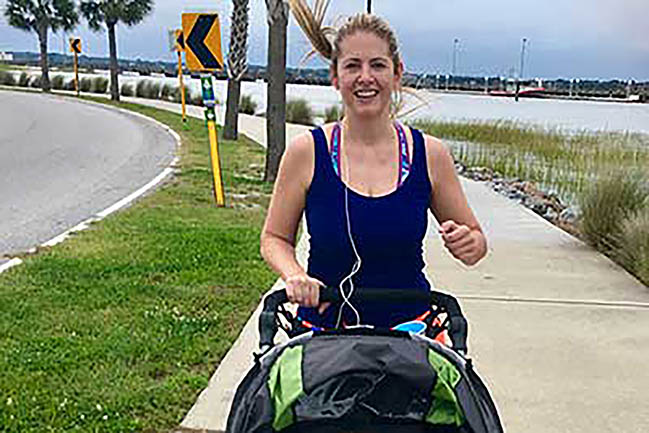 The autumn season often evokes visions of colorful foliage, cool weather, and the beginning of the winter season, but at MUSC Women's Health, the word autumn for many women in the Charleston area evokes feelings of hope, gratitude, and relief in the form of their local urogynecology expert — Dr. Autumn Edenfield.
While most OB/GYNs gravitate toward the expected path of taking care of pregnant women and delivering babies, Autumn made her way toward an area of expertise that isn't as easily discussed or shared "out loud" in open conversations.  
As a Charleston native, Autumn has always loved the Holy City, but she gravitated to a much larger city when selecting a medical school by settling on NYU in the heart of Manhattan. For her, experiencing the rigors of medical school and the thrill and excitement of New York City was one of the most exciting times of her life. Not to mention that New York is where she met her future husband, who was also studying medicine at NYU. When asked why New York in particular, she quickly responded with "I loved the feel and excitement of the city where we could walk to restaurants and shops, and run through the park at any time." 
"This is why I came back to Charleston," she added. "It's a smaller city, but the energy of city life is still there." As Autumn made her way back to Charleston by way of Duke University, it was in her third year of training that she decided on the path to urogynecology. She wanted to remain involved in research and teaching, and as her mentor from MUSC helped to make that connection, Charleston became a likely destination. 
"I always liked science and biology as a child, but I didn't want to just be in a lab environment and the choice to specialize in urogynecology arrived when I realized I wanted a combination of surgery and medicine. I wanted to "fix" problems, and uro-gyn has given me that option. It's very satisfying to be able to actually provide great treatment options for some very serious issues experienced by women. My patients are often very active and proactive in their search for an answer. They aren't embarrassed about their issues and readily share their personal stories as a way of stressing just how strong their desires are to return to a life of normalcy and no embarrassment. "
Laughing lightly, Autumn added, "I sometimes feel like I've put 'Ms. Humpty Dumpty back together again.' In all seriousness, women can experience devastating consequences related to their uro-gyn systems, and I'm glad to be the one to give them hope and an answer to their problems. I also am privileged to work with women of all ages because it's not just an issue that affects senior women, it can affect women of all ages."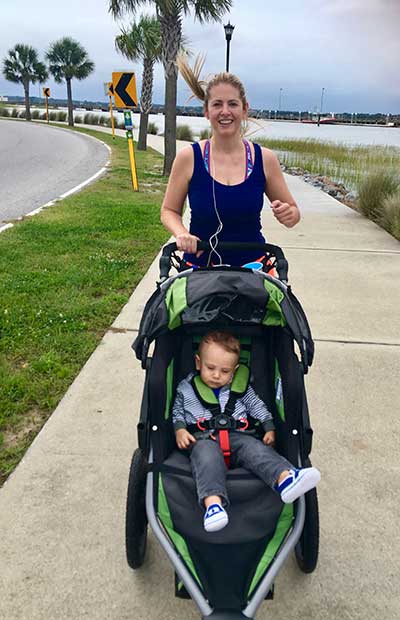 When asked what she does to relax, Autumn describes her personal life as "always being on the go." In addition to her busy practice in Mount Pleasant and Summerville, Autumn has a 10-month-old son named Cisco and a fellow physician husband. Still attracted to city life, Autumn and her husband live in the downtown area where they can still walk to restaurants and shops, but also run (another passion).
"Before I became pregnant, I ran several half-marathons and the routes in the downtown area were perfect for training. I picked routes which also housed public water fountains, which made it easier to make my way around town — Hampton Park, Waterfront Park, the Cooper Bridge, Folly Beach, and beyond. I just plug in to a podcast to get in the mood, and I am off to the next water fountain."
"You just cannot go to Duke University and not end up being a basketball fan," she adds to the list of pastimes. "Whenever we get a chance, we try to take advantage of March Madness and go to an NCAA basketball game. It doesn't matter who is playing, it's just fun to watch."
As we settle into the end of summer with the promise of cooler weather on the horizon, Autumn Edenfield gears up for her next run and her next surgery. Looking very comfortable in surgical scrubs, she epitomizes the lifestyle which many of her patients seek as they look to her for an answer to their problems – healthy, active, and happy. For our uro-gyn specialist, being able to fulfill their needs is a connection in life worth its weight in autumn gold.
For more information about Autumn Edenfield, M.D. or to schedule an appointment in Mount Pleasant or Summerville, MUSC Health Womens' Health or call 843-792-5300.