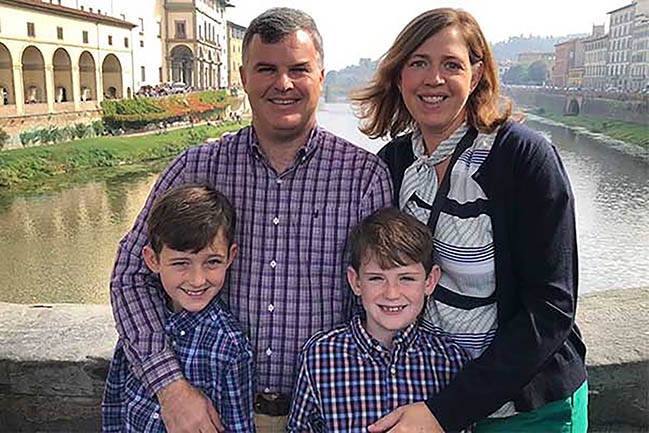 The popularity of cooking shows in recent years has spurred men and women alike to create, design and experiment with many different food groups, flavors, and ethnic cuisines. This has never been more evident than in Charleston, SC where the city thrives on its reputation as a "foodie haven." Yet, it is not along upper and lower King Street where numerous eateries exist, that a most famous chef of Charleston practices her trade. Ashlyn Savage, an OB-GYN extraordinaire, mother, wife and semi-celebrity chef practices her culinary trade in a quiet, family-friendly neighborhood at the end of a cul-de-sac on the Ashley River. This is where the "Queen of Dip" lives.
"I love to cook," states Ashlyn Savage, an OB-GYN at MUSC Health who is more often recognized as a popular, and highly respected physician of women, rather than a "top chef" of local fame. "If I do anything for myself, it is cooking. I love to experiment with recipes and ethnic foods, and gather with other friends and families in our close-knit neighborhood where roving, impromptu parties are frequent." 
"We have nomadic-like parties in the neighborhood moving from house to house on any given night. We also hold contests, with a theme of course, to see who can bring on the best and compete to win a prize or a new title. As part of the contest, you might have to cook a dish that includes a tomato, or collards, or any other random ingredient," she goes on to explain. "We've had a Rib King, a Collards Queen, and I am the Dip Queen," she laughs. "I won with an artichoke dip, but my best is my 7-layer Mexican dip."
While cooking and spending time with family and friends is important, most of her days are filled with the responsibility of taking care of women of the low country. Together with her husband, also a physician, the two left the sun-filled days of Charleston for four years of cold and snow in Pittsburgh to complete their residencies. Despite the cold, Pittsburgh proved to be "an easy town to live in," and they came away with fond memories of the "City of Bridges."
After moving back to Charleston, another city of bridges, Ashlyn continued her medical career as one of the first female, general OB-GYN's on staff at MUSC. While she considers herself an "academic generalist" who is involved in clinical care, teaching and research, she describes herself as "more of a teacher than a researcher." 
"My involvement with learners is that it helps keep me current and is a reminder of how I ended up where I am today." Ashlyn's sense of pride in her work at MUSC Health is clearly evident in her voice as she shares her experiences about involvement with women and their families.
"My life is centered on my family, as well as my patients' families. During a pregnancy, I get to know the whole family, because everyone is involved and by the end of the pregnancy I frequently have met everyone—grandparents, siblings, aunts and uncles. It's not always just the expectant parents who come to hear the heartbeat for the first time—it's the family. Having a baby is a major life moment, and I cherish that hugely rewarding part of being the OB-GYN for the mom and her entire family."
Work aside, Ashlyn is also a mother of two boys, aged eight and nine, who keep her busy with the fantasies and realities of football, hockey and baseball. Still huge fans of the Pittsburgh Steelers, Penguins and Pirates, and other sports teams, the family often chooses to celebrate life events with tickets to sporting events rather than gifts. "We travel instead of buying a thing," she explains. "Something the entire family can enjoy." Laughing quietly, she adds, "We still have yet to make it to a Pittsburgh Penguins' game, but it's on the list."
When looking around Ashlyn's office at photos of her family, posters and art from the special places the family has traveled, and other mementos, you get a sense of a woman who is comfortable, confident and content. She likes being an OB-GYN generalist, she likes being a teacher, she likes being a mom and wife, and she likes being a chef—and her patients more than just "like her" in return. When you hear the admiration and praise from patients, colleagues and her family, we know that with this kind of resume and her knack for creating those "magic moments" for all families, Ashlyn Savage can take on Bobby Flay any day!
Learn more about Women's Health at MUSC Health.