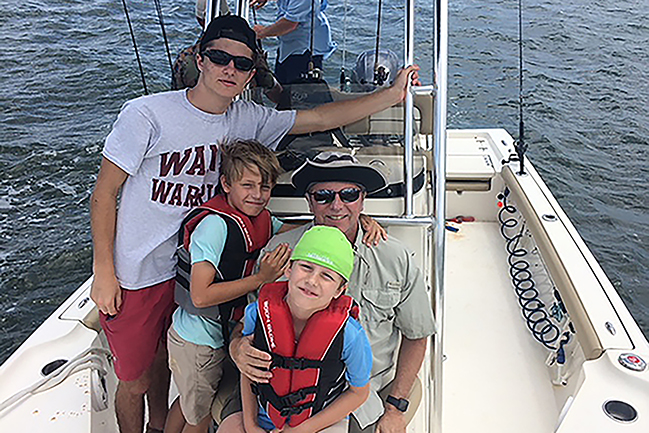 On any given weekend, one might find Cristian Thomae and his youngest of four sons, traveling through the local rivers, jetties or backwater creeks of Charleston looking for Redfish, Flounder or Black Drum. These are fish which thrive in the many oyster bars and shallow flats in and around the Low country and provide great sport for the average or expert fisherman. If not fishing, he and his boys will kicking the soccer ball or watching matches on TV. A former soccer player, himself, and avid fan, he talks about his love of soccer and his favorite soccer teams, of which he has several—Boca Juniors of Argentina, Barcelona from La Liga and Manchester City of England. Why soccer you might ask in a state like South Carolina where the fans of Clemson and USC stand firm in their loyalties to football, and in their rivalries between each other and others? The answer is quite simple. Cristian Thomae, OB-GYN at MUSC was raised on soccer, or as his native country refers to it-football.  "I actually played soccer myself until just 5 years ago," he professed, "and my 9 and 11 year old boys play now." 
Cristian was born in Argentina and lived there until the age of twelve, when his father, an electrical engineer moved his family to Rochester, NY., where the manufacturing industry was booming and innovation was king—Think Kodak, Xerox, General Dynamics, and the Rochester Institute of Technology. Describing the experience of moving to the United States, little trace of his native language is apparent today. "I knew very little English, and when we moved from the beautiful mountains of Argentina to the cold and snowy winters of Rochester, I was in culture shock. Eventually we moved to northern Virginia and this is where my exposure to medicine began," Dr. Thomae adds. 
Dr. Thomae attended the Virginia Commonwealth University School of Medicine and then went on to complete his residency at the Portsmouth Naval Hospital in Portsmouth, VA. He also spent time at Parris Island in Beaufort, Charleston Naval Hospital where he taught residents from and the Medical University of South Carolina. The navy is where his initial relationship with another MUSC OB-GYN began, but also where his relationship with the Low country was interrupted for a time—Hurricane Hugo.  
After the devastating storm in 1989, Dr. Thomae and his family relocated to Augusta, Georgia. In Augusta, he was in private practice for the next twenty-four years as an OB-GYN. In 2008, long after laparoscopic procedures were introduced to the world of surgery, he experienced a desire to learn about the DaVinci robot. What drew him into the deep dive of learning about the DaVinci was his desire to understand the benefits of robotic surgery to his patients, particularly those women who required a hysterectomy or other complicated surgery for problems such as severe endometriosis or infertility. What he found in investigating, training and becoming an expert in using the robot was that it was "to find the simplest resolution to a complex surgical problems, and would be a solution that offered the least interference in a woman's daily life. This translated to less pain, less blood loss, shorter hospital stays and a shorter recovery time," Thomae added.
"I have probably delivered close to 5, 000 babies in my life, and I decided that I was ready for a different challenge, and for me that was dedicating the remainder of my career to women of all ages, who needed this type of surgical option and to share this knowledge with our physicians-in-training. That's when I decided to reach out to MUSC, an organization which would be able to provide the best of both worlds—doing and teaching."  
Dr. Thomae exhibits an effervescent smile and suddenly switches the topic to fishing. "Maneuvering the DaVinci, allows great flexibility of the wrists, similar to what you have to do when fishing." He pauses briefly then laughs, "But I'm not very good at fishing. I study the fishing blogs to learn the tides, and aside from soccer, it's one of my favorite things to do with my boys. Our fishing expeditions only last for a while. We catch few fish, they get bored and we end up tubing."  
Dr. Thomae continues to talk about his family, their hobbies and how he likes to spend his leisure time. He is a man of many interests and exhibits much exuberance about life and what it has to offer. "My father is 90 years old. He used to read calculus books for fun," he remarks proudly. "I have six children, five grandchildren and one on the way. My wife is an amazing professional photographer, whose family is also here. I have my work, I have my family…I have soccer. Speaking of which, I think Argentina is playing today," he adds smiling. "I will definitely be watching that game with my boys."  
For more information about Cristian Thomae, M.D., OB-GYN at the Medical University of South Carolina visit Women's Health or call 843-792-5300.