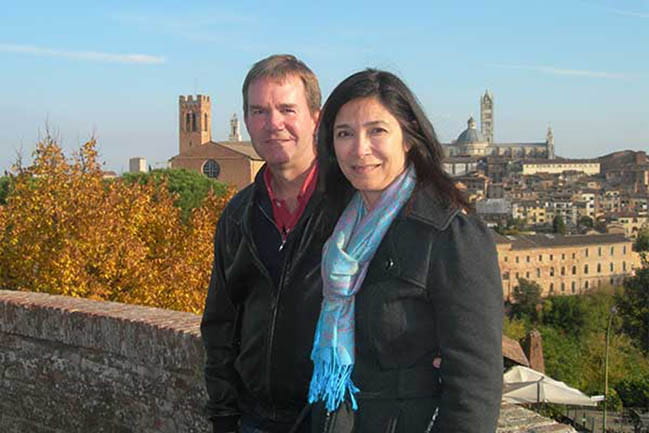 One might think of Leonardo DaVinci as the quintessential renaissance man – master of art, engineer, and anatomy expert –the list goes on and on. But we don't have to travel back in time or all the way to Italy to find our DaVinci-like renaissance man at the  Medical University of South Carolina. To meet that person,  just travel to the sixth floor of the clinical sciences building at MUSC and there you will discover professor, surgeon, oenophile, sports enthusiast, father, husband, chef, carpenter – our very own renaissance man, Steven Swift, M.D., board certified in obstetrics and gynecology, and in female pelvic medicine & reconstructive surgery, Dr. Swift speaks very proudly, yet humbly of his many interests and talents.
"I love creating and I think that my passion for cooking, woodworking, and being a surgeon are interestingly similar when you think about creativity," he says. "There's a beginning, a middle, and an end in any project-and in each of these situations I use creativity to adapt to each individual project. Creativity comes into play when I think about the result I am trying to achieve. Most importantly, when treating my patients, I adapt the therapy or the treatment to what my patients want, expect, or need to make their lives better. It's truly about quality of life and because each patient is different, I have to treat each situation differently. This is where creativity in medicine comes into play."
Laughing, he continues. "That's why I started building furniture. I had to creatively come up with a place to keep our clothes." When asked to explain, he continued on to describe the experience that prompted that first piece of  woodworking. "I was a second year medical student with a wife, little money, living in a small apartment in an old house with no closets. We couldn't afford to buy an armoire, so I decided to build one." Laughing again he added, "We still have that armoire. It's in our garage and we keep our sporting equipment in it."
When not treating patients or building his next piece of furniture, Steven loves to travel to different regions throughout the world that offer great cuisine, great wine and great vistas. Italy floated to the top as one of his favorite places as he described his take on Italian wines and food. "When I think of Italian food I think of pasta, loud and boisterous crowds, and deep, rich wines." When asked about his favorite Italian restaurants in Charleston he quickly listed Al-di-la in West Ashley, Pane E Vino in downtown, and La Pizzeria in Mt. Pleasant. "The restaurant doesn't have to be fancy, it just has to be good." An avid fan of Italy, he and his entire family plan to visit the medieval village of Soave in Northern Italy where they grow the very special Gargenega grapes for a particular style of white wine. He looks forward to the trip and to spending time with his wife, three adult children and their significant others.
Family for Steven includes his wife of thirty-three years, two sons, and a daughter. He proudly points out each of them positioned on top of the desk he built himself, the bookshelves and the walls. The myriad pictures of his family from across the globe brighten his office as does the smile on his face when he speaks of each of them with pride.   
The conversation continues and eventually lands on the topic of his work and his patients. "While I love cooking and traveling and building things, I am really most satisfied when a patient says 'thank you' for fixing me," Steven states with satisfaction. "While much of what I do is not life-threatening, I know that I can improve the quality of life for the women who put their trust in me," he continues. "It's my job to listen to each and every woman who comes to me. And, in that process, I want them to know how together we will overcome their particular issue." When asked what his patients might say about him, he laughs and says, "They almost always ask me where my bowtie is when I see them just before surgery. I always wear a bowtie when I see my patients in the office, but you just can't wear a bowtie with surgical scrubs," he laughs. 
A renaissance man in a bowtie? Why not? It is Charleston, South Carolina after all.
For more information about Dr. Swift or to make an appointment call 843-792-5300 or visit Women's Health at MUSC.