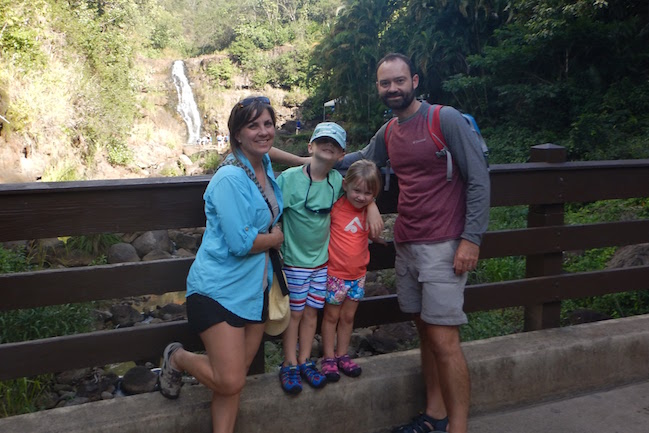 From Jazz Hands to Helping Hands
Sitting down with Allison Nissen is a special treat and one that you have to carefully schedule because of her busy patient, and family-focused life. This is a woman who doesn't sit still very long at a time so this interview was quick, concise and between deliveries. She has literally been on the move since she was a child and continues today as a certified nurse midwife, mother, gardener, flounder fisherwoman, and reader of Harry Potter. Having originally come from Columbia, South Carolina, Allison and her family moved all over the country with her pilot father whose career kept them close to the regional hubs for American Airlines. As a child growing up in Texas, Allison recalled wanting to be a nurse for as long as she can remember, but also remembered her interests in other activities that had nothing to do with nursing.
Allison was a jazz singer. She showed great interest in music and performed with other students in the high school jazz choir. She laughed when she reminisced about her costume, describing it as a red vest, black swing skirt, white shirt, black bowtie, and 90s hair. Old Glenn Miller tunes such as "Tuxedo Junction" and "In the Mood" were part of their repertoire, with more contemporary offerings from artists such as Billy Joel. "I actually still perform," she added, "only now as part of my children's music ministry at my home church in Mt. Pleasant." Faith is admittedly a large part of her life as she spoke about her faith passionately sharing that she and her husband met at church and that as a family, religion plays a key role in their lives.
Faith must have also played a role in her career decision as she described her path from nursing to midwifery with reverence. ""No one really knew what a midwife was when I first started," she explained.
"I had worked in labor and delivery and post-partum, and I loved developing relationships with women and looking critically and scientifically at the reproductive cycle. This was where I wanted to expend my additional energy," she stated. "I have now been a nurse for almost 14 years, and a CNM for eleven years," she added passionately.
Having said that, Allison also recognizes her need to de-stress and enjoy life beyond her career. "The thing that keeps me sane is body pump and aerobics at the local gym." This is her stress reliever and one she shares with her two children, Vera Jean and Ashley, who actually like to go to the gym with her. As a family her husband and two children travel to Pawley's Island where they simply fish off the dock or troll behind a boat for flounder, and quietly enjoy the beautiful beaches of that iconic beach retreat. At home, Allison enjoys gardening and described herself as an average gardener who could be better. "If only I had more time" she sighed. When asked what she likes to garden, Allison shared a story about her grandmother, also named Vara Jean and the namesake of her daughter, and her Sunday dinners in South Carolina. "My grandmother was famous for her cayenne peppers which she grew in her garden. Every Sunday she would serve a plate of whole, raw cayenne peppers and we ate them exactly that way every time, every Sunday."
When asked about the history of midwifery Allison replied "It is long and complex. Rules have changed. Laws have been enacted. But, the process in place has remained. Women caring for women during childbirth, regardless of the challenges." For Alison Nissen, she saw midwifery as a calling and she has kept her focus on the end results—providing heart and compassion paired with medicine and science. From jazz hands to helping hands, she has paved the way for new lives and new adventures, which may or may include eating whole, raw cayenne peppers or asking the question "Mr. Whatchacallum, whatcha doin tonight?"*
For more information about the nurse midwifery program at MUSC or Allison Nissen, Certified Nurse Midwife, please visit Women's Health or call 843-792-5300 to schedule an appointment.
About the Author