Pet Therapy Program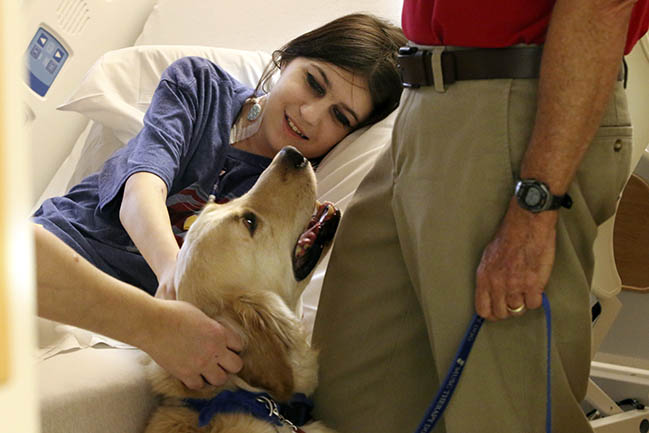 How Pet Therapy Helps
The Center for Disease Control and Prevention most recently published that pets "provide invaluable health benefits to their human companions." Pets can lower your blood pressure, cholesterol levels, triglyceride levels, pain levels, and the feeling of loneliness.
They are an excellent companion for our patients and their families when they are here.
How to Get Started
MUSC currently accepts certified therapy dogs from the following national therapy dog organizations -
A dog must be registered by one of these organizations to be eligible to participate in the MUSC Pet Therapy Program.
There are many variations of examinations used to determine if your dog is ready to work as a therapy dog. Many times we aren't really sure.
Because you know your dog better than any trainer or evaluator, you might want to take this self-test to see if together you both are ready to move forward.
Is your dog well socialized?
Is your dog relatively calm when he/she meets people?
Does your dog maintain his/her composure when approached with shopping carts, roller blades or skateboards?
Can you control your dog when he/she is faced with the unexpected?
Does your dog remain calm at the vet or groomer?
Have you and your dog had any formal training?
Is your dog in good health?
Does your dog accept treats gently?
Does your dog react in a friendly manner (wagging tail) when he/she sees another dog?
Does your dog like children? 
If you were able to answer "yes" to all these questions then perhaps you and your dog are ready to become a pet therapy volunteer!
For additional information about testing and registration, please contact those organizations listed above.
Contact Us
For additional information about MUSC Pet Therapy Program, please contact Cathy C. Bennett, Pet Therapy Program Coordinator, at 843-792-7360
About Pet Therapy Visits
Volunteers and their dogs are available to visit patients various times during the week. Visits usually last around 15 minutes. If you see any of our therapy dogs around the hospital, please feel free to stop by and interact with them. Our dogs love to be petted, and may even have a few tricks to show you. If you're a patient in the hospital, feel free to request a visit from the Buddy Brigade!  They are able to visit inpatient rooms that are not on isolation at the request of the patient. Therapy dogs are not permitted in isolation rooms. 
To request a visit, contact Cathy C. Bennett, Pet Therapy Program Coordinator, at 843-792-7360.
Adopt a Buddy
The "Adopt a Buddy" program offers "virtual adoptions" of one or more of our registered pet therapy dogs. Pet therapy dogs and their owners/handlers visit patients at MUSC to bring smiles and comfort families during what can be a very stressful time. Each dog in the program has their own trading cards, which features a photo and fun facts about the dog. Patients enjoy collecting the different trading cards.
You may virtually "Adopt a Buddy" through our program today with a donation to MUHA Volunteer Services of just $75 per dog. Your donation will benefit our volunteer program and help support many initiatives we do for patients and their families. You will receive a trading card of the buddy you virtually adopt, and a certificate of adoption.
Make a donation. Thank you for helping us Change What's Possible in Healthcare.